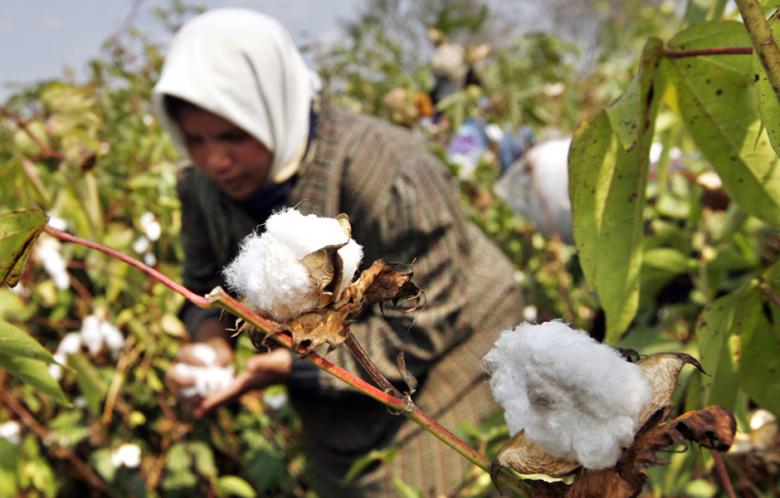 Egypt is turning to urban agriculture by establishing its first agriculture city in the southeast part of the Qattara Depression, northwest of the country, as part of efforts aimed at reviving a sector that goes back to the time of the pharaohs.
The $US 10 billion agriculture city will span an area of 311,400 acres and will be established under the supervision of the Korean Arab Company for Economic and Cultural Consultancy. The city will host 50,000 smart greenhouses in addition to a number of seawater desalination and solar power plants. It will also include the planting of water-saving strategic crops, the establishment of fish farms and feed factories.
"The city will be a great bellwether [for] the agriculture sector. It will provide thousands of job opportunities for young people and will achieve self-sufficiency from a number of strategic crops," Hamed Abdel Dayem, spokesman of the Ministry of Agriculture, told Egyptian Streets.
Abdel Dayem adds that the new city is the outcome of President Abdel Fattah El Sisi's visit to South Korea early this year where he discussed with South Korean officials the prospects of benefiting from Korean technology in agriculture.
An agreement between the General Authority for Reconstruction Projects and Agricultural Development (GARPAD), an affiliate to the Egyptian Agriculture Ministry, and the Korean Arab Company for Economic and Cultural Consultancy was signed earlier in August in order to start the construction of the city.
No official from the Korean Arab Company for Economic and Cultural Consultancy was available to comment on the new project.
Abdel Dayem says that the city will include residential compounds that will serve a large community of farmers, agriculture engineers and technical experts. "It will be a comprehensive agriculture city that includes all necessary facilities and involves agriculture projects and sector-related ones," the spokesman notes.
Minister of Agriculture Abdel-Monem Al-Banaa, who attended the signing of the agreement, says that the project's feasibility study and timetable will be presented by the Korean company within six months. He adds that the latest technologies and advanced agricultural techniques will be applied to the new agriculture city.
"The city is as giant as the one-and-a-half-million-feddan land reclamation project and will incur huge benefits to the government and to the people involved in the industry," said spokesman Abdel Dayem.
The city will also grow food and cultivate stevia which is a plant serving as a healthy alternative sweetener.
"In my viewpoint, integrating agriculture into urbanism significantly improves the sustainability of buildings, landscapes, infrastructure and cities," Ahmed El-Shami, an economist and a feasibility study expert, told Egyptian Streets.
El-Shami adds that apart from ensuring the sustainability of cities such an approach will also reduce Egypt's imports of agricultural products.
Egypt's imports of agricultural products constitute 24 percent of the country's total imports. They mainly include wheat, maize, sugar and meat.
According to the Egyptian economist, the planting of stevia is also significant as it can be an alternative to sugar. "This step can prevent any lack of sugar supplies or their price hikes in the future," he says.
In November last year, sugar supplies dramatically declined as traders were having hard times importing the crop due to the flotation of the Egyptian pound. The sugar shortages caused spiraling increases in prices.
In Egypt, the agriculture industry has been in decline for decades. Many farmers have left their profession, moved to the city and mainly worked as taxi or tuk-tuk (auto rickshaw) drivers. Some farmers sold their land plots to businessmen and real estate developers who in their turn carried out housing or commercial projects on the agricultural lands, causing a massive loss of farmland.
Climate change has in recent years also taken its toll on agricultural production. Farmers say that their crop production has dramatically decreased due to changing weather conditions.
According to data released by the United Nations Development Program (UNDP), climate change in Egypt is forecast to cause decreased crop yields for most crops. Wheat yields are expected to be lower by up to 9 percent by 2030 and by close to 20 percent by 2060.
The Agriculture Ministry highlighted in a 2015 report the recording of 1.3 million cases of encroachment on 60,000 acres of agricultural land between January 25, 2011, and June 21, 2015, of which only 222,000 cases were resolved by removing the people from the land.
In 2015, Egypt launched the major project to reclaim one and a half million desert land with the aim of expanding farmland by 1.5 million feddans or 20 percent from 8 million to 9.5 million feddans.
Also, the government has recently started to encourage farmers to stick to their profession by launching several initiatives that include training programs on how to increase their crop production and increase their revenues.
One of those initiatives is "Do not Sell Your Land" which was launched by the Egyptian government in order to prevent farmers from abandoning their land plots and to encourage them to rather stick more to them.
The United Nations Food and Agriculture Organization (FAO) says that the Egyptian economy "relies heavily on the agricultural sector for food, feed, fiber and other products". "It provides a livelihood for about 55 percent and employs 30 percent of the labor force, contributes approximately 17 percent of the gross domestic product and 20 percent of all foreign exchange earnings."
"The new city is a very good idea and we are in dire need of such projects especially as Egypt is an agriculture country and has lost a lot over the past years due to negligence in this field," el-Shami said. "And if other similar cities were launched across the country, Egypt will restore its agriculture glory," he added.
---
Subscribe to our newsletter
---