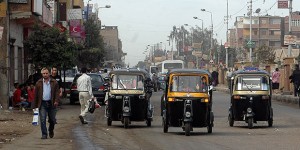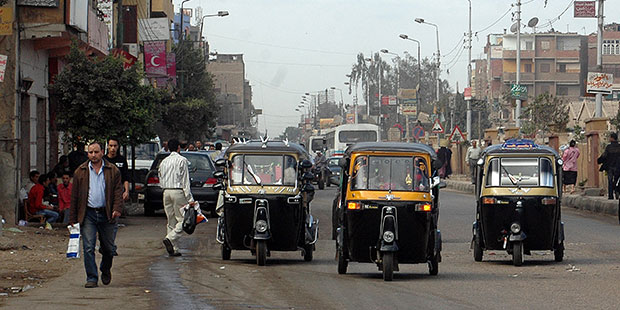 Residents of the Zawyat Ghazal village in the northern Egyptian city of Damanhour, located in Beheira Governorate, staged protests on Sunday after seven children drowned when the three-wheeled rickshaw, or tuktuk, they were riding in fell into the Mahmoudiya canal. The accident occurred because of poor road conditions, the villagers said.
Young and old relatives and friends of the deceased children gathered in front of the Municipal Council office to protest the poor state of the roads in the village, privately-owned al-Masry al-Youm reports.
Meanwhile, other village residents blocked the road leading into the village, after which authorities deployed anti-riot police, anticipating wider unrest.
One of the villagers explained that besides the piles of rubbish littering the road where the accident occurred, a gas company was drilling there, making it difficult for drivers to pass.
After rescue workers recovered the bodies of the children, who were aged between 8 and 11, burials were held late Saturday night.
While the driver of the tuktuk was ordered detained for four days pending a criminal investigation, Beheira Governor Nadia Abdou promised LE 5000 in compensation to each of the affected families.
Road Safety
Egypt has one of the highest rates of road accidents and traffic crashes in the world. Traffic accidents are also, according to the World Bank, the main cause of death in the country.
In 2016, 16.000 people were killed and 60.000 were injured in traffic accidents in the country, according to the Egyptian Society for Road Accidents Victims Care. However, that number, which is close to estimations by the World Health Organization, is significantly higher than what Egypt's official statistics agency CAPMAS records. In 2016, the agency documented just 5,343 deaths.
Also, Minister of Transportation Hisham Arafat said in October that the main reason for deaths in traffic is due to human error, not poorly developed road infrastructure. "About 96 percent of road accidents occur due to driving behaviors and attitudes towards traffic safety," he said.
On its part, the World Bank stated in a 2007 report that just 20 percent of Egypt's roads are in "good condition". Egyptian roads, the report argues, suffer heavily from low maintenance service and infrastructural inefficiencies.
Another World Bank study said that measures can quickly be implemented that could remedy problems pertaining to road safety and traffic congestion.Such measures include improving traffic management, using traffic lights at intersections, managing parking spaces and providing proper space for pedestrians, such road crossings, and sidewalks. This, the study argues, would significantly reduce accidents and lower the number of traffic disruptions.
---
Subscribe to our newsletter
---