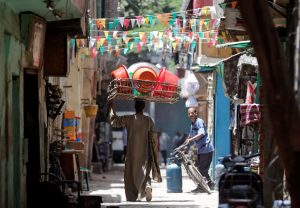 A few weeks ago during my weekly commute between Cairo and Alexandria, I eavesdropped on a conversation between two spouses. The man, in his early forties sporting a lightly-colored turtleneck and a dark red vest, said that he had to spend an extra day per week in Cairo for work, meaning that he would now only be able to come home on Fridays to be with the family. The woman, her dark brown hair in a ponytail with one jeans-clad leg crossed over the other, responded, saying that, instead, she could try to get an extra shift at work to help cover the family's expenses, basically begging her husband not to give up the already little time they have together each week. "Think of the kids ya Mostafa, they need their father," she told him, pressing her hand against his while leaning her head against his shoulder. After a minute or two of silence, the man started talking excitingly about a memory; that day the family spent at the beach in Alexandria and how fun it had been to build sandcastles with their sons. Both of them let out subtle little laughs and suddenly their financial worries seemed, at least for a moment, to be gone.
Although not particularly unique to Egypt, the exchange nevertheless reminded me of how rare it is to hear recorded audio of the sorrows, joys, excitements and daily struggles of ordinary Egyptians.
Ehky Ya Masr, a non-fiction storytelling podcast with episodes in both Arabic and English, is on track to remedy that situation. With its debut during this year's month of Ramadan, the podcast features young local talents telling stories about life in Egypt. The show maintains a spirit of playfulness and seriousness that is at once fun, intelligent, original and meaningful.
Women's Relationship With the Hijab
In one of the Arabic episodes on women's and girls' relationship with the hijab, we hear two stories about how the phenomenon can prompt such different experiences depending on the person wearing (or not wearing) it, as well as the social context. The first woman, Inas, decided a few years back to take off her hijab, which she had worn since she was in her early teens. She explains that when she was in preparatory school, she started feeling the pressure from her surroundings of soon having to put on the hijab, which she eventually did. However, when she started university she faced the opposite trend; many of her fellow students started to take their hijabs off. With this experience, she started to think deeper about her relationship with God and what the hijab really meant to her.
"When I first put on the hijab the relationship was always more based on fear, but then I started to think that I wanted my relationship with God to be based more on love," Inas says. Although she explains that she had never been bothered by wearing the hijab, she nevertheless began contemplating the deeper meaning of it. Explaining that she thinks of her hair as a large part of her identity and how she expresses herself, she finally made the decision to take it off. "I felt that if I want to express my religion, there are ways to express it other than wearing the hijab."
Then we hear the story of Yasmine who started to wear it when she was around 12 years old, and still does. In the beginning, she explains, it was more of a fun opportunity for her to change her style of dress with all the different ways to wear the hijab and the accompanying clothing. At the time, she attended a French school, and on the first day when she returned after summer break as a newly-become hijabi she was met with negative reactions from her classmates. "I was not very popular and I found that this became worse after I put on the hijab. More people did not want to speak with me or mocked me because of how I looked, it was a shock," Yasmin says. Although she struggled a lot with her immediate surroundings accepting her for who she was and what she wants to wear, Yasmine says that after 13 years of being veiled she is convinced about wearing it and the reasons behind the choice.
The producer of the episode, journalist Nadeen Shaker, tells Egyptian Streets that she does not "presume to say or think that the two stories presented in the feature reflect all views on hijab, but they certainly do capture two very prominent views or struggles with regards to Egyptian hijabis". She goes on to explain that "one narrative relies on the argument that religious expression should be personal/private, and not public, and should not be done to please others or society," while the other "implies that there is a level of resistance in the act of remaining veiled, that no matter what happens, 'at least, we are trying'." She adds, "both narratives are valid and are certainly present. Each has its own appeal."
Shaker stresses that Yasmine's story about her inner struggle likely resonates with many Egyptians today. "I think what we should look for, however, in Yasmine's story is the inner struggle, or the attempt she is making to engage and make sense of her hijab and the pressures she has faced because of it." Shaker adds that, "she struggles a lot with her self-image and with doing that is right at the end. I think her story resonates with many and comes off as very candid and moving."
The idea for the episode originally derived from personal experience, Shaker explains. "I personally always felt that it was difficult for me to talk about my hijab: about why I was veiled and why I was doing it? I got veiled at 16 for no conspicuous reason except that I felt I needed to connect with God in some way." She goes on to say that "Now I am 26, and it is easier to talk about being veiled, partly because over the past ten years, I found other women who shared my sensibilities about the issue and who could talk openly about the hijab's complexities, barriers, and even meaning." Shaker continues, saying that these people helped her "understand that it is okay to redefine what piety means, it is okay to use hijab as a means of self-expression, to manipulate one's dress codes to push social boundaries, and that it is okay to struggle with one's self-image every once in a while."
Dynamics of Wasta
Another one of Ehky Ya Masr's episodes, this one in English, revolves around the topic of what in Egypt and the Arab Middle East is known as wasta. Iman, one of the people featured in the episode, describes the practice as "using your connections […] to get things done […] in an illegal or unofficial way". Although wasta is oftentimes talked about as something unique to Egypt or the Arab world, the episode highlights how widespread the phenomenon actually is across the world, only under different names. "In China, they call it guan chi, in Russia they call it plat, in America they call it pulling strings,", Ahmed Amin, professor at the German University in Cairo, who is also featured, says. However, he points out that what is unique about wasta in Egypt and the Arab world, which also makes it worth discussing, is its prevalence. "I do not know of any other culture where this network of exchanges is prevalent as is in the Arab Middle East," he says.
Producer of the episode Nour Ibrahim tells Egyptian Streets that wasta is something that is so widespread in Egypt that we start taking it for granted. "Because it's so prevalent, we tend not to really notice it or discuss it anymore and that's one thing that I got from many of my interviewees and even people I've discussed the matter with off the record. It's so enrooted that we don't give it much thought anymore". She stresses that this particular point makes the practice important to discuss, saying "I think it is important to talk about it in order to examine that state of familiarity that we have for it and whether we're okay or not with relying on it."
Wasta, as it is understood in Egypt, oftentimes bears with it negative connotations. Yet, the podcast episode about it balances this perspective by highlighting that wasta has become a means of getting what is otherwise not available to you. An example is social services, such as healthcare, schooling, work opportunities or a driver's license. To get through Egypt's infamously endless bureaucracy one can employ one's connections to speed up the process. "Individuals have very different perceptions regarding when wasta is positive and when it's negative and how wasta affects them and others," Ibrahim goes on to explain.  "This branches into discussions of how beneficial bureaucracy really is, how rigidly laws are being applied, societal morals as well as an individual's feeling and so much more. So, to answer your question [about potential positive aspects about wasta], even though I started out with a negative perception of wasta, my interviewees have helped me realize that there is another side to the coin and that wasta, like it or not, does have positive aspects," she says.
Beginnings and Futures
Also speaking to Egyptian Streets is Kim Fox, associate professor of practice in the Department of Journalism and Mass Communication at the American University of Cairo and executive producer and founding member of the Ehky Ya Masr Podcast. She says that the initial idea for the initiative was "to create an outlet for recent grads who have an interest in audio and podcasting so that they can grow their resume/CV and obtain other positions in this field including freelancing as an audio journalist."
In response to a question about how the team decides which episodes should be done in Arabic and English, she states that it usually is up to the producer to decide. However, they "try to include at least one Arabic episode in each series". Explaining what the goal of the podcast project is, Fox says that "our aim is to tell stories about life in Egypt, and more commonly Cairo. If you've heard of "This American Life," we want to be a space for audio storytelling based in Cairo." The team also eventually wants to host "listening sessions where people can gather to listen to our audio pieces and then have a dialogue about them and issues related to the audio pieces," she adds. The final goal, Fox goes on, is, at some point, "to be able to share our skills with others who have an interest in learning this craft," adding, "we would do this by offering audio storytelling workshops that would include all of the steps necessary to produce high-quality audio features and podcasts."
Although the podcast scene in Egypt is to date extremely limited, the Ehky Ya Masr Podcast provides high-quality audio journalism on the social layers and cultural dynamics of Egyptian society that Egyptians and foreigners alike can enjoy.
The next series of episodes will be launched in late February or early March, followed by a new Ramadan series in mid-May.
To listen to the Ehky Ya Masr Podcast, their Facebook page can be found here and their Soundcloud account here.
---
Subscribe to our newsletter
---