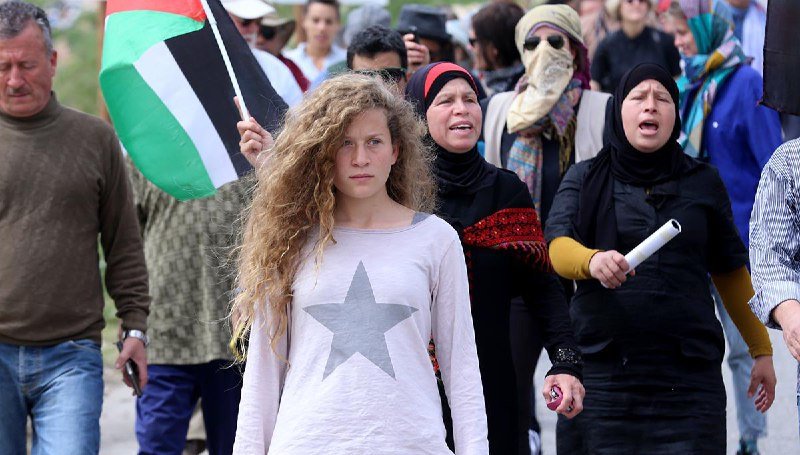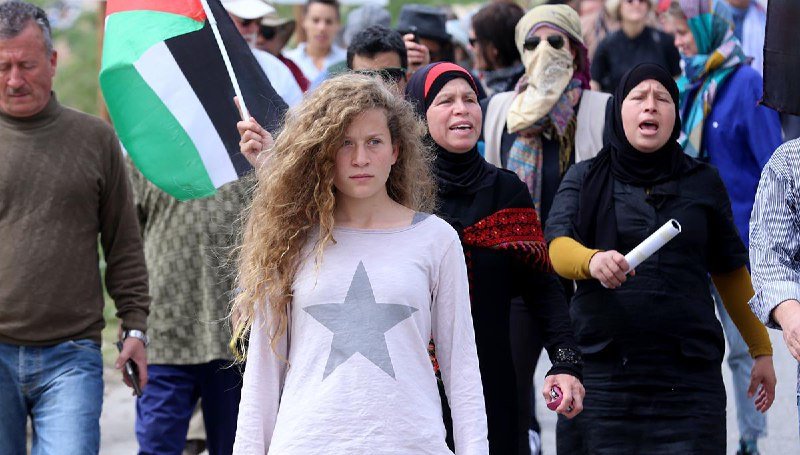 The 17-year-old Ahed Tamimi has been arrested on Tuesday and detained for 10 days during a raid on her home in the village of Nabi Saleh in the West Bank.
In a video shot on Friday, two soldiers blocked the way of Tamimi's home in the village of Nabi Saleh in the West Bank while she, and her cousin, approached them and started pushing them to move away.
Nariman Tamimi, Tamimi's mother, has also been arrested by Israeli occupation forces as she went to the police station to support her daughter, reported Bassem Tamimi on Facebook.
Earlier this week, clashes erupted between Israeli forces and Palestinians who were protesting the Israeli occupation and Trump's decision to move the American Embassy to Jerusalem.
Tamimi is already well-known for her protests against the Israeli occupation and her defense of Palestinian rights under occupation. She is known for fighting the occupation soldier who assaulted her brother.
She has spoken in Turkey, South Africa, and in the European Parliament in a conference earlier this year on women in Palestinian resistance.
According to a report by DW, Tamimi was denied a visa by the State Department in Washington upon an invitation to speak in a tour titled "No Child Behind Bars/Living Resistance.
According to Palestinian human rights organization Addameer, about 700 Palestinian children under the age of 18 from the occupied West Bank are prosecuted every year after being arrested, interrogated and detained by the Israeli Occupation Forces.
"The occupation forces continued in their policy of arrest of Palestinian children, denying protection due to them by more than 27 international conventions. In this context, since the Aqsa Intifada of 2000, the occupation forces arrested more than 12,000 Palestinian children," the report added.
Tamimi's name and story have been number one trending hashtag on Twitter with messages from all over the world to #FreeAhedTamimi and #FreePalestine.
برجاء النشر وأعادة الرتويت عن حساب أبنتي #عهد_التميمي وأنا سأوافيكم بكل التطورات خلال القادمه
والد عهد التميمي pic.twitter.com/Ph7E0niH6k

— عهد التميمي (@3HDALTMEMY) December 19, 2017
@AhedALTamimi, exaclty as your name says; "A promise"#AhedTamimi #Jerusalem #Palestine #عهد_التميمي #فلسطين_المحتلة pic.twitter.com/DnGudc5nnb

— Hayat M Al-Shubbar (@Hayat_Shubbar) December 20, 2017
الاحتلال الإسرائيلي يعتقل الطفلة "#عهد_التميمي" صاحبة جائزة "حنظله للشجاعة"https://t.co/eyhvsNMzmk pic.twitter.com/ZPJBtt2yS0

— قناة TRT العربية (@TRTalarabiya) December 19, 2017
---
Subscribe to our newsletter
---