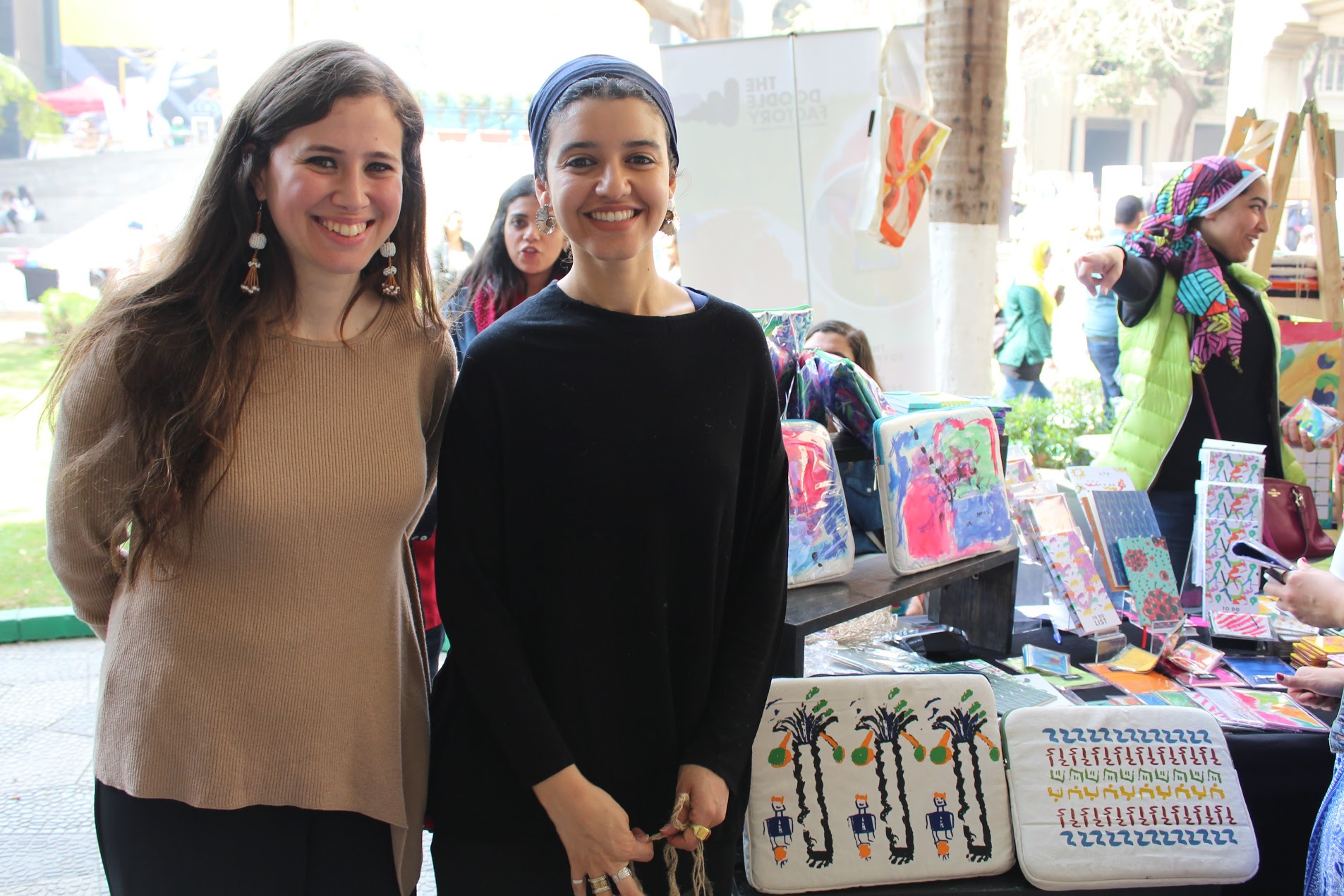 An unusual and atypical mix of colors with a type of art that knows no boundaries blended with an infinite amount of creativity is the composition of eye-catching artistic products at The Doodle Factory.

The Doodle Factory is an Egyptian brand that aims at empowering children through art. It has a range of products –including notebooks and bags– that are doodled on by young children. While the doodles look random and simple, people gathered around the booth to buy these products at the Greek Campus in Cairo's neighborhood of Downtown
Co-founded by Yasmine Khamis and Farah el-Masry, Egyptian Streets spoke to el-Masry on the sidelines of the "She Can 2018" event that aims to empower women to know more about The Doodle Factory, and how people are interacting with products that are painted by underprivileged children.
El-Masry said that The Doodle Factory creates lifestyle products that are light and have a function in everyday life.
"We gather kids who are vulnerable, they either need medical or educational support but lack the financial means," el-Masry said, adding that [The Doodle factory] partnered up with several NGOs including Ahl Misr, Waslet Kheir among others to host cases of children and ask these children to draw and paint anything they want in a completely fun and unguided art session.
"[The Doodle Factory] provides these kids with a large number of colors and art supplies, and these kids are free to draw anything they want," el-Masry said, assuring that this is always a challenge because the products might turn out to look poor and substandard.
"However, this is where we try to excel, the challenge is to get an appealing product that is the outcome of something that can be completely disregarded by someone else," el-Masry emphasized, adding that this is a part of The Doodle Factory's philosophy, to take something that some people may not take notice of and turn it into something beautiful because it is "raw, beautiful, and genuine".
When the Doodle Factory kicked off in March 2016, the collection was introduced through a hashtag. One year later, it was registered as an independent project.
When asked about the how The Doodle Factory empowers children, el-Masry said that they provide the kids with the support and space to take the matter into their own hands.
"A lot of people perceive these kids as children who have nothing they can do to themselves. Speaking rationally, there is so little they can do, they cannot have medicine and make money," el-Masry said. However, this is when The Doodle Factory steps in to unleash what all children have in common– creativity.
On the long run, el-Masry said that The Doodle Factory wants to expand and instead of having a range of 15 different products, they want to have millions of products and for the idea to spread across the world because it is an international concept and could be replicated anywhere with underprivileged children.
---
Subscribe to our newsletter
---