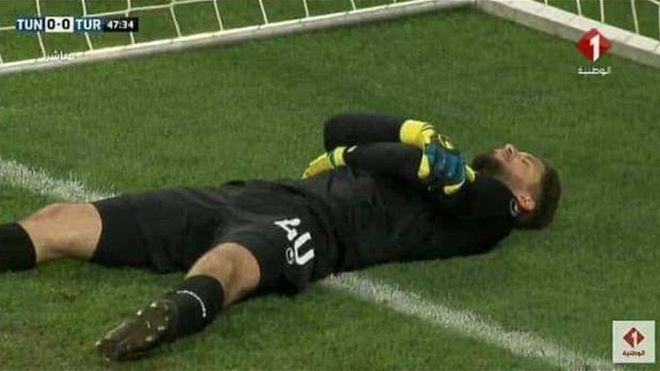 According to the BBC, Tunisia's World Cup football team devised an ingenious way to break their fast during the friendly matches the team has played so far in Ramadan. On the exact time of sunset, the 'injured' goalkeeper would lie down, and receive treatment, as his teammates would rush to the coaches to gulp a few dates and quench their thirst.
The energizing small meal was enough to help them score a goal 6 minutes later in their match against Portugal,  and ending the match with a tie 2-2.
Tunisian football fans were seemingly entertained by the ploy, and have been sharing their amusement on their twitter account.
"The minute where our players stopped the match and broke their fast on the pitch with energy bars,  dates, and water which permit them to score," says a tweet.

https://twitter.com/LADC_Officiel/status/1002983090640257024?s=20
Moezz Hassan playfully replied to one of the teasing tweets that he was in fact hurt.
https://twitter.com/hassen_mouez/status/1003378410054475777?s=20
Fans will have to wait and see how the team will break their fast on their next match against Spain on the 9th of June.
---
Subscribe to our newsletter
---