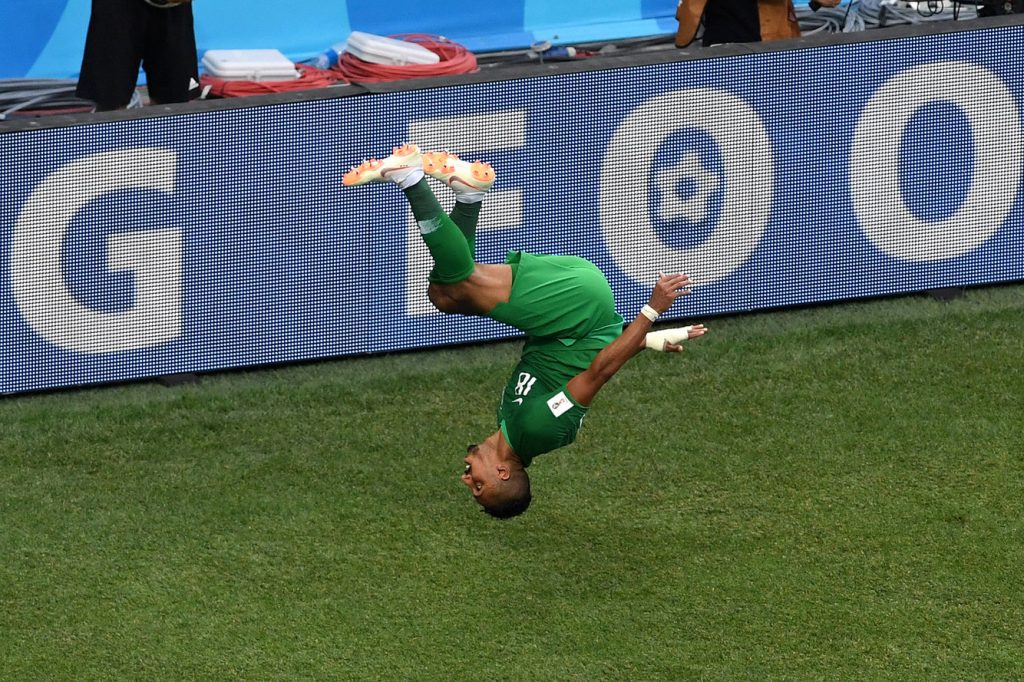 Egypt lost 2-1 against Saudi Arabia on Monday, 25th of June. Although the teams are readily disqualified from the World Cup, as Uruguay and Russia secured the first and second place in their groups, many fans kept a close eye on the match. For one thing, Mohamed Salah was set to play in the starting XI amid rumours of his retirement from the national team, as well as veteran, Essam El Hadary, who made history as the oldest player to participate in the FIFA World Cup.
Football fans were presented with a tough choice: having to switch between channels as an exciting match between Uruguay and Russia was playing in parallel to the hopeless Egypt – KSA match.
https://twitter.com/Stuart30982/status/1011261953715601409
The stakes weren't high to begin with as the two teams were set to head home regardless of the end result. Saudi Arabian players were determined for a win whereas the Egyptian team was clearly demoralized after a disappointing run in the World Cup, intense criticism online and much controversy arising against the Egyptian Federation of Football.
Egypt and Saudi Arabia could have just played this at the airport

— Georgesketch (@Georgesketch) June 25, 2018
The match was underwhelming with poor, slow performances from the unmotivated players.
tbh he's too good for the egyptian team he should have just stayed in Liverpool and got ready for next season

— لطيفة (@latifxaa) June 25, 2018
i feel like egypt just dgaf anymore and just wants to go home

— لطيفة (@latifxaa) June 25, 2018
Three main reactions prevailed on social media, all fell under an umbrella of disappointment: the first reaction being utter pride of the Egyptian goalkeeper, Essam El Hadary. The 45-year-old goalie was brilliantly able to save a penalty; inspiring 45-year-olds worldwide to consider trying professional football.
What a day for Egypt's 45-year old keeper Essam El Hadary, becoming only the 4th goalkeeper to save a penalty on his #WorldCup debut since 1966.

Definitely something to tell his grandchildren about…….

When he returns home from the World Cup. pic.twitter.com/QAOY8vErrr

— Transfer Site (@TransferSite) June 25, 2018
I love that they all embraced him as if he scored a goal. Brilliant.

— Simon V // #GoSocceroos (@rithmaster) June 25, 2018
The second theme to reign in the realm of social media was support for Mohamed Salah, who scored Egypt's fourth ever goal at the World Cup. He opted not to celebrate despite his teammates' ecstasy, most notably, El Hadary's who dropped to his knees in delight.
First goal for Egypt since 1934❤️

— TLOF (@nowthisisUTUBE) June 25, 2018
— samer abu zahra (@samer_abuzahra) June 25, 2018
https://twitter.com/Shahedm18261389/status/1011291683701616640
Sad to see Salah being used as a pawn in the political games of the Egypt FA. Scored an excellent goal yet there wasn't even a flicker of joy in his face.

Not how representing your country should be.

— Premier League Panel (@PremLeaguePanel) June 25, 2018
It feels like Hadary and Mohammed Salah are the only people playing for Egypt #السعوديه_مصر pic.twitter.com/j0GdAdw5uW

— Ruby| Egypt! (@smolsekai) June 25, 2018
Thirdly, the audience expressed their dismay of the match referee on social media. He awarded Saudi Arabia two penalties to tie the record for the most awarded at a World Cup. On the second penalty, the Egyptian players protested the referee's decision. The VAR was consulted, and the penalty was expected to be overturned but Roldan stuck with his decision.
You get a penalty, You get a penalty, everyone gets a penalty!#KSAEGY pic.twitter.com/OhTIbOiShl

— Dave (@footyfan4u) June 25, 2018
The Ref wasn't reviewing the penalty, he was just checking his bank account for the Saudi-Money. #KSAEGY #السعوديه_مصر pic.twitter.com/xlQlVgbNXo

— Walied (@Walied_96) June 25, 2018
https://twitter.com/_DinaM/status/1011279208079912961
Finally, behind the stifled laughs, the jokes and the anger, football fans worldwide were only left with disappointment and disbelief. It was saddening for Egypt to end the match with a tie let alone a last-second goal, declaring Saudi Arabia as the winners, and Egypt, the bottom rank in the group.
Not even last minute goal… literally last second goal.. they deserve it with the way Egypt played

— Cleopatra (@salmaaxx_) June 25, 2018
Award to the most embarrassing team effort at the World Cup goes to Egypt. Well done lads

— #TouchlineFracas (@touchlinefracas) June 25, 2018
So Egypt has gifted Saudi Arabia their 1st world cup victory since 1994. Hmmm. Ghana should have been there @3SportsGh @3fm927 #worldcup

— Winston Amoah (@winston_3fm) June 25, 2018
Losing to the very team we made fun of non-stop has to be the most Egypt thing Egypt has ever done to be honest pic.twitter.com/1tcX8YiAq2

— Marina (@Crazy_Copt) June 25, 2018
https://twitter.com/hatersayimcocky/status/1011268010915573760
After all that 28 years nonsense pic.twitter.com/MIvGZSogCv

— Prince Jacob (@PrinceChi10) June 25, 2018
https://twitter.com/6Flavs/status/1011277841269391360
---
Subscribe to our newsletter
---