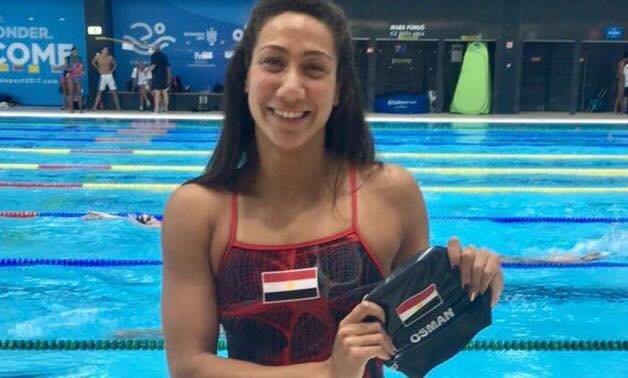 Egyptian athletes amassed 45 medals at this year's Mediterranean games in Tarragona, Spain – placing 5th among the 25 competing nations.
The Mediterranean games, usually held every four years, concluded today with an impressive showing from Egyptian athletes who won 18 gold, 11 silver and 16 bronze medals at the competition. Egypt sent 170 athletes to the games to participate in 21 sports.
Italy topped the number of medals in the competition, winning 156 medals which was followed by Spain with 121, then Turkey and France with 95 and 99 medals respectively.
Notable athletes at the event include Farida Osman, who won the silver medal in the 100m butterfly event, as well as the gold medal in the Women's 50m butterfly– breaking the record time for the competition with 25.48, and achieving the gold medal in the Women's 50m Freestyle event.
In the male swimming events, Marwan Elkamash won the bronze medal for the 200m Freestyle competition and the 400m Freestyle race. Abdelrahmen Elaraby achieved the silver medal in the 200m Butterfly competition while Ali Khalafalla attained the bronze medal in the 50m Freestyle race.
Egypt's fighters were very successful at the games as well, with athletes Walid Mohamed, Abdelrahman Abdelgawwad, and Yousry Hafez winning three gold medals in three different boxing weight-classes – making Egypt the dominant force in boxing competitions at the games.
For martial arts, Mohamed Ali won the silver medal for Judo, Giana Lofty received the silver medal in Women's less than 62kg Karate event. Areej Saeed and Malek Salama alsowon bronze medals for Egypt in the male category for Karate, with Ahmed Elasfar winning silver in the Men's more than 84kg Karate event, and Ahmed Elmasry attaining bronze in the same event. In the Greco-Roman wrestling events Haitham Mahmoud won gold for the 60kg category, Mohamed Ibrahim ElSayed received the silver for the 76kg weight class and Ahmed Ibrahim Gomaa won bronze in the 98kg category.
In the weightlifting events, Egypt attained the second most awards after Turkey at the games. Ahmed Saad won two gold medals in the 62 kg category, and Mohamed Mahmoud achieved two gold medals in the same events in the 77kg category while Heba Saleh attained the bronze medal in a 48 kg female weightlifting event.
The idea for the Mediterranean Games event was first proposed by then-chairman of the Egyptian Olympic Committee, Mohamed Taher Pasha, at the 1948 Summer Olympics. The inaugural Mediterranean Games event was held in Alexandria in 1951. As such, Egypt has a rich history of success at the competition.
Egypt's impressive performance at the Mediterranean games can give Egyptians some national pride in spite of the national team's unfortunate fate at the FIFA World Cup this year.
---
Subscribe to our newsletter
---