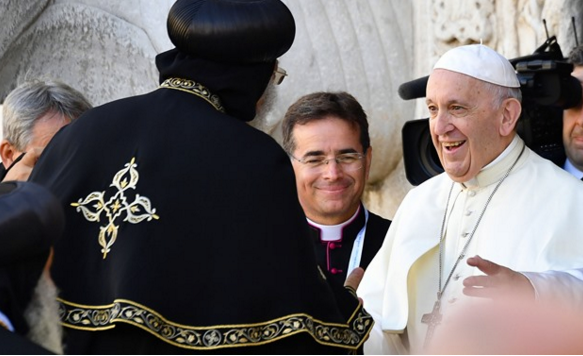 In a gesture of unity, Egypt's Coptic Orthodox Pope Tawadros II headed a mass at the Papal Basilica of Saint Paul, the second largest Catholic church in Italy, as reported on Ahram Online.
The Coptic delegation and church leaders from all over the Middle East attended the Sunday mass in an effort to pray for peace in the region.
Pope Francis previously held a summit of Christian leaders on Saturday to tackle the problem of preserving peace, and warned about the "deep danger" that Christians will disappear from the Middle East, which would risk "disfiguring the very face of the region."
Francis added that "truces maintained by walls and displays of power will not lead to peace, but only the concrete desire to listen and to engage in dialogue will."
He also condemned the trade of weapons and religious extremism as the main agents of destruction, and the troubling silence of many great powers towards the sufferings of many.
The percentage of Christians living in the Middle East continues to decline rapidly as the conflicts endure, falling from 20 percent before WW1 to just four percent today, according to the Pontifical Council for Promoting Christian Unity. While there are no official figures, Pope Tawadros II said earlier in 2016 that Coptic Christians make up approximately 16 percent of Egypt's population, with 15 million Copts in Egypt.
In May, Anba Angaelos, the first Coptic Orthodox Archbishop of London who represents Egypt's Coptic Orthodox Church in the UK, appeared in Windsor to give a prayer at the wedding of Prince Harry and American actress, Meghan Markle.
---
Subscribe to our newsletter
---