The bustling and historic art-filled streets of Zamalek might seem to contrast sharply with the tree-lined, suburban feel of Tagamoa. The collectors' perfumes and hairstyles might also be a little different, but the visionary messages and ambition of the artworks are equally outstanding at the September exhibitions in Picasso East (Fifth settlement) and Picasso Art galleries (Zamalek).
Aristotle once asserted that, "the whole is greater than the sum of its parts." The statement suits both Picasso galleries well as they are run by a father-and-son curatorial effort which echoes the philosopher's concept, showing that together, everyone achieves more. The founder of the Piccaso Art Gallery in Zamalek is  Ibrahim Abdel Rahman while his son, Dr. Reda Ibrahim manages the Picasso East Gallery.
At the opening night, there were easily hundreds of fans of Dr. Abdel Aziz El-Guindy gifting flowers and requesting selfies with one of Egypt's most celebrated contemporary artists. El-Guindy's cityscapes are akin to street photography in the form of acrylic on canvas. The images are at once pensive and romantic. He turns a lonely, abandoned alley in old Cairo into a lovers' lane. He converts little green patches at the runoffs over the Nile into meditation gardens. Dr. El-Guindy has the ability to see beauty when there is little left. In the world of pure imagination he has created, one can expect fairy-tale characters to walk into the scenes, but there are none. His paintings seem to suggest that if you want to view paradise, simply look around and view it. It has always been around us.
In contrast, Mohamed El-Damrawy's artistic style comes from a long line of traditional painters. Young Mohamed studied and was inspired by the Pioneer generation (1920-1956), with the likes of Mohamed Nagi, Mahmoud Mokhtar, and Ragheb Ayad.
El-Damrawy's modernist brushstrokes and composition remind us of an earlier Egyptian era.  With a contemporary twist, he observes and describes lively scenes of today's Egyptian concert halls, bars, wedding banquets, after-parties, and nightcaps at buddies' apartments, where we have endless conversations and people just don't want to leave. Exaggerated lips and hips, alluring eyebrows, wandering eyeballs, the figures in the paintings seem to be flirting with the viewer, inviting him or her to join their fun.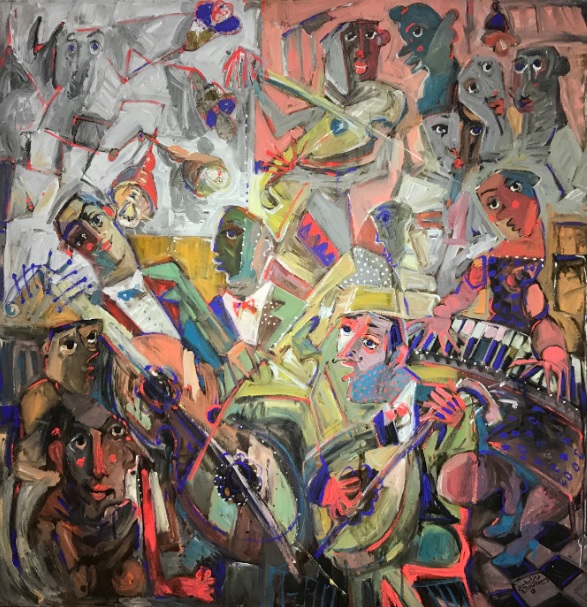 On the other side of town, between the oversized luxury compounds, swanky country clubs, and fancy office buildings, there hides an art outpost. There are surprisingly few art spaces in this part of town, which makes Picasso East's existence all the more vital to the cultural scene here.
Echoing the festive, jovial mood of the Zamalek branch, painter Hanan Youssef brings balloons and a cheerful atmosphere to the fifth settlement. Comical circus clowns and performers, Ms. Youssef's subjects are crowd pleasers. But not all the clowns are smiling. The expressions are an instantaneously thought-provoking and bring the viewer to think of oneself: all individuals wear masks, and so often that sometimes they forget to take them off. The paintings question the viewer as if to ask, 'What mask do you have on today?'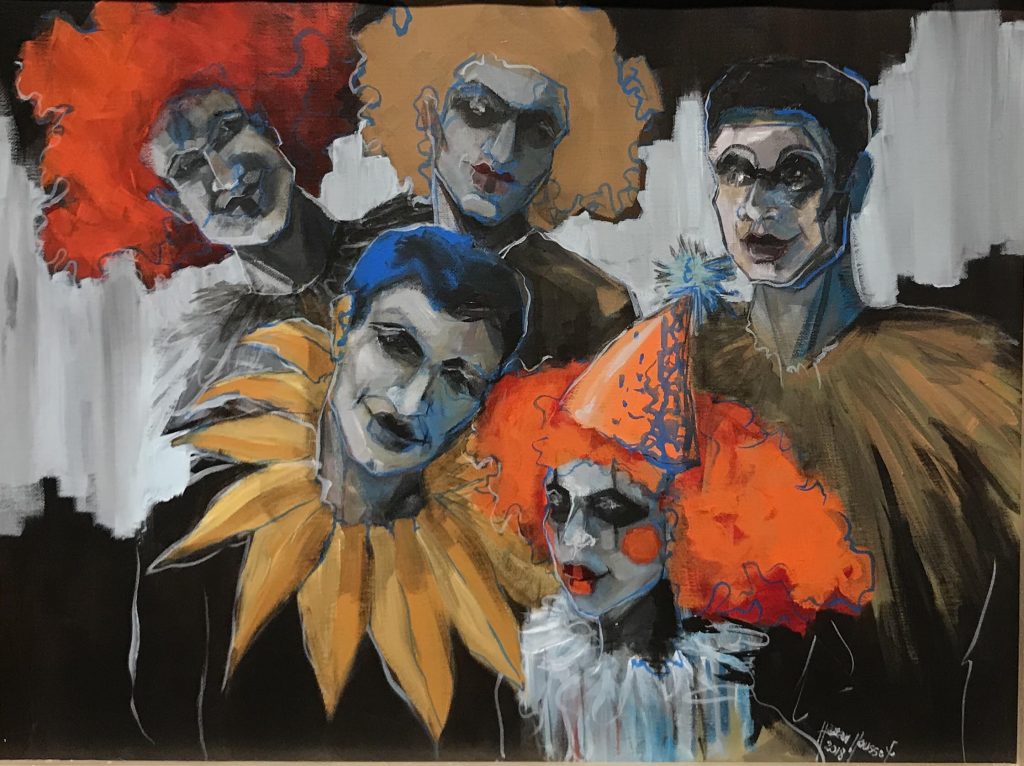 There are 'cooler' and modern allusions as well in Picasso East. In a culture where youth and beauty increasingly reign supreme, Youssef's "Is That Really Me!" (oil on canvas, 2018) will pierce the hearts of many mothers and wives in the Tagamoa neighborhood.
With the gorgeous colors Lina Amin applies to her oversized paintings, one would assume that she was appealing to the collectors with summer homes in Sahel or on the Red Sea.
But at a closer look, there is more than meets the quick eye. There are scenes of male lions fighting each other to be alpha in the pack, groups of feline predators circling and hunting their prey, and pair after pair of sweaty dancers tangoing, twisting, and turning on the dance floor as if it was their last night on earth.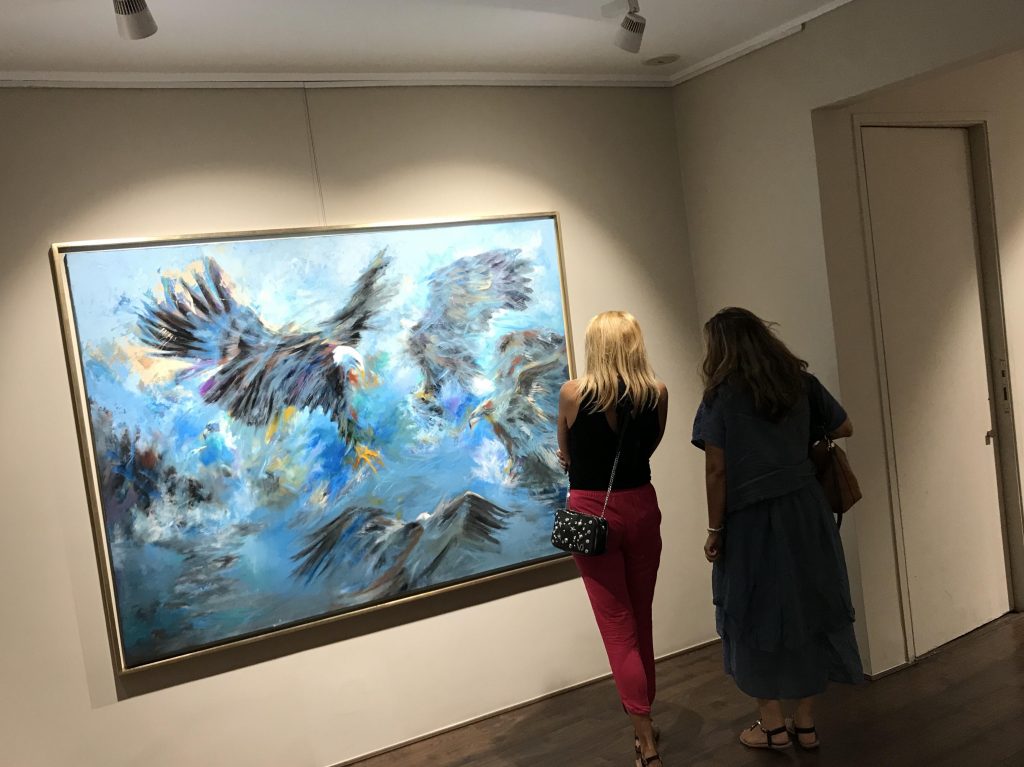 There is vibrancy and blood-boiling impulses in the subjects which, as most admired artworks inspire, make the viewer inquisitive about the artist.  you wonder what causes such feverish energy in the painter. When you see a group of lions surrounding and closing in on a wounded gazelle, do you pray for the underdog or quietly observe the law of the jungle?
By means of expressive colors, revelry, and exuberance, the father-and-son team behind the Picasso galleries inspire the viewer to stay in the present and to enjoy the little blessings that are all around us.
There is playful naughtiness in El-Damrawy's party scenes in uncertain times, an ability to see beauty from ordinary alleys and streets in El-Guindy's watercolors, riveting excitement in Lina Amin's paintings of dancers and wild animals; it seems to me that these artists recognize the imperfectness in reality but they choose to be brave and hopeful.
"May their art inspire you to realize how bless you already are, and have sympathy to your surrounding and more importantly, to have sympathy for yourself," says Dr. Reda Ibrahim.
---
Subscribe to our newsletter
---