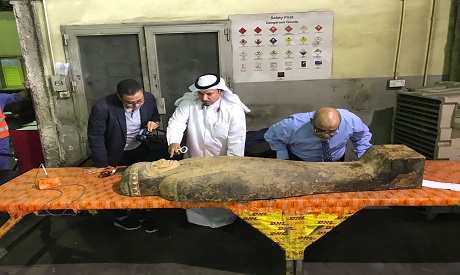 A smuggled sarcophagus lid was retrieved at the Egyptian Embassy in Kuwait on 9 October and is now being shipped back to its homeland.
The 170 cm wooden coffin cover was smuggled from Egypt to Kuwait in March. The cover was buried inside a sofa that was shipped through a cargo company. Kuwait Airways cargo unraveled the hidden artifact while scanning the shipment.
Egyptian authorities at the embassy confirmed that the artifact will be sent to the Egyptian Ministry of Antiquities restoration unit.
Tarek El-Qouni, Egyptian Ambassador in Kuwait, applauded the cooperation of Kuwaiti authorities such as Kuwaiti Foreign Ministry, the Antiquities Department, the Customs Authority and the National Council for Culture, Arts and Letters of Kuwait.
Smuggling ancient artifacts has been a submerging issue in country, especially in the last few years. In 2017, the statue of King Djedefre was illegally transferred abroad from the area surrounding the Great Sphinx.
In August of this year, the Swiss Federal Criminal Court however ruled that the storage company based at Geneva Free Port should transfer the statue to the Egypt and start processing its documents.
According to the Swiss warehousing firm, the statue has been in the Swiss custody since 1958. Although the firm claimed that it was not from the Great Sphinx region and that the Egyptian authorities are trying "exploit" the situation, Egypt Independent reported that the company's lawyer confirmed that the company will most probably not appeal the decision.
Late September, Egypt celebrated the return of another smuggled limestone artifact from Karnak Temple. The artifact was illegally transferred from Egypt to London and was retrieved at the Egyptian Embassy in London.
The artifact had been in display at an auction in London as per the Egyptian Gazette. According to a press release by the Ministry of Foreign Affairs, both the Ministry of Foreign Affairs and Ministry of Antiquities have agreed to work together to return the smuggled artifact to its home.
---
Subscribe to our newsletter
---