An Egyptian archeological mission has discovered the tomb of a fifth dynasty official by the name of Khuwy, according to a press release issued by the Ministry of Antiquities.
The mission, led by Dr. Mohamed Megahed, uncovered the unique tomb of the Old Kingdom official while carrying out excavation and survey work in south Saqqara.
The tomb's L-shaped offering chamber is decorated with relief scenes; the latter are well-preserved as they still retain many of their original colors and the details on the hieroglyphic signs.
The viewer can not only spot scenes of men carrying specific meat cuts but also a cow slaughtering scene.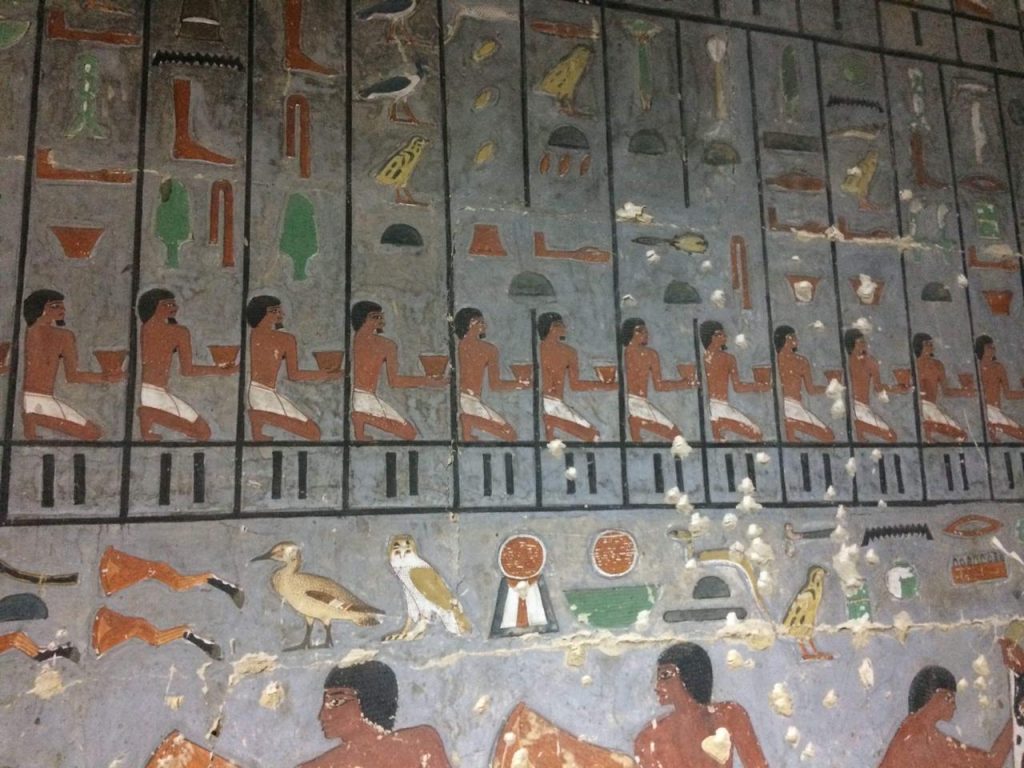 Some of the limestone blocks of the tomb were apparently removed to be re-used for the construction of other monuments in ancient Egypt.
This tomb's superstructure starts with a descending corridor that leads to a small hallway or vestibule, including an antechamber decorated with scenes depicting the owner of the tomb before an offering table, as well as a list of offerings and a view of a palace facade.
A burial chamber was also uncovered although it hosts the remains of a completely tattered white limestone sarcophagus which could have been destroyed at the hands of ancient tomb robbers as per Dr. Megahed in an interview with Al Ahram.
Nonetheless, remains of Khuwy were found among the blocks, as well as remnants of oils and resin which were both used by ancient Egyptian during the mummification process.
Among the discoveries of the team was also the name of a queen, Sebtihor, apparent wife of Djedkare, to whom an previously-anonymous pyramid complex in the area belonged to and whose identity had remained a mystery for scholars up until now.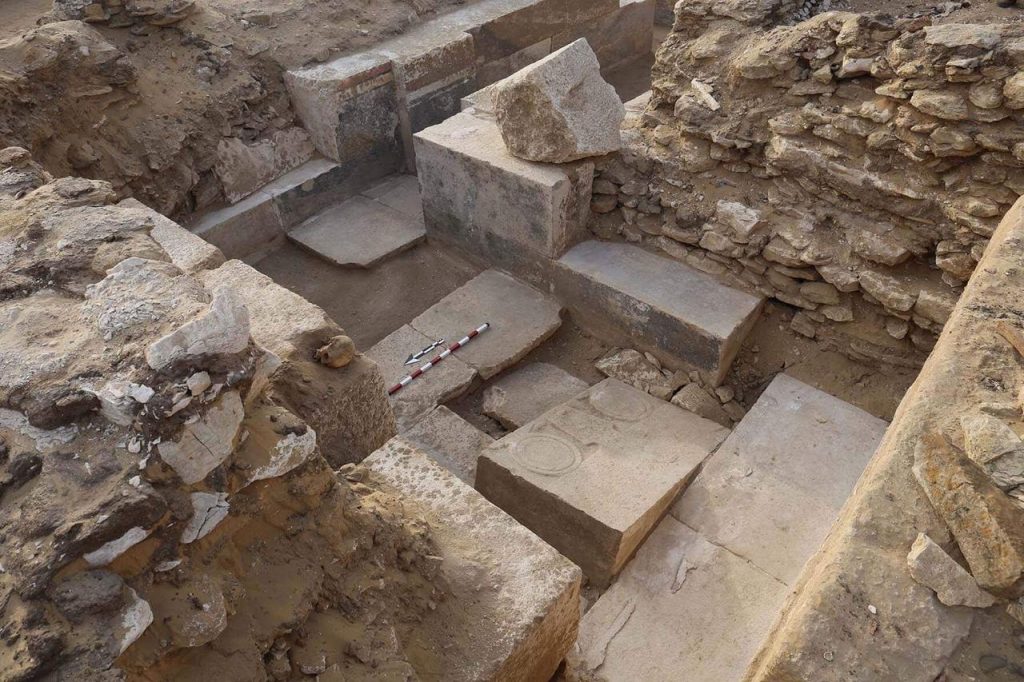 The name of queen was found inscribed, in sunken relief, on a red granite column in the portico of the queen's complex. The full inscription in which her name featured read "The one who sees Horus and Seth, the great one of the hetes sceptre, the great of praise, king's wife, his beloved Setibhor."
Dr. Megahed's team was working on documenting work in the pyramid complex of fifth dynasty ruler Djedkare when the discoveries were made. Thus, the queen's satellite pyramid in proximity to the complex of Djedkare indicates and consolidates her status as his now-named wife.
Her pyramid complex is considered the largest for an Old Kingdom queen which constitutes a honorary tribute from Djedkare who also included key architectural features only present in the pyramid complexes of kings, such as palmiform granite columns.
Djedkare ("the soul of Ra endures") was the eight and last ruler of the Fifth dynasty, in Egypt's Old Kingdom. The mission's finds is hoped to provide additional information on the transition between the fifth and sixth dynasties.
The Old Kingdom is considered a very significant period in ancient Egypt as it is known as the 'pyramid construction era'.