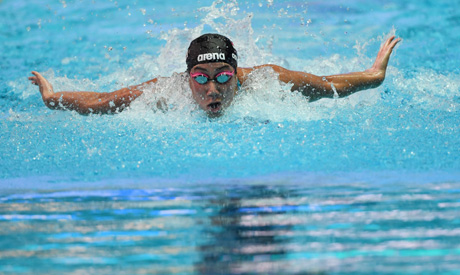 Egypt's 'golden fish' Farida Osman brought home her fourth medal during the ongoing 12th African Games that is taking place in Rabaat, Morocco.
Completing the 50 meter freestyle race in 25.6 seconds , the world champion added another silver medal to her collection. During the African Games, Osman won two gold medals for the 100 meters and 50 meter butterfly. In the 100 meters freestyle, Osman landed a silver medal.
Last month, the Egyptian champion won Egypt's first medal in the 50m butterfly's race at the World Swimming Championships in Gwangju securing the bronze medal.
Soon after, Osman won Best Female Athlete from Africa 2017 at the Association of National Olympic Committees (ANOC) Awards at the Czech Republic.
The athlete, who started swimming at the tender age of four, also participated in the 2018 Mediterranean Games (Spain) where she won two gold medals, and a silver medal.
The competitive athlete, currently holding a record for the fastest female swimmer in Africa, specializes in the freestyle and butterfly categories.
She began swimming and earned several regional and international swimming titles, becoming one of the most accomplished female Egyptian swimmers.
Among a long list of accomplishments, Osman is a gold medalist at the 2017 African Games and 5th at the 2015 World Aquatics Championships, held in Kazan, Russia, in the 50 meters butterfly race.
She has been qualified for the Olympic Games twice in 2012 and 2016.
For the young Osman, swimming is not simply a sport. It is a life's journey as she previously expressed in a press interview in 2017 saying "Swimming taught me to be organized and to manage my time properly in order to balance between my studies, practice, and my goals," adding that "Thanks to swimming, I have learned to be independent and it exposed me to the real world. It taught me the meaning of hard work and how I can achieve my goal if I put my mind into it."
---
Subscribe to our newsletter
---