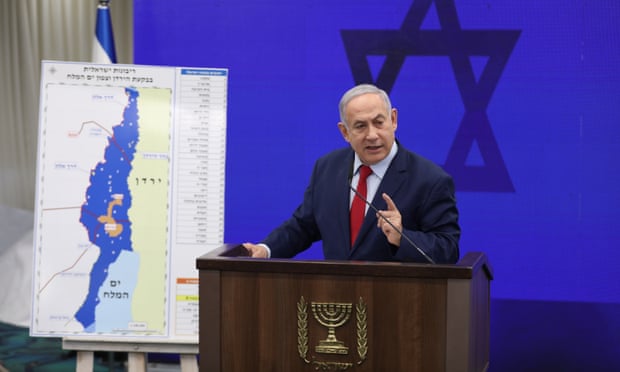 Arab League condemned the statements the Israeli Prime Minister Benjamin Netanyahu pledged yesterday where he announced that, if elected, he will annex the West Bank.
Netanyahu unveiled his plan in a televised speech as part of his campaign. He announced that he would annex all Jewish settlements in the West Bank, but that would need to wait until the long-awaited US President Donald Trump's plan for a peace deal between Israelis and Palestinians is published.
Here's the map of the territory of the Jordan Valley, in the West Bank, that Netanyahu vowed to annex if he wins next week's election (blue: will be annexed to Israel; orange: will remain under Palestinian control) pic.twitter.com/xMcsPeDLpt

— Raphael Ahren (@RaphaelAhren) September 10, 2019
The League called his plans a "dangerous development" and "aggression" against the Palestinians emphasizing that Netanyahu's plan would violate international law and "undermine" the foundations of peace.
Palestinian news agency WAFA reported that Palestinian President Mahmoud Abbas warned that if Netanyahu annexes any part of the occupied territory, any agreements between the two will dissolve.
"We have the right to defend our rights and achieve our goals by all available means, regardless of the consequences, as Netanyahu's decisions contradict with United Nations resolutions and international law," Abbas said.
Palestinian diplomat Saeb Erekat said such a move would amount to a "war crime" that would "bury any chance for peace."
Many believe that if this takes place, it will end any aspirations Palestinians had for statehood. Senior Palestinian official Hanan Ashrawi told AFP that Netanyahu "is not only destroying the two-state solution, it is also destroying all chances for peace."
Jordanian Foreign Minister Ayman Safadi described the plan as a "serious escalation" and warned that it "could push the whole region towards more violence."
Turkish Foreign Minister Mevlut Cavusoglu called Netanyahu's pledge "racist" and criticized the Israeli prime minister for "sending illegal, illegal and aggressive messages" ahead of the elections.
Saudi Arabia also condemned the declaration as "a very serious escalation" and called for an emergency meeting of foreign ministers of the 57-nation Organization of Islamic Cooperation (OIC).
Reuters reported that according to the Israeli human rights group B'Tselem, about 65,000 Palestinians and 11,000 Israeli settlers live in the West Bank's Jordan Valley and northern Dead Sea area.
Netanyahu is leading the right-wing Likud party, which polls now show as a rival to the centrist Blue and White party.
Early general elections are due to be held in Israel on 17 September after Netanyahu failed earlier this year to form a coalition government after winning the last election.
---
Subscribe to our newsletter
---