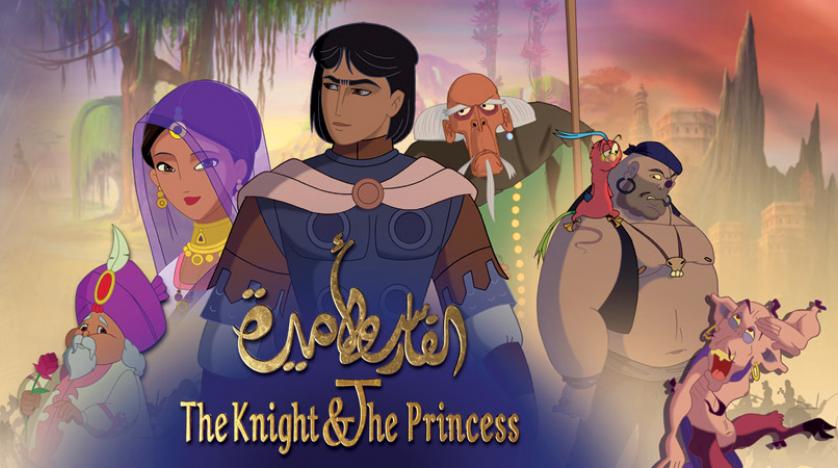 After 20 years in the making, Egyptian producer Alabbas Bin Alabbas finally released Egypt's first animated feature film 'Al Fares w Al Amira' or The Knight and the Princess at the 3rd edition of El Gouna International Film Festival (GIFF).
The producer put the project on hold regularly over the last 17 years, because he would get recruited to producer TV series. Alabbas would use the profits he would make from his TV series production to invest in his life-long dream; creating Egypt's first feature film.
This animation resembles a familiar Disney story, Aladdin, in its aesthetic. But instead, it tells the story of the seventh century Umayyad general Mohammed Bin Qasim Al Thaqafi who conquered Sindh, located in modern-day Pakistan, after battling Raja Dahir, the last Hindu ruler of the country.
The Knight and the Princess tells the story of Muhammad bin Qasim Al Thaqafi, an Arab knight who freed Arab women and children from the captives of the Indian Ocean pirates, at the age of 15 years. Two years later, the knight conquered the entire country of Sindh. During his first voyage, Muhammad bin Qasim Al Thaqafi met an Indian princess, fell in love with her, then returned, and married her while conquering Sindh.
Egyptian director Bashir El Deek took over the role of director after Mohammed Hassib, the original director for the film passed away.
The film includes Egyptian stars including Amina Rizk, Said Saleh, Abla Kamel, Ghassan Masoud, Mohammed Al-Dafrawi, Abdulrahman Abuzahra, Mohamed Heneidy, Medhat Saleh, and Donia Samir Ghanem.
The film's budget reached nearly 10 million pounds and was completely executed in 2D with the help of 230 graphic artists.
GIFF was founded in 2017 by Egyptian businessman Naguib Sawiris, Amr Mani, Bushra Rozza, and Kamal Zadeh. Its first edition proved to be successful and since then, the Egyptian cinema industry has looked forward to the annual event.
The festival does not only celebrate local and regional films, it provides a platform for key figures in the industry to guide aspiring filmmakers through workshops and seminars.
"We are honoured to be announcing the launch of the El Gouna Film Festival, which aims to activate the cinematic and cultural scene in El Gouna and create the opportunity to develop, encourage and support all contemporary forms of creative expression in the MENA region, especially for the younger generations," Sawiris said.
The goal is to generate opportunities for development and support for all contemporary forms of creative expressions in the MENA region, especially between young generations from the Arab world and their international counterparts.