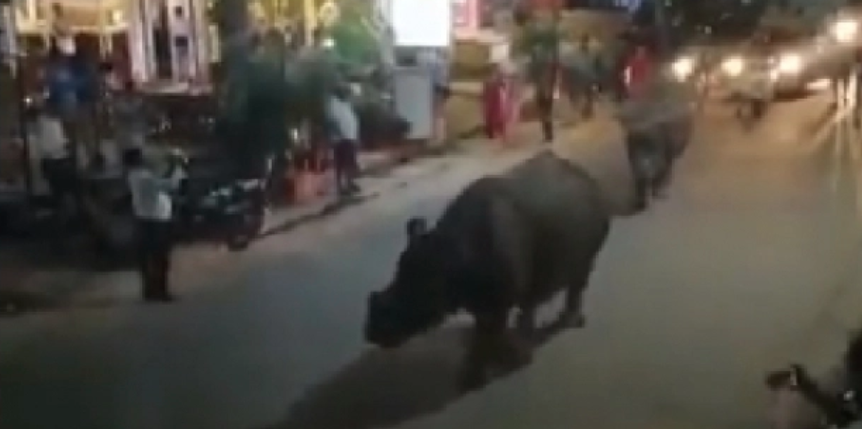 In the past few hours, footage of a huge wild rhinoceros strolling the streets of Cairo have circulated social media. Amid the amazement and surprise of those present, people were keen to document this rare sighting.
Footage re-uploaded by several sources of the same scene has stormed Facebook under the title "rhinoceros roam the streets of Cairo in a unique scene." The videos generated more than 80,000 views in just an hour and thousands of likes and comments.
Interestingly, what made viewers think that this happened in the streets of Cairo is that some people spoke in Arabic, but the incident was not in Cairo, but this Does not negate the fact of the video.
The truth of the matter is that this incident took place on a street in Nepal, specifically on the main street in the village of Seoraha in Nepal. This is a frequent occurrence in Nepal, especially in that region, because there is a national park called "Chitwan", located near Seoraha.
In the Seoraha, the government puts up banners along the streets with animals, saying animals may appear on the streets.
A similar incident took place in 2017 faming the unexpected rhino sighting, was when a 35-year-old British tourist named Anna Simusic took a video of a rhinoceros walking in the same street, while she was on vacation in Nepal, according to Daily Mail and Cater News.
Caters news reported that the unique rhino in the video is believed to have come from the Chitwan National Park near the village.
---
Subscribe to our newsletter
---