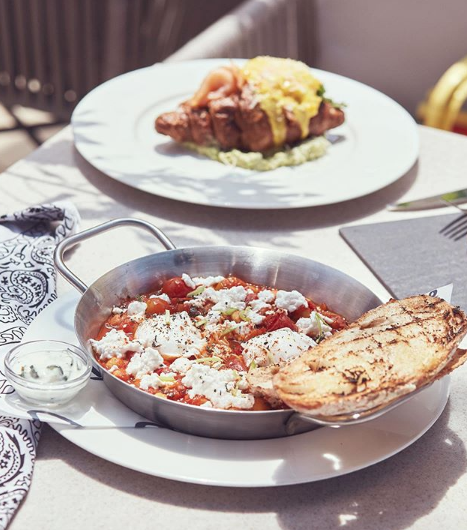 Egypt's capital has a rich food scene with restaurants and cafes emerging in every corner. And while Cairo's food hubs are busiest during the evenings, when friends and family reconvene to socialize, many enjoy grabbing breakfast during the during the weekend mornings.
We compiled a list of popular breakfast spots across the city.
Lyfe
View this post on Instagram
It is a little spot in Maadi with a beautiful 'picnic-looking' outdoor seating area, as well as an indoor seating area. Their menu is diverse with many appealing and healthy breakfast options.
Lyfe's menu includes greek yogurt, oats and a variety of smoothie bowls with mixed fruits, milk and seeds. Not to mention, it has a stack of oats pancakes that are soft and fluffy, as well as diverse 'on toast' options with avocado, salmon
Andrea
View this post on Instagram
Andrea has become the favorite breakfast spot for many locals and tourists alike. With its rich oriental Egyptian menu and breakfast menu, Andrea's known for its eggs and pastrami dish, straight out of the oven Egyptian baladi bread, crunchy falafel and, of course, foul (cooked fava beans).
Many are not only fond of the food, but also adore the restaurant's newest location, New Giza, as this branch sits on a hill with an stunning view of Cairo.
Eish w Malh
View this post on Instagram
In the heart of Egypt's downtown lies this Italian restaurant which has quickly become one of the most popular brunch spots in Cairo. Eish w Malh hosts weekly brunch events on the weekends as well as local product market events occasionally.
Known for their Instagram worthy "Shakshuka" dish which consists of baked eggs and tomato, Eish w Malh also serves a variety of pancakes, french toast, and breakfast pizza.
Qahwa
View this post on Instagram

With several branches across the capital, Qahwa soon became one of the most beloved breakfast locations, especially in New Cairo, for its famous 'The Turkish Egg Benedicts' which consists of poached eggs on flatbread covered with 'labna' spread and garlic herbs.
Qahwa, like many other breakfast spots, serves a stack of pancakes and french toast, as well as a variety of other egg options including omelets and sunny side ups. Although its Waterway branch is alway busy during the weekends for breakfast, it's definitely worth the wait.
Ovio
View this post on Instagram
Ovio is another chain with a three branches in Cairo including Maadi, New Cairo and Sheikh Zayed City. They are mostly known for their soft donuts filled with either salted caramel cream, vanilla cream, chocolate cream or jam.
Ovio's breakfast menu is rich with variety of toast, eggs, crepe and, not to mention their iconic pancakes drenched in syrup, which is arguably their most popular dish.
*Cover photo courtesy of Qahwa
---
Subscribe to our newsletter
---