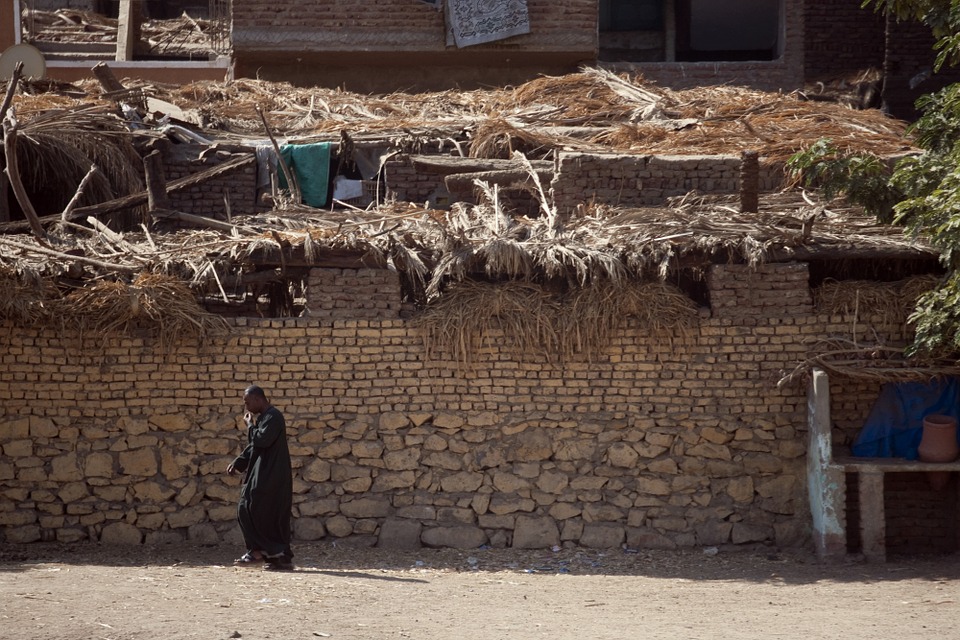 For millions of families, many of them low-income, remittances are a crucial source of financial security.
Global migration continues to increase everyday, with over 258 million individuals today residing outside of their country of birth. With the devaluation of the Egyptian pound (reaching 30 EGP against the US dollar in January), there is an increasing likelihood that the difficult circumstances in Egypt will trigger more migration.
Desperate and vulnerable are the only correct terms to describe the situation of many low-income Egyptians today. Numbers, graphs, and media headlines alone do not show the full picture of the struggles that have intensified over the past year, with the Egyptian pound now devalued by more than 70 percent since March 2022. Everything, down to Egypt's most affordable meal, koshary, is now also becoming more expensive.
Against these circumstances, Egyptians abroad cannot afford to pay high transfer fees or spend days waiting for remittances to be sent back home to their families. For low-wage labourers, the money they send back home is a lifeline for their communities back home, helping them pay school or university fees and buy homes.
Big money transfer companies like Western Union have dominated the market, yet these companies alone do not respond to the needs of migrants or students living abroad. But there are new technologies that can not only help reduce the cost, but also the convenience of sending money abroad. So, can countries begin to capitalise on digital remittances?
Global slowdown 
The daunting economic landscape I mention is not found in Egypt alone. The world is currently in a state of deep polycrisis: several economic shocks – from food insecurity, to climate change and conflict – are deeply entangled together, meaning that one crisis in one sector will, inevitably, create a ripple effect across all sectors.
This is most evidently seen in the financial crisis currently unfolding.
According to the World Bank's most recent 2023 report, as a result of the rise of interest rates by central banks around the world, emerging market and developing economy policymakers will have to be prepared to handle any potential spillovers from a tightening of global policies. Even if policymakers manage to cushion the impact of inflation, they will still have to face the looming forces of climate change.
Starving for innovation?
At times, one feels as if we are losing track of time. Events that may have seemed too far-fetched to happen soon are already happening before anyone can be prepared for it. Yet it is not just the economy that is slowing down, but also innovation. According to Simon Kuper's insightful Financial Times 2023 column, innovation has largely enriched big tech giants rather than solved any real social and economic challenges.
The world is 'starving' for innovation – for transformative solutions that are deeply concerned with people's problems and needs. But in this time of concurrent crises, there is no other opportune time for innovation. From artificial intelligence, to Web3, and new climate technologies, there are tremendous opportunities for policymakers to use and benefit from, particularly when it comes to enhancing government services.
South Korea, for example, is already making significant strides by launching the Digital Platform Government, which aims to innovate in government operations, moving towards a "people-centred government", where services are highly personalised and tailored to citizens' specific needs. The one-stop government breaks down the barriers among ministries, and provides integrated services through open and transparent data sharing among ministers.
Though not all countries can apply similar policies, due to their different socioeconomic circumstances, emerging economies such as Egypt will need to keep pace with the rapidly evolving trends occurring today. As per the graph below by the World Bank, the number of internet users in Egypt has been steadily increasing, with 70 percent of the population using the internet in 2020. This implies that the demand for digital solutions will not only rise, as more people become accustomed to digital behaviour, but also that there are opportunities for financial inclusion that can be enhanced through digitalization.
In Egypt, remittances from Egyptians expatriates increased by about 6.4 percent or USD 1.9 billionbn (EGP 56 billionbn) in 2021. In 2020, Egypt was among the top five remittance recipient countries, receiving USD 29.60 billion (EGP 729 billion); it had the largest number of people living abroad from the Africa region, followed by Morocco, South Sudan, Sudan, Somalia and Algeria.
Digital remittances can help reduce the cost of remittance services. This trend kicked off in the late 2000s, when the World Bank and Bank for International Settlements released the General Principles for International Remittance Services. Afterwards, the UN Sustainable Development Goals (SDGs) set a target for cost reduction to be lower than 3 percent by 2030. Currently, it stands at around 6.94 percent, which is far from the target that should be achieved.
As a result of these developments, mobile technology was seen as an innovative solution to reduce remittance expenses by half, according to a study on mobile money transfers conducted by the GSMA (the trade group of mobile operators). The average cost of sending a digital remittance is just 3.93 percent, which is less than half the cost of traditional remittances, according to research from PayPal and Xoom.
Moreover, the changing nature of work and the rise of cost of living implies that there is a greater likelihood that people will not stay in one workplace for a long time, and will most likely pursue multiple opportunities. The World Economic Forum's Global Risks Report 2023 cites large-scale involuntary migration as one of the top risks that will last in the next 10 years.
With the rise of migration, policymakers will need to find innovative ways to close the gap between families that are separated across borders. Remittances are expected to continue to outpace foreign direct investment flows to low and middle-income nations, according to the United Nations Capital Development Fund.
The majority of formal remittances are carried out through cash in/cash out infrastructure, such as ATMs and bank branches, which means that it can often be a lengthy and expensive process, as family members need to first go to a money transfer outlet to pay a fee to send money to their families back home. Remittance transaction fees around the world average seven percent, more than double the three percent aim set forth in the UN's Sustainable Development Goals (target 10.c).
For instance, many migrants or students are unable to open a bank account, as they cannot provide sufficient documentation to open a bank account in their new country, which makes it difficult for them to directly transfer money. Another issue is that some countries impose limits on foreign currency withdrawals, and with the extra fees that have to be paid, it can be a very lengthy and costly process.
According to the World Bank's senior economist for remittances and migration, Dilip Ratha, people are reducing their own expenditure in order to continue sending money to their families. They do this by reducing their consumption, skipping meals, splitting the cost of housing with others, taking on more jobs, and sleeping less.
To avoid these costly and lengthy cash-based methods, remittances can turn towards digital channels in order to reduce costs, improve accessibility and ease, and encourage transparency. The United Nations Capital Development Fund recommends that remittances must be fully digitised from beginning to end. Migrants can get paid digitally from their employers and transfer money to their family back home, who can then keep and use that money digitally.
Digitisation is the key to offering other essential financial services, such as insurance, credit, savings, and investments, in addition to making remittances safer, more convenient, faster, and less expensive.
As remittances largely contribute to the GDP (8.4 percent of Egypt's GDP by the end of 2021), and is one of the most important sources of foreign currency, Egypt's policymakers and entrepreneurs can capitalise on digital channels and open platforms that can better connect citizens living abroad with their families, and thereby, improve livelihoods.
This is a chance for rising entrepreneurs to innovatively create new platforms that will facilitate remittance flows and, more importantly, help people feel more financially secure through the help of technology and digitization.
---
Subscribe to our newsletter
---