A painting of Safia and Saad Zaghloul by Egyptian artist Ahmed Sabry
Photo credit: artnet
Egypt's 1919 revolution against British occupation is one of the most significant events of the country's modern history. Many names emerged from this glorious uprising that Egyptians still pay tribute to until today.
One of these highly-celebrated figures is Safiya Zaghloul.
Daughter of one of Egypt's first prime ministers, Mustafa Fahmy Pasha, Safiya Mustafa Fahmy had a distinctive role in Egyptian political life when women's involvement was rare, if not almost unthinkable.
Born in 1878, Safiya was the wife of Egypt's revolutionary icon, Saad Zaghloul, leader of the 1919 revolution and leader of the nationalist Wafd Party. After marrying him, she became popularly known as Safiya Zaghloul and accompanied him in all his political activity.
Due to his political transgression and untamed activism, Zaghloul was exiled by the British to Malta and later to Seychelles. As a supportive wife and a rebellious feminist, Safiya decided to continue on the same revolutionary path as her husband: she led the women's demonstrations to demand Egypt's independence from British occupation in 1919.
"If the British have arrested Saad and his tongue, then his wife and life partner will make God and the homeland witness that she will replace her great husband, and that she considers herself a mother to all those who came out to protest for the sake of freedom," was a speech her secretary read out to the public from the terrace of their house.
That house, which witnessed active demonstrations and an influential speech, later became known as 'Beit Al Umma' (House of the People). Today, Beit Al Umma is a museum located in Downtown Cairo portraying a glimpse of their lives during the revolution, and celebrating their legacies.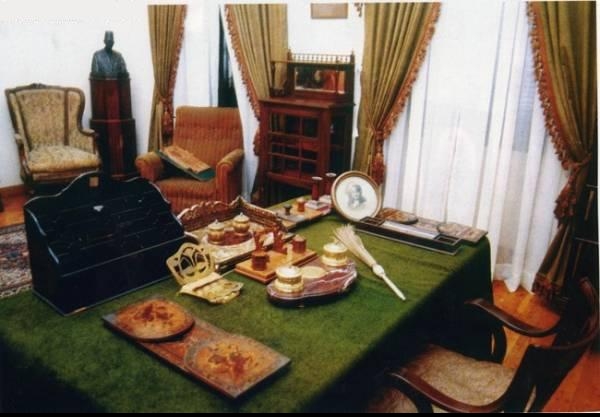 Following that powerful speech, and until today, Safiya became known as "Mother of Egyptians".
Decades after her husband's death in 1927, Safiya continued her political activism until she died in 1946. Today, she is celebrated as a revolutionary female leader and an influential Egyptian woman who contributed to Egypt's independence from British rule.
Subscribe to the Egyptian Streets' weekly newsletter! Catch up on the latest news, arts & culture headlines, exclusive features and more stories that matter, delivered straight to your inbox by clicking here.