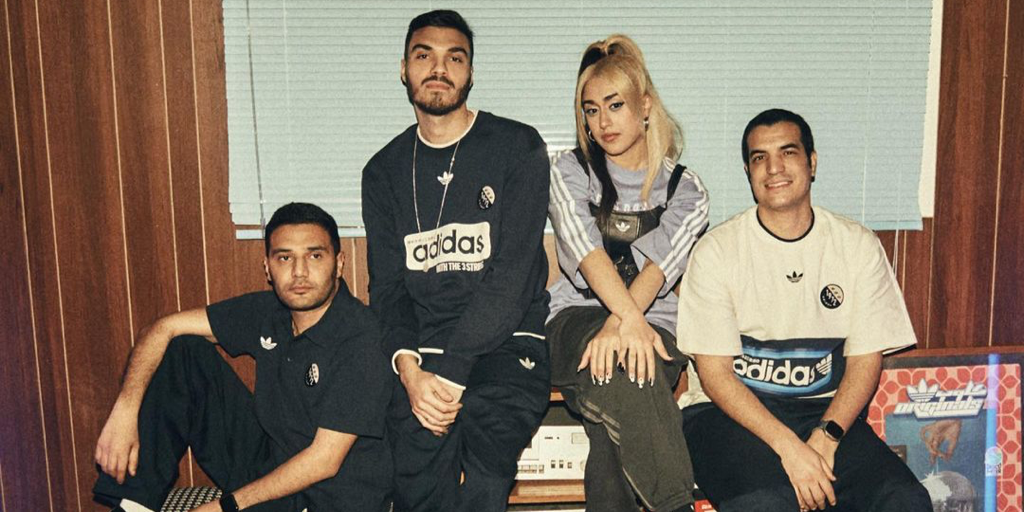 The Middle East and North African (MENA) region is becoming a hot spot for musical talents as each year, the music industry sees a line-up of new and aspiring artists reshaping the music game. In Egypt, there's been a rise in the diversified genres coming out of the country over the past decade with Egyptian rap and trap music, electro-funk mixes, and Mahraganat — also sometimes referred to as electro-shaabi (Shaabi loosely translates to music of the people), to name a few, gaining prominence.
Adidas MENA's latest campaign, Club Originals, aims to spotlight the creative streak taking place in the region by highlighting emerging artists. Honouring creativity in music, art, and fashion, the campaign pays homage to the regional talent while inspiring coming generations of artists sprouting across the Middle East.
View this post on Instagram
In a one-time collaboration, Egyptian DJ trio Disco Misr have come together with Emirati-Egyptian singer Almas to remix an iconic Egyptian song, Mabsoota (Happy) — originally sung by Simone Philip Kamel in the 90s — and infuse it with their own musical identities for the campaign.
Adidas Club Originals is a global campaign by the sportswear giant. The campaign's slogan is "remixing the past and creating the future". For the MENA region iteration, the trailer of the released track sees Disco Misr and Almas dressed in vintage with a retro vibe — a theme that's been obsessing Gen-zers and Millennials — emanating from the video set-up.
The campaign, which aims to spotlight the trendsetters and trail blazers within the region, is a celebration of creative identity of new and upcoming artists.
Who is Disco Misr?
Disco Misr — made up of Amr Emad, Mostafa El Sherif and Shady Wasfy — merges several music genres with oriental tunes. Mixing Arabic classics with disco, funk, and electronic music, the group has garnered widespread popularity across the country, having also performed globally with their most recent European tour being sold out.
Inspired by a common love of music, the trio has remixed songs from some of Egypt's most iconic artists including Abdel El Halim Hafez and Umm Kulthum. In 2013, When they first started, it was through a common passion for funk and disco. While they started off playing at prom nights and smaller events, it wasn't until 2014 that Disco Misr really began forming their identity by creating mashups.
View this post on Instagram
At the time, the country's music scene was heading towards a wave of new disco. Infusing it with electro, the group mixed oriental sounds to introduce a revival of disco merged with their oriental heritage. The group's music is influenced by French electronic duo, Daft Punk.
Since then, they have made a name for themselves and have played across some of Egypt's most popular venues including Cairo Jazz Club 610 and the Tap, among others.
A Flourishing Music Scene
Over the past decade, the music scene in the MENA region — and Egypt in particular — has been thriving with a string of young musicians producing a range of eclectic music genres. Social media as well as streaming platforms have been some of the drivers behind the success of these creative trailblazers in the region, who use these spaces as tools to promote their musical creations and reach like-minded audiences.
Felukah, who is an Egyptian neo-soul artist that has been garnering attention since 2019, first started by producing her own music with the help of her brother, and then releasing it on Soundcloud in 2018. By 2020, the young musician had released her debut album, 'Dream 23', in collaboration with music label Abu Recordings. Today, she has over 39 thousand followers on Instagram.
View this post on Instagram
The arrival of streaming giants — the likes of Spotify which made its way to the Middle East in 2018 — has also shifted the playing field by granting emerging artists from the region more visibility. One of the initiatives launched by Spotify was Sawtik (your voice), which was launched to highlight women musicians in the Middle East, in 2020.
Breaking into the music scene especially for young women in Egypt — and the region at large — comes with a series of hurdles, one of which is the stigma in Middle Eastern culture associated with being a performer. According to a 2020 survey by Spotify, about 60 percent of women who would like to pursue a career in music worry about the negative viewpoints associated with it. Moreover, as of 2020 women made up less than 13 percent of artists signed by labels in the region, despite there being a demand for female creators. As the cultural and social dynamics continue to shift in the region, with women gaining more and more of a voice (pun-intended), so too does the music coming out of the region.
The diversity that is part and parcel of the music born within the Middle East — resulting from a mix between cultural influence and western exposure — resonates with audiences globally.
The MENA region's burgeoning music scene has been experiencing notable growth with the revenue for the recorded music market increasing by 35 percent in 2021, as per a report released by the International Federation of the Phonographic Industry (IFPI). Globally, it is one of the fastest growing regions in terms of music.
View this post on Instagram
In Egypt, the music scene has witnessed a surge of creativity bred out of mixing genres that are quintessentially Egyptian with western beats. The rap scene has been blossoming — with artists like Marwan Pablo, Wegz, and Abuysif rising to musical prominence — over the past decade, creating a genre unto itself: Egyptian rap and trap music.
Another genre that is synonymous with Egypt, which rose to popularity in recent years is Mahraganat (festivals). Becoming one of Egypt's most recognised genres, Mahraganat was popularised by the working class, eventually finding its way to the upper echelons of society within the country. Today, this type of street music has made it internationally, finding a home across the Middle East, as well as in the US and Europe.
---
Subscribe to our newsletter
---