Photo credit: Coptic Orthodox Church Facebook page
To celebrate 50 years of relations between the Coptic Orthodox Church and the Roman Catholic Church, Pope Tawadros II, Pope of Alexandria and Patriarch of the See of St. Mark arrived at Rome International Airport on Tuesday, May 9, for a visit to Vatican City.
Egypt's Pope Tawadros began his trip by visiting the shrine of Saint Peter, and the Pontifical Ethiopian College in the Vatican.
Pope Tawadros was welcomed by Pope Francis, Pope of the Vatican, on Wednesday, 10 May, in front of a general audience at Saint Peter Square, where each pope gave a public speech.
"I now look at this place and go back to my memory ten years on the same date, remembering your precious love in receiving me and the delegation of the Coptic Church on my first visit to you, and how we spent with you a blessed time filled with the fraternal love that you showered us with," Pope Tawadros said in his speech.
"His Holiness Tawadros accepted my invitation to come to Rome to celebrate with me the fiftieth anniversary of the historic meeting of Pope Paul VI and Pope Shenouda III in 1973." Pope Francis said in turn, adding that it was the first meeting between a Bishop of Rome and a Patriarch of the Coptic Orthodox Church, which culminated in the signing of a memorable joint Christological declaration, on 10 May precisely," Pope Francis said in his speech.
"In memory of this event, His Holiness Tawadros came to visit me for the first time on 10 May ten years ago, a few months after his and my election, and proposed to celebrate the 'Day of Coptic-Catholic friendship' every 10 May, which since then we have celebrated every year," Pope Francis continued.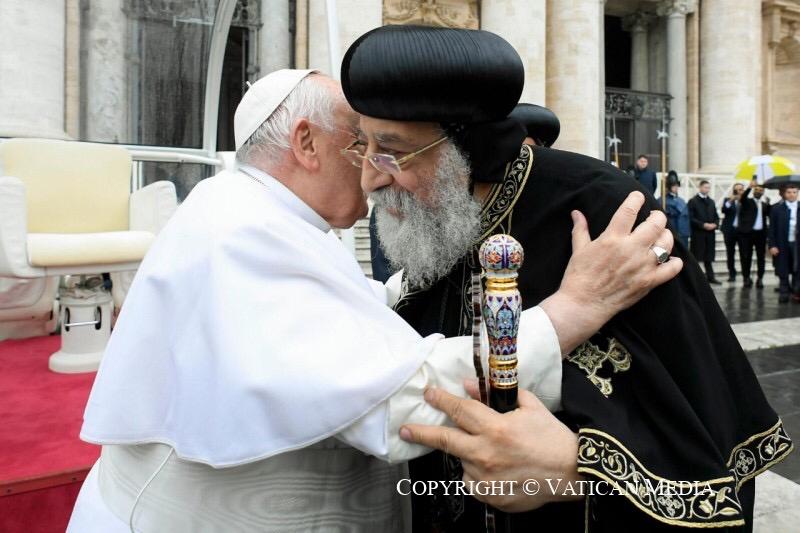 During their meeting, the two popes wrote a joint preface for a new book celebrating the 50th anniversary of their predecessors' historic meeting.
The visit marks Pope Tawadros' second to the Vatican as head of the Coptic Orthodox Church.