Mahienour El-Massry, often dubbed as a voice of the revolution and a champion of women's rights, has spent her first few nights behind grey walls at Damanhour prison after being sentenced to two years in jail for protesting.
The 28-year-old and eight others were sentenced by one of Alexandria's crumbling courthouses for organizing an 'unauthorized protest' and violating the protest law.
The young activist, who also happens to be a lawyer, had participated in a protest on December 3rd 2013 to call for justice and retribution for Khaled Saeed, the man who was tortured to death in late 2010.
Instead of retribution, her solidarity protest was broken up with tear gas and force. Mahienour and eight others were branded criminals and detractors by security officials.
"What's truly depressing about the arrest of Mahienour is that it's the detention of a young woman who was protesting and demanding justice outside the trial of a young man whose torture and killing sparked the January 25 revolution," says Mai El-Sadany, an Egyptian-American human rights activist and researcher.
The outrage and depression expressed by El-Sadany has spread across the country. Anadalus Institute for Tolerance and Anti-Violence Studies, Egyptian Women's Union, the Egyptian Initiative for Personal Rights and 17 other human rights organizations have all called for the renunciation of the verdict against Mahienour.
Meanwhile, a press conference and a show of solidarity held on May 22nd at the Egyptian Center for Economic and Social Rights was stormed by police who smashed cameras and arrested 16 attendees.
Heightening the pressure against the Egyptian government, the European Union, which is overseeing next week's Presidential elections, expressed concern about the arrest of a "peaceful demonstrator" and called for her release.
'A beacon of hope'
Long before millions chanted for bread, freedom and liberty at the epicentre of the January 25 revolution, Mahienour had been dreaming of change.
On July 23rd 2008, Mahienour, then a 22-year-old, was arrested by plain-clothes police officers and then beaten in an Alexandria police station. Her 'crime' was attending a conference held by the then newly created April 6 Youth Movement, which has now been banned in Egypt.
"Mahienour's very own dedication to the revolution and the fight for basic human rights is a beacon of hope, not only for Egypt, but for the entire global struggle for freedom," says Mariam Kirollos, human rights activist and co-founder of Operation Anti-Sexual Harassment and Assault.
"She works tirelessly and fervently with political detainees and with those whose rights have been violated. And despite the bumpy road that she is taking, she manages to generously share her beautiful spirit of resistance and inspire us all."
The passion and dedication that drives Mahienour has been central in the fight for dignity, equality and basic human rights in Egypt's coastal city of Alexandria.
"Mahienour is the conscience of Alexandria," says Amro Ali, a scholar on Alexandria's urban politics. "Her presence on the activist scene has been an important factor in protester morale."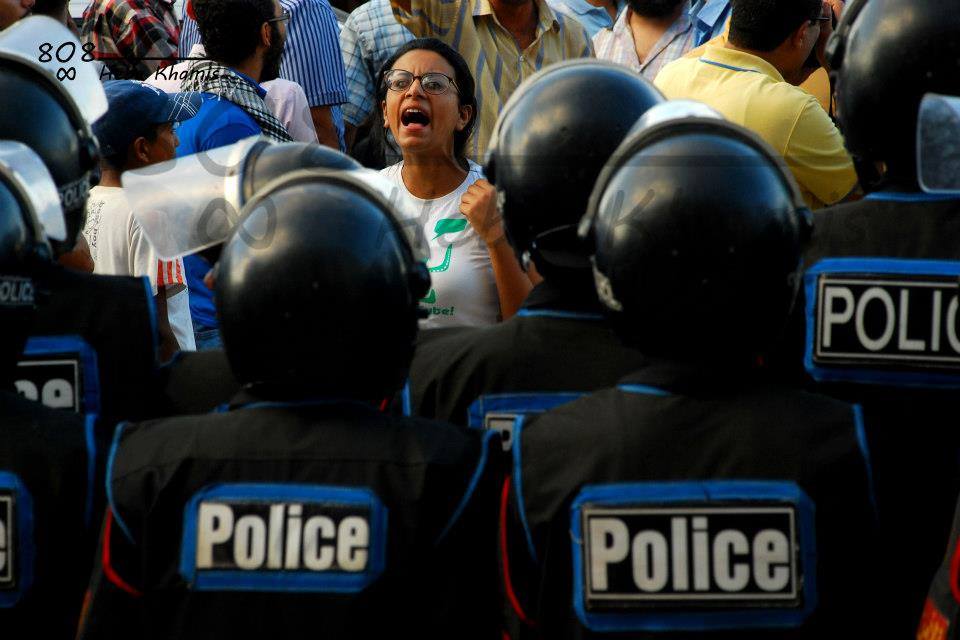 Silencing the revolution
For many, Mahienour's imprisonment is a part of a larger scheme to systematically silence revolutionaries that brought down Hosni Mubarak's 30-year-old iron fist.
"There is a targeted systematic assassination campaign of all of its [revolution's] symbols and leaders, of which Mahienour is a great example," explains freelance journalist and analyst Amr Khalifa.
"The message to revolutionaries by the regime: you are persona non grata."
The government's crackdown on activists and protesters has also been criticized as protests were central in the downfall of the Mubarak and Morsi regimes.
"The government that came to power through protests is banning protests and putting revolutionaries behind bars," says Kirollos, referencing a recent Facebook status by Mahienour.
For others, the crackdown and imprisonment of Mahienour and countless other activists reveals a weakness in the current government and a desperate attempt at stability.
"[The] sentencing exposes desperation and weakness in the regime," explains Ali, adding that the continued imprisonment could end up mobilizing the population from across the political divide.
El-Sadany agrees with Ali, stating that the detentions are a "sign from the state that it's willing to put its brightest behind bars for hte price of a false stability, that at best, will only be temporary."
The people are the revolution
Despite the systematic silencing of activists and dissenters, Kirollos cautions that there still remains hope.
"Mahienour was active during the Mubarak era, which seemed as a dark, endless fight to many of us," stresses Kirollos. "Her fight along with others went on and is continuous against oppressive regimes, so in that sense, yes, there is hope."
Perhaps more importantly is the role that the people, as a collective society, play. While one young revolutionary may be placed behind bars, it will be the people that ultimately hold the power.
"People talk about x, y or z, is better for the revolution," said Mahienour in 2012 interview. "No one is better for the revolution more than the people. Nothing is better for the revolution than the people who believe in it."