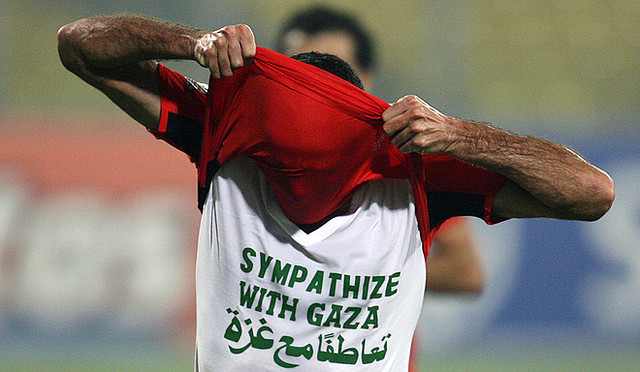 Former second-striker and Egyptian soccer legend Abou Treika declined an invitation to the "Match for Peace" organized by Pope Francis because of the participation of ex-Liverpool and Chelsea Israeli midfielder Yossi Benayoun.
Abou Treika, who is a prominent figure in the Egyptian sports industry, refused to take part in the friendly match organized by the Roman Catholic Church stating on his twitter account, "I rejected the invitation because of the [participation] of the Zionist entity. We are setting an example to the new generation."
The Inter-religious Match for Peace scheduled to take place on September 1st at the Olympic Stadium in Rome is "based on spirituality, fraternity and sporting excellence, in the name of the dialogue among peoples for the peace in the world," the match's site stated.
Abou Treika has shown sympathy for Gaza on several occasions, including a time where he displayed a shirt reading "Sympathise with Gaza" in an African Cup of Nations' match.
Former soccer star Wael Gomaa has also been invited to participate in the Match for Peace but has yet to take a stance. However, he is expected to assume the same position.
Several world class players are expected to attend the event including Lionel Messi, Samuel Eto'o, Zinedine Zidane, Javier Zanetti, Andrea Pirlo, Roberto Baggio and Gianluigi Buffon.
According to the Palestinian Health Ministry, more than 2,000 Palestinians have been killed in military operations commenced by Israel on July 8. Hundreds of thousands of others remain displaced as the United Nations calls for emergency support.
---
Subscribe to our newsletter
---