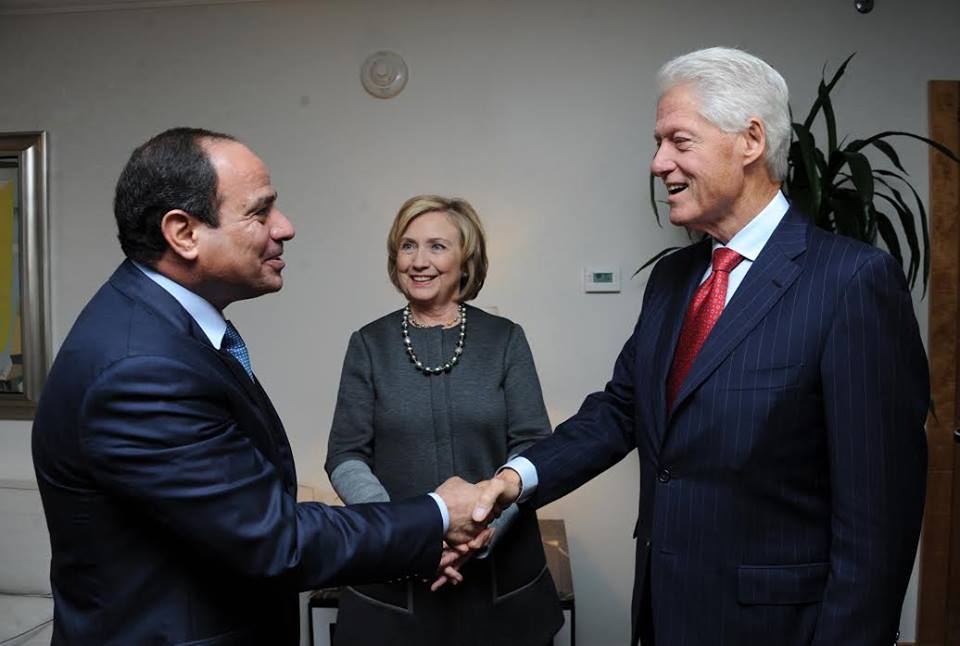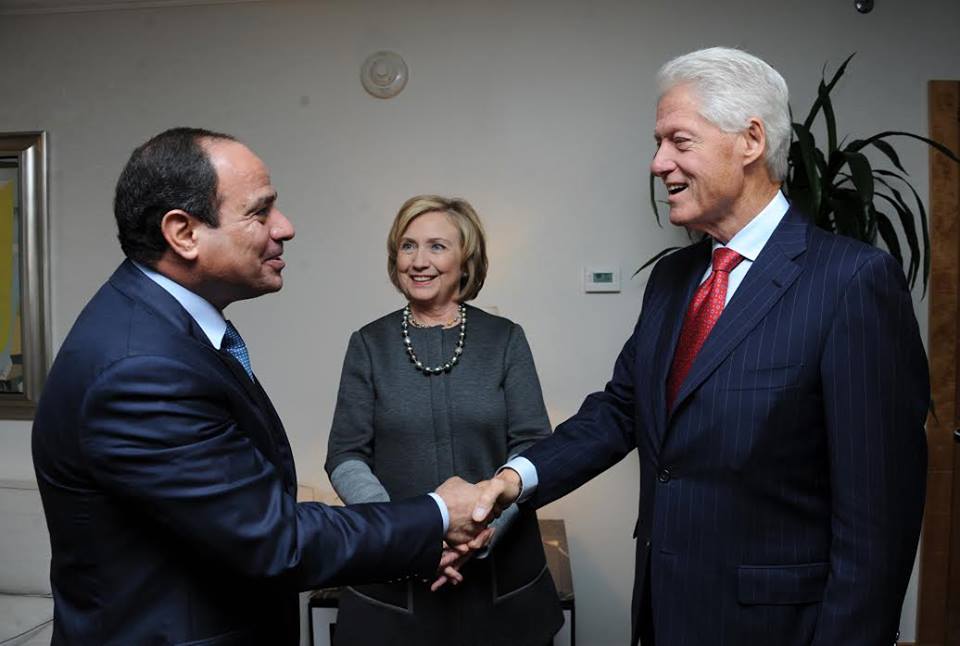 Egypt's President Abdel Fattah al-Sisi met with former U.S. Secretaries of State Henry Kissinger and Madeleine Albright at his current New York residence on Monday, where they discussed the current developments in Egypt and the region.
The meeting came shortly before Sisi met with former US President Bill Clinton and former US Secretary of State and potential presidential candidate Hillary Clinton.
Sisi met a group of businessmen of the American Chamber of Commerce, state-run MENA agency reported, with whom he reviewed the measures taken by Egypt to stimulate investment in light of the grand projects currently being executed in the country.
The president also met with members of the Business Council for International Understanding (BCIU), which was established as a White House initiative under former U.S. President Eisenhower in 1955 to promote "dialogue and alliances between world businesses and political leaders."
Sisi embarked on a trip to the U.S. on Sunday, his first since he was elected president in June, to represent Egypt in the United Nations' General Assembly's 69th session. Sisi will also attend the UN Climate Summit, scheduled for September 23 in New York.
The United States Department of State invited Egypt's president to meet with U.S. President Barack Obama during the former's visit to New York, a presidency source told Aswat Masriya.
The source, who preferred to remain anonymous, said that the presidents' meeting is expected to be held on Thursday. He added that Sisi agreed to the meeting to "present Egypt's stance toward terrorism."
Sisi would stress on the importance of combating terrorism in general and not only Islamic State fighters in Iraq, the source said.
The Egyptian president will also deliver a speech in the General Assembly's 69th session on Thursday. Combating terrorism and extremism will be an integral part of Sisi's speech, reported state-run news agency MENA.
Egypt was part of the talks hosted by Saudi Arabia in Jeddah ten days ago to discuss means of combating extremist groups within the region.
The talks, attended by representatives from the United States as well as Arab and Muslim countries, granted the support of 10 Arab countries – including Egypt – to the U.S. in a "coordinated military campaign" against Islamic State fighters in Iraq.
During a meeting with U.S. Secretary of State John Kerry on Saturday, Sisi said the newly formed coalition should fight other militant groups in the region and not just Islamic State fighters.
Egypt's relations with the U.S. have been tense since the military ouster of former Islamist President Mohamed Mursi in July 2013 at the hands of Sisi.
The U.S. announced temporarily halting part of its 1.3 billion-dollar military aid to Egypt last October pending "credible progress toward an inclusive, democratically elected civilian government through free and fair elections."
In January, the U.S. congress passed a bill resuming the aid in installments and under certain conditions. U.S. Defence Secretary Chuck Hagel confirmed to his Egyptian counterpart Sedki Sobhi the U.S. plans to deliver 10 Appache helicopters in support of Egypt's counter-terrorism efforts, the Pentagon announced on Saturday.
---
Subscribe to our newsletter
---