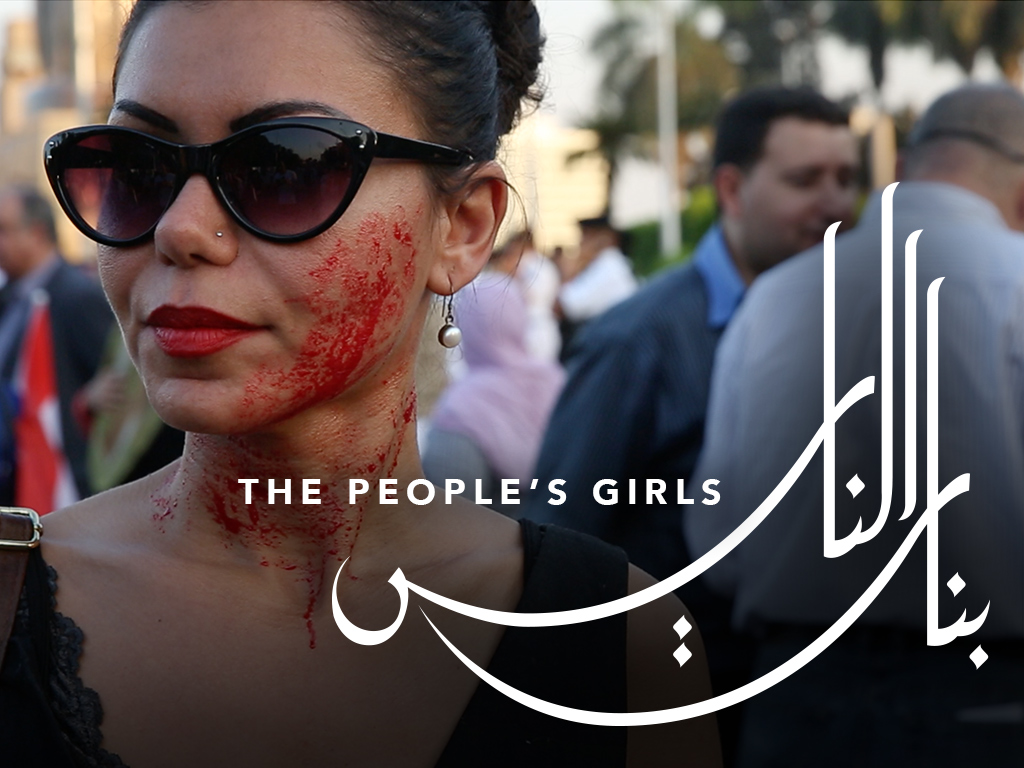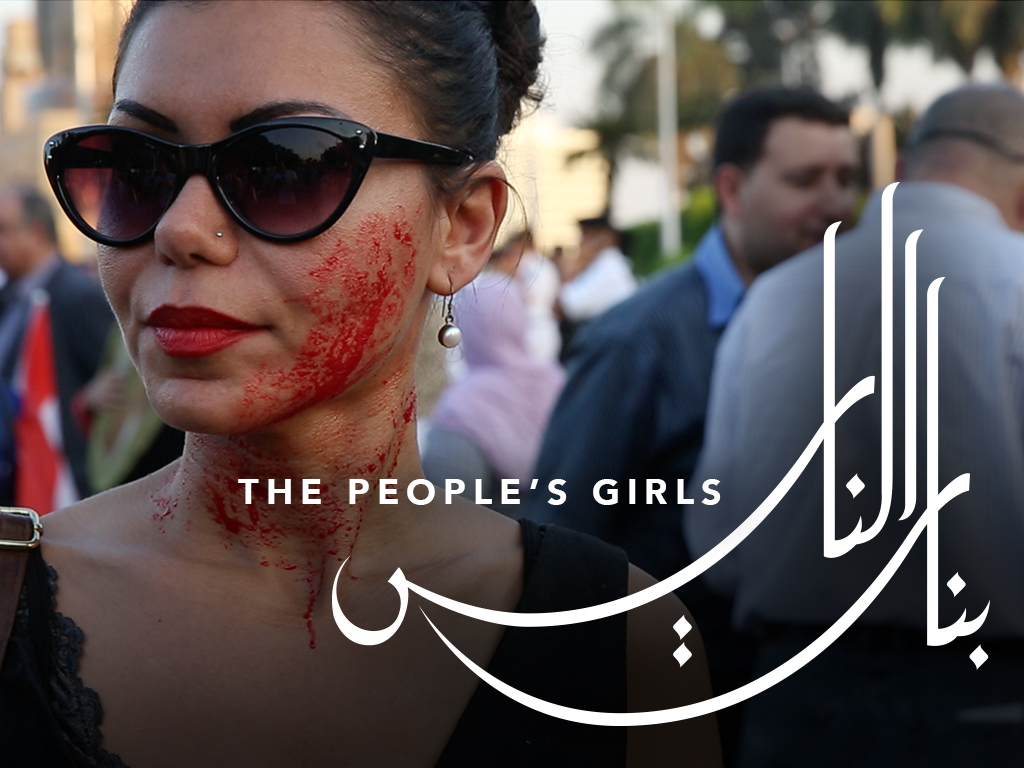 Their video 'Creepers on the Bridge', which captures the feeling of intimidation women in Cairo often experience when walking down Egyptian streets, went viral. But the journey of filmmakers Tinne Van Loon and Colette Ghunim does not end there. Currently, they are working on their first collaborative documentary, The People's Girls, which aims to expose how Egyptian women are battling the issue of sexual harassment in today's society.
 "Due to the recent local media attention to the issue of sexual harassment, we feel this is the perfect time to create a documentary that will analyze the causes, provide alternatives to traditional thought and document women fighting back in creative ways," explained 22-year-old Colette Ghunim.
Two foreign women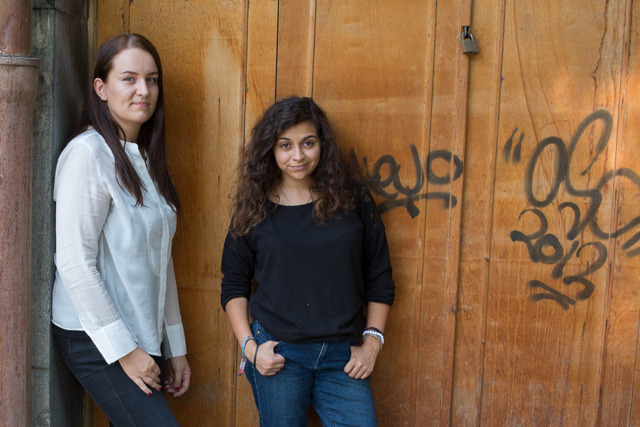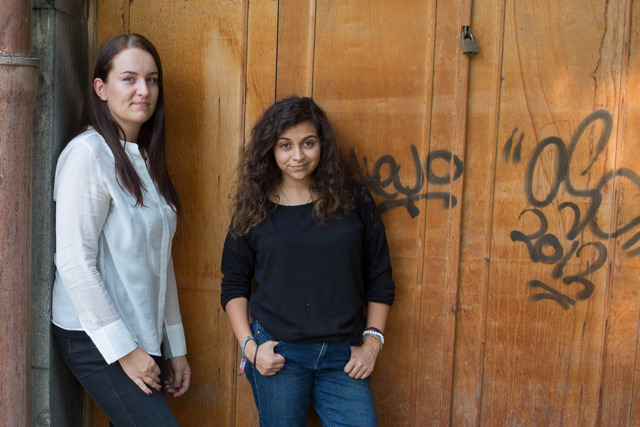 Documentary photographer Tinne Van Loon, 26, is originally from Belgium, but her family moved to the United States in 2001. In 2012, Tinne started her career as a documentary photographer in the West Bank, Palestinian Territories. After spending roughly a year in Egypt, she decided to be based here indefinitely in April this year.
Colette Ghunim, whom is of American origin, graduated from Northwestern University three months ago. In college, she studied abroad for a year in Egypt, and two weeks after graduation, she returned to Egypt to film the documentary.
"I fell in love with the country and its people," said Colette.
So how did these two foreign women come together to make a documentary about the sexual harassment women face in Egypt?
"After becoming friends in Cairo last year and learning that we both had experience working in videography and storytelling, we wanted to make this documentary together," revealed Colette.
"Because we're both frequently in the street alone, we both experience high levels of stares daily, as well as verbal harassment," explained Tinne.
"It often deters us, like many other women, to walk outside or take public transportation, seeing as we don't want to deal with the intimidation and anxiety. Everywhere we've been in the world – the United States, Latin America, Europe, South Asia- we've experienced various levels of sexual harassment."
The People's Girls بنات الناس Teaser from Tinne Van Loon on Vimeo.
Why their Kickstarter project is important
"The People's Girls is a half-hour film that will document three people with different views of sexual harassment and their daily lives surrounding the issue," said Colette regarding the project for which research started in December 2013.
The half-hour documentary will follow three Egyptians to reveal the extent of sexual harassment in Egypt and to get a better understanding of the issue, explained Colette and Tinne.
"Esraa is a 25-year-old Egyptian woman, who challenges social norms by performing in storytelling theater pieces about sexual harassment, as well as participating in anti-sexual harassment protests and events."
"Abdullah is a 28-year-old tuk tuk driver from a working class neighborhood in Cairo. As 8 out of 10 women experience sexual harassment in public transportation, we will observe daily life in the city through the eyes of Abdullah."
"Our third character is not confirmed yet, but she is a 30-year-old Egyptian lawyer at a prominent women's right organization, where she works on a major sexual harassment case. We will follow her work through an anti-sexual harassment court case."
The People's Girls – Preliminary Interviews from Tinne Van Loon on Vimeo.
Until now, the filmmakers have been working on the documentary with a very low budget, which is why they started a crowd-funding Kickstarter campaign.
"Funds will go towards equipment and transportation costs, but mostly to the post-production, including editing, color correction and a proper sound mix. This is a very expensive and essential process to produce a professional workflow of the film. With these finances, our film can also go on to screen at film festivals, anti-sexual harassment events and go on to be shown on TV documentary series worldwide," said Colette, adding that reaching a wider audience is not the only reason this state of professionalism is so important.
"We do foresee some difficulties in that the topic of sexual harassment is still taboo in Cairo. By raising enough funds to hire an Egyptian production crew, it will be easier to have different members of society open up about their own experiences and perspectives."
Discussing causes
Recent studies show that 99 percent of women in Egypt have faced sexual harassment.
"The 2011 revolution had a big impact on the issue of sexual harassment, both in positive and negative ways. In the years since the revolution, sexual harassment has unfortunately become more widespread, due to the lack of police presence in the streets," explained Tinne.
"This gives harassers a sense of immunity, they can easily get away with it, and as more men see harassers get away with their behavior, it becomes more commonplace and accepted. Since President Sisi has taken power, the police presence in the streets has increased, and more harassers have been brought to justice, though we still have a long way to go."
Creepers on the Bridge from Tinne Van Loon on Vimeo.
The filmmakers also feel that there is a growing societal change underway, and they seek to highlight it in their film.
"A lot of Egyptian women have reached their boiling point in recent years, and inspired by the revolution, they have become a lot more outspoken. They inspire us," said Tinne, adding that the way both women and men reached out to support their project has motivated them even more to tackle the issue.
One of the reasons why sexual harassment in Egypt is a sensitive subject to discuss internationally is because critics of Islam often end up blaming misogyny on religion.
"There are a few people that wrote Islamophobic comments on our Facebook page. We make sure to respond to each one individually, explaining that this is an unacceptable response, and that sexual harassment is not specific to one religion. Women in strongly Christian and Hindu societies, for example, also experience sexual harassment and assault," said Colette.
Misbeliefs in the West
There remains a common misbelief in the West that Egyptian, as well as all Arab women, are oppressed.
"For decades, women in Egypt have been able to do basically anything a man can do. They go on to reach degrees in higher education, they can work and have a career, they can reach high leadership roles," explained Tinne, who adds that this common misconception of women in the Arab world is a product of the news cycle following the US invasions of Iraq and Afghanistan.
"Unfortunately, there are also societal pressures for women to focus on getting married and starting a family. Those pressures are very similar to the ones women in the West felt a few decades ago. We really want to point out that while sexual harassment is an issue of epidemic proportions in Egypt, this in no way means that all Egyptian men are harassers, or that somehow this is an Arab or Muslim-specific issue. This is unfortunately a worldwide problem."
So why is the documentary titled 'The People's Girls'?
"The title 'The People's Girls' juxtaposes the two meanings that it has in Arabic. The saying is commonly used to describe a well-mannered, cultured, respectable girl," explained Colette.
"When people blame victims of sexual harassment, they often argue that if only the girl was a 'people's girl' then she wouldn't get harassed. The name is also an ode to all the girls and women of Egypt."
Through Kickstarter, you can financially support the making of this documentary. Colette Ghunim explains that if the goal is not reached, they lose all potential donations:
"We still have $3,000 to raise, and only five days left. If the full amount isn't raised in time, we get nothing at all, and we will be forced to make the film very low budget. Because it is lesser quality, it will not go on to reach the international audience we are aiming for. Please consider contributing whatever you can – any amount helps!"
---
Subscribe to our newsletter
---