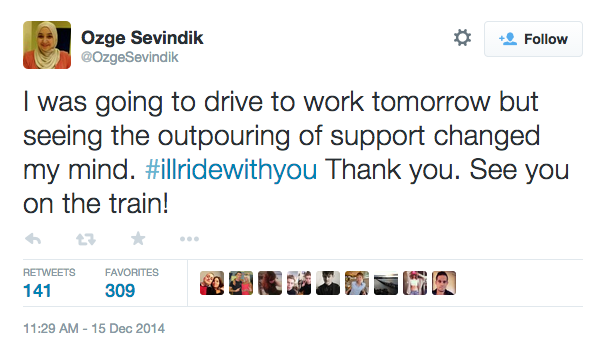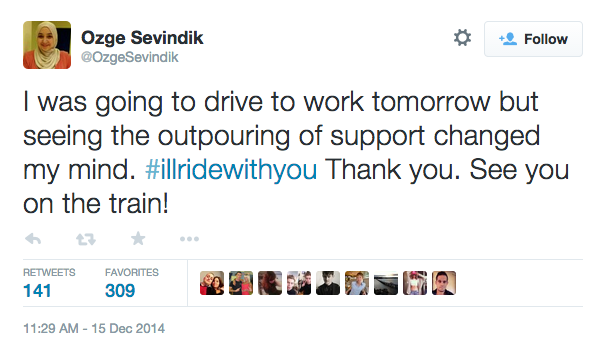 Social media users have started a hashtag to support Muslims across Australia after a gunman took several people hostage in a Sydney cafe.
The hashtag, #IllRideWithYou, is trending globally on Twitter and was started to tackle anti-Islam sentiment following the incident at the Lindt Chocolat Cafe in Sydney's Martin Place.
On ABC radio, Muslim callers had said they were afraid to ride public transport in fear of reprisal attacks. According to ABC, the hashtag started after one Twitter user witnessed a Muslim woman taking off her headscarf while riding the train in Sydney.
The woman reportedly then said "No, if you want to wear it, then wear it. I'll walk with you."
If you reg take the #373 bus b/w Coogee/MartinPl, wear religious attire, & don't feel safe alone: I'll ride with you. @ me for schedule.

— Sir Tessa (@sirtessa) December 15, 2014
Since then, social media users across Australia have shot the hashtag to global awareness, with users across several cities posting more than 65,000 tweets in the past three hours declaring they will ride with Muslims too scared to use public transport.
Fear of reprisal is particularly high since certain Facebook groups, such as the Australian Defence League, have been vocally anti-Islam, with the ADL calling on demonstrations in Muslim-majority communities if any hostage is harmed.
According to BuzzFeed News reporter Mark Di Stefano, who was covering the hostage crisis in the heart of Sydney, several people had caused 'ugly scenes' by shouting insulting anti-Islam chants.
The hostage crisis, which has been on going for more than 10 hours, started after a man walked into the Lindt Chocolat Cafe in Martin Place.The man, dressed in a headband with Arabic text and holding a large black bag, forced hostages to hold up the Black Standard Flag.
According to local media reports, the man has demanded an Islamic State flag be delivered to him immediately and has urged the Prime Minister of Australia to contact him. The man also claims to have two bombs with him in the cafe.
The #illridewithyou hashtag makes me so proud to be Australian. Thanks for the support everyone. 😉 — Mifrah Mahroof (@MifrahMahroof) December 15, 2014
This is my Australia. Being a Muslim this hashtag is the best thing happened today. I Love You Australia. #illridewithyou — Arif (@Atozai) December 15, 2014
I drive but today I visited small business today to assure the Muslim owners that I was with them at this difficult time #illridewithyou — Peter Doyle (@PeterDoyley) December 15, 2014
I don't take public transport to work. But #illwalkwithyou any day. Kensington to Surry Hills. #illridewithyou

— Daniel Sankey (@Daniel_Sankey) December 15, 2014
---
Subscribe to our newsletter
---