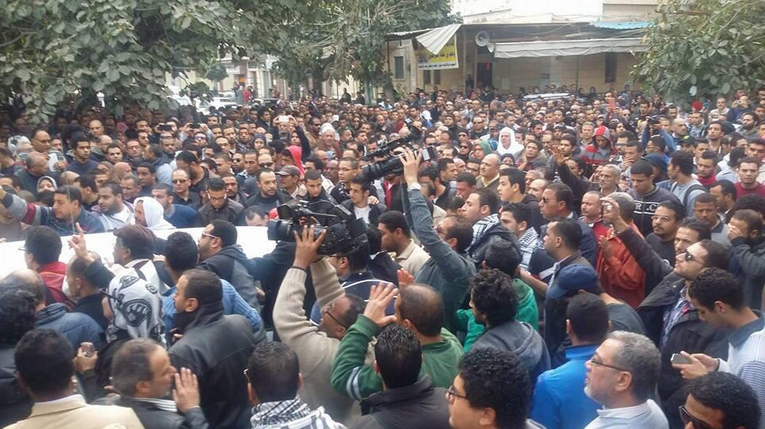 Mourners raised a large flag with a painting of deceased protester Shaimaa al-Sabbagh and the word "martyr" written next to her name, in a crowded funeral march on Sunday.
Sabbagh was killed in a protest organised in central Cairo on Saturday by the Social Popular Alliance Party, which she was a member of.
Her funeral took place in Alexandria where she hails from.
In tandem with the funeral, a coalition of party representatives expressed criticism of security forces over Sabbagh's death during a press conference.
According to SPAP's Facebook page, vice president Elhami al-Merghani said during the press conference that "confronting terrorism" will only take place through a "free people, not slaves".
"And this regime is the biggest creator of terrorism," he added.
The acting president of the party Medhat al-Zahid said there was an agreement prior to the protest not to enter into skirmishes with security forces. He added that Sabbagh's death reveals the intentions of the regime of trying to "eliminate political life."
Zahid told Aswat Masriya that the party did not receive a permit from the ministry of interior before organising the march, as stipulated in Egypt's protest law. But he added that this was not a protest, rather a peaceful march.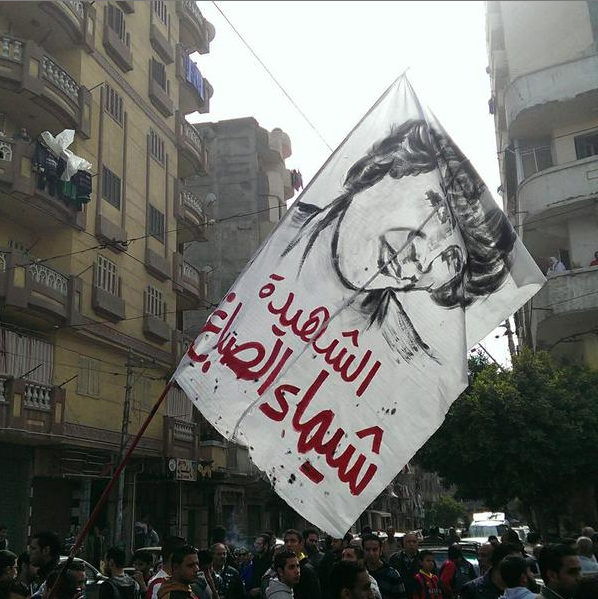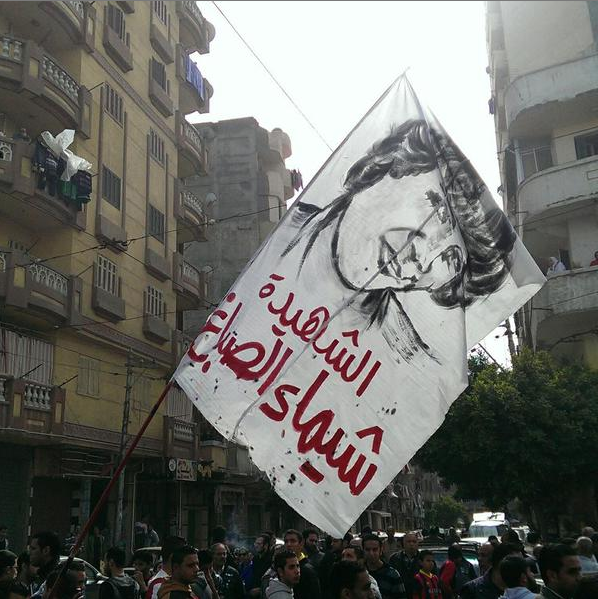 "It was the Interior Ministry that killed Shaimaa," he said.
Sabbagh's death has been widely condemned by an array of political parties including Dostour Party and the Egyptian Social Democratic Party.?
President of Dostour party Hala Shukrallah said the government has "imposed a false equation onto us", that of security in exchange for freedom and "we will no longer accept it."
Spokeswoman of the Bread and Freedom Party Mona Ezzat said parties belonging to the "Democratic Trend Alliance" are considering boycotting the parliamentary elections because "we have no trust in the current Interior Ministry, which makes us lose trust in the integrity of the elections." The elections are due to begin in March.
The last protest Sabbagh took part in was organised to commemorate the fourth anniversary of the 2011 uprising, with protesters reiterating the demands raised during the uprising.
The party said she was killed after sustaining birdshot wounds.
Interior Ministry Spokesman Hany Abdel Latif told a private-owned satellite channel on Saturday that security forces did not fire gunshots at this protest. He said gunshots were fired by a group of protesters who were caught on tape carrying rifles.
He added that security forces only fired two teargas canisters.
Egypt's top prosecutor ordered an "immediate and extensive" investigation into Sabbagh's killing in the early hours on Sunday.
---
Subscribe to our newsletter
---