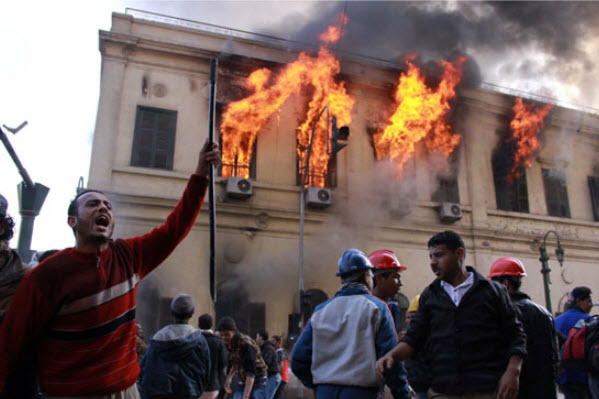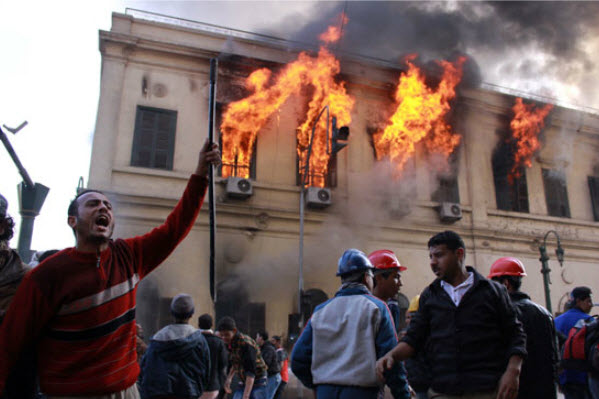 Egyptian activist Ahmed Douma and 229 others have been sentenced to life in prison and fined EGP 17 million ($US 2 million) on charges of attacking the headquarters of Egypt's cabinet in December 2011. 39 others were sentenced to 10 years in prison.
Douma and other defendants had been accused of attacking the cabinet's building and near by security personnel. The violence included the torching of the Scientific Institute in downtown Cairo.
The Scientific Institute consisted of 192,00 books and other written documents, including rare 200-year-old manuscripts that were turned into burnt debris. The rare documents consisted of the 24-volume Description de l'Egypte which was handwritten by more than 150 French academics and was known as the most comprehensive book detailing Egypt's ancient civilization and contemporary life at the time of French occupation.
The violence that resulted in the Institute's torching was sparked after security forces had dispersed a sit-in against the Military outside the Cabinet building. At least 18 were killed and more than 200 injured in the five days of violence.
Life in prison amounts to 25 years under the Egyptian penal code.
Douma was already serving three years in jail, along with April 6's Ahmed Maher, for illegally protesting in November 2013.
---
Subscribe to our newsletter
---