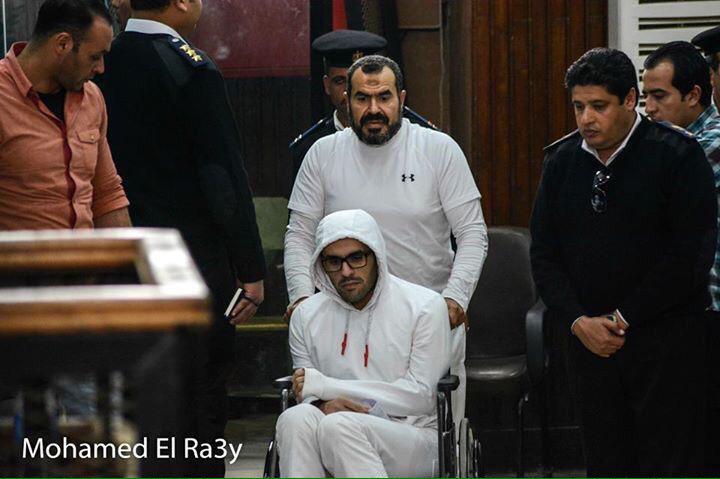 The Cairo Criminal Court has sentenced Egyptian-American activist Mohamed Soltan to life in prison on charges of supporting a terrorist group and transmitting false news.
In the same trial, 14 Muslim Brotherhood figures, including Supreme Guide Mohamed Badie, were sentenced to death for "inciting chaos and violence." Thirty-six other defendant in the case known as the "Rabaa operations room" were sentenced to life in prison, many in absentia.
In relation to the death sentences, Judge Mohamed Nagi Shehata had said in the last court session that there is plenty of evidence that showed the Muslim Brotherhood figures "supplied funds and weapons" to "incite chaos."
The death sentences of the 14 defendants must now be confirmed by the Grand Mufti of Al-Azhar. While not binding, the Mufti's ruling is normally adopted by the courts.
400+ days of hunger strike
The Egyptian-American citizen Soltan had been on partial hunger strike for more than 430 days. In his last court appearance, he firmly held on to the microphone, delivering a firm statement in which he discussed the importance of freedom, details regarding his arrest and conditions of imprisonment and the reason he has been on hunger strike for over 400 days despite his deteriorated medical state.
Soltan is the son of leading Muslim Brotherhood preacher Salah Soltan, who was among the 14 figures sentenced to death.
"I do not have any ideological, partisan, group, or sport affiliations…I reassure you, if I had any affiliations I would have announced it and held on to it with pride regardless of circumstances," Soltan said in his statement on March 11.
Soltan had decided not to renounce his Egyptian nationality on the basis of a decree issued by the Egyptian president that would allow for the repatriation of foreign prisoners.
"I cannot be made to choose between my nationality and my freedom," said Soltan while sitting on a wheel-chair that read 'unbreakable'.
Human rights organizations, including Amnesty International, had pleaded with the Egyptian government to release Soltan.
---
Subscribe to our newsletter
---