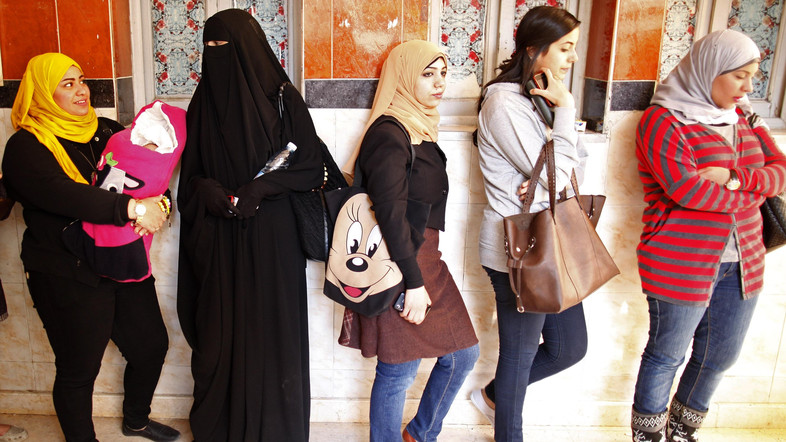 Egyptian journalist Cherif Choubachy has called for veiled women to join a rally in Tahrir Square to take off their head-scarves.
In comments on his Facebook page, Choubachy, who was also previously involved with UNESCO, said he intended to hold the event that would be as striking as Hoda Shaarawi's action in 1923, when she publicly removed her veil in Alexandria.
Cherif Choubachy writes that "the veil was gone for more than fifty years in Egypt, and only reappeared in the 1970s after the defeat against Israel in 1967", because rhetoric at the time said the loss was due to people straying away from Islam and its teachings.
Aimed to be held in the first weeks of May, Choubachy said he hopes young women will remove their veils at a demonstration in Tahrir Square, the heart of the January 25 revolution that saw the ouster of strongman Hosni Mubarak after 30 years of rule.
"Men [will be] positioned around them [the women] to protect them. I will be the first of these men," said the journalist and writer.
A senior Al-Azhar official, however, has condemned Choubachy's statements. Abbas Shouman, the deputy to Al-Azhar's Grand Imam, said that it would be unacceptable to ask a woman to stop wearing the hijab, adding that the comments encroach on women's freedom of choice.
The statement comes after various Salafist groups and other Islamic bodies condemned Choubachy's call, urging Al-Azhar and the government to prevent such a demonstration.
With issues such as gender inequality in the workplace, a sexual harassment rate of 99 percent, poverty and more, Egyptian Streets' Chief-Editor believes it is unlikely Choubachy's statements will be taken seriously and are merely a distraction to the real issues that impact women in Egypt.
---
Subscribe to our newsletter
---