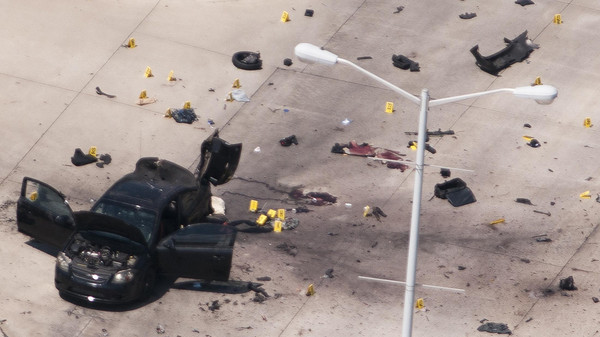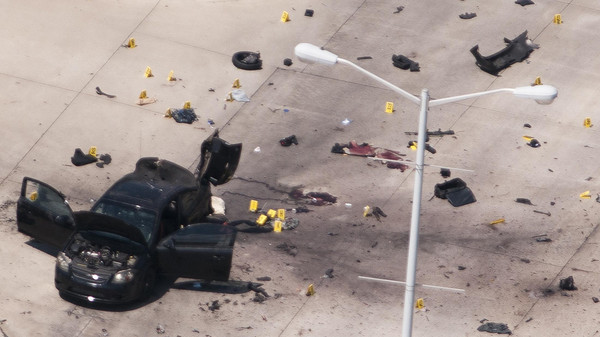 ISIS has taken responsibility for the shooting at the "Draw Muhammad" exhibition in Garland, Texas on Sunday evening. Two men had been killed after reportedly driving up to the Curtis Culwell Center, where the event was held, and opening fire on security officers.
This marks the first time ISIS has claimed an attack on US soil.
"Two of the soldiers of the caliphate executed an attack on an art exhibit in Garland, Texas, and this exhibit was portraying negative pictures of the Prophet Mohammed," said the group in a statement.
"We tell America that what is coming will be even bigger and more bitter, and that you will see the soldiers of the Islamic State do terrible things."
Court documents have revealed that one of the two shooters was Elton Simpson. The man had been under surveillance in 2006 and was convicted in 2010 for lying about his plans to go to Somalia. Elton's social media accounts included condemnations of Charlie Hebdo and radical statements. The second shooter is reportedly Elton's housemate Nadir Soofi.
According to reports, the first suspect was immediately shot, and the second shortly after. FBI and local officials searched the gunmen's vehicles for explosives, however as of yet none have been found. The identities of the killed suspects have not yet been released.
In the initial altercation, an unarmed security guard was shot in the leg. He was later treated and released from hospital.
The 200-person event was described by its sponsor, The American Freedom Defense Initiative, as a "free speech event", and involved a "Muhammad drawing contest" with a $10,000 prize. It included speakers such as Dutch politician Geert Wilders, who is known for his anti-Islam views.
The American Freedom Defense Initiative is listed by the Southern Poverty Law Center, a US civil rights organisation, as an active anti-Muslim hate group. The group said it received more than 350 submissions in response to its cartoon contest.
The event was under heightened security throughout, with extra officers hired by the district and the event organisers. Only pre-purchased ticket holders were admitted and had to undergo security checks before entering.
Joe Harn, a Garland police spokesman, commented: "We were prepared for something like this."
The incident comes four months after the infamous Charlie Hebdo attacks, in which two gunmen stormed the Paris office of the satirical magazine known for publishing offensive images of the Prophet Muhammad. The attacks were strongly condemned by Muslim communities around the world.
Additional reporting by Dalia Gebrial
---
Subscribe to our newsletter
---