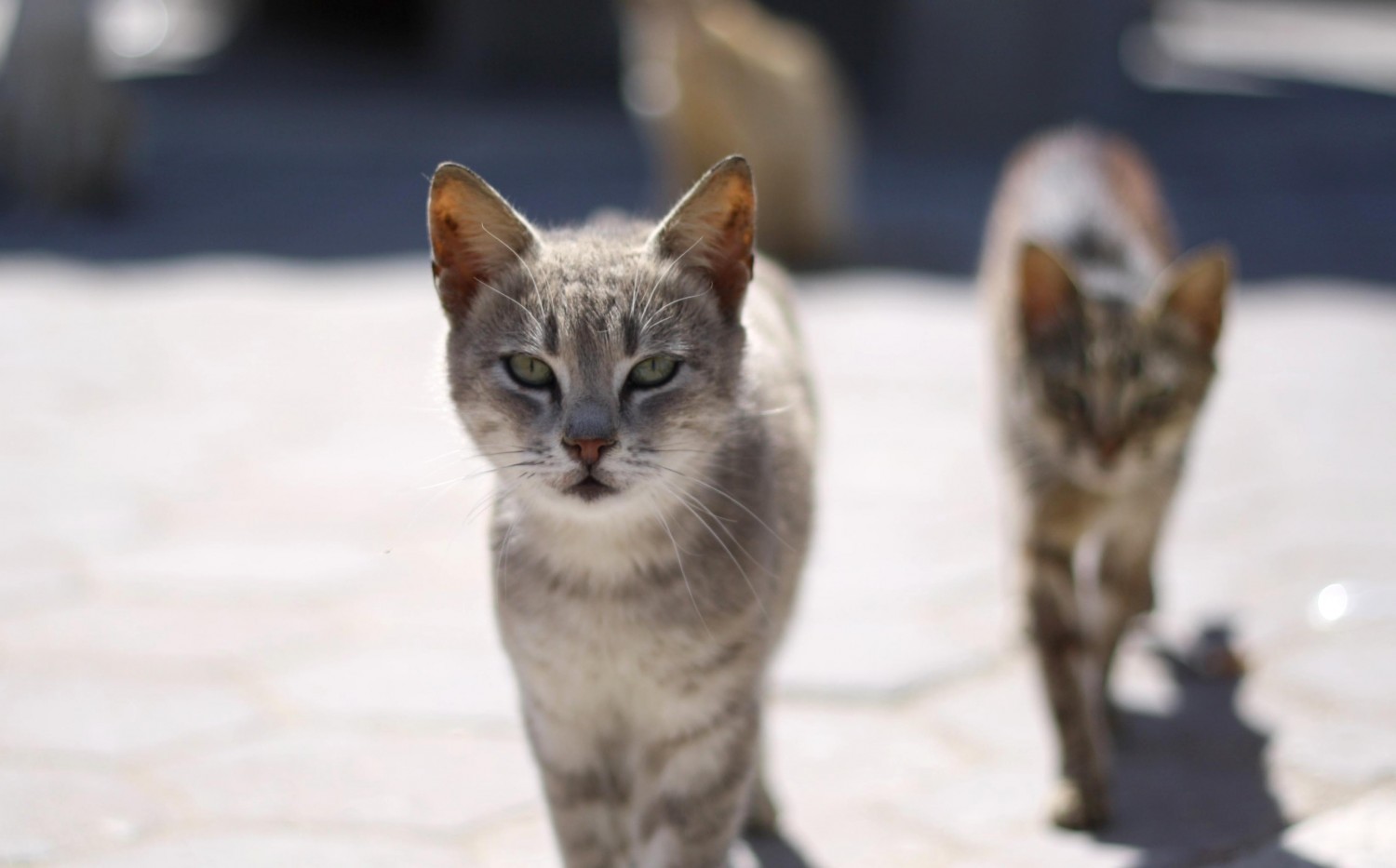 All photographs by Nour El-Din
Their careless stare follows you from the car top they are lying on. They are experts in crossing Cairo's streets, and from time to time they manage to steal a stroke at your local ahwa. From 31 May till 17 July, however, they're stealing the show during an exhibition at the newly launched K Project Space. We are talking about Cairo's cats.
When Jared McCormick, a PhD candidate in Social Anthropology at Harvard University, moved to Cairo in 2012, he found himself repeatedly taking pictures of the many street cats the metropolis counts.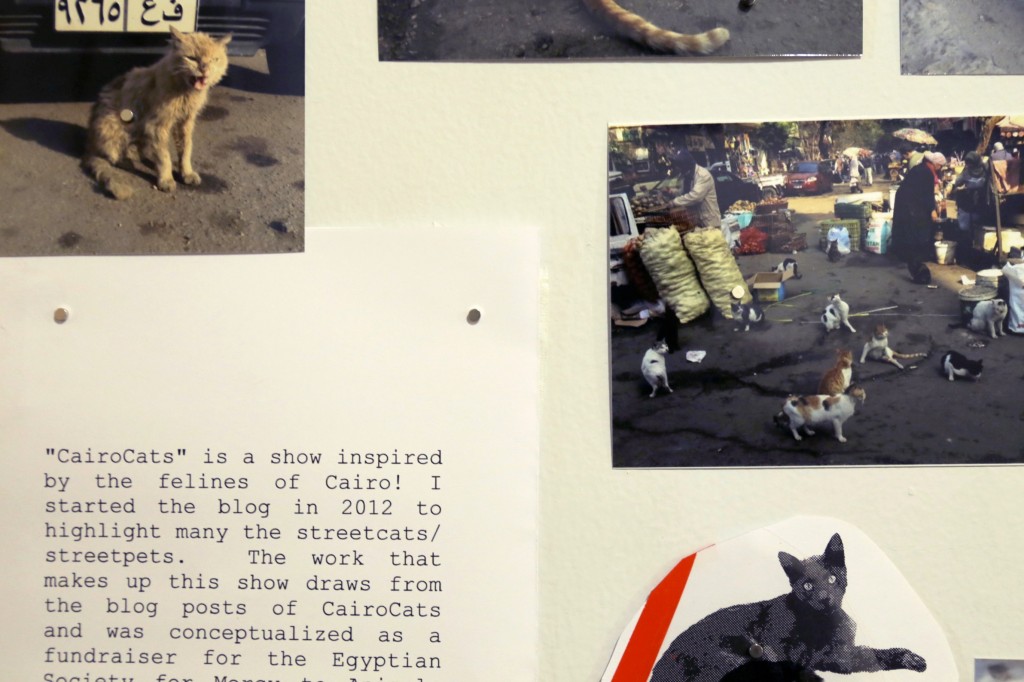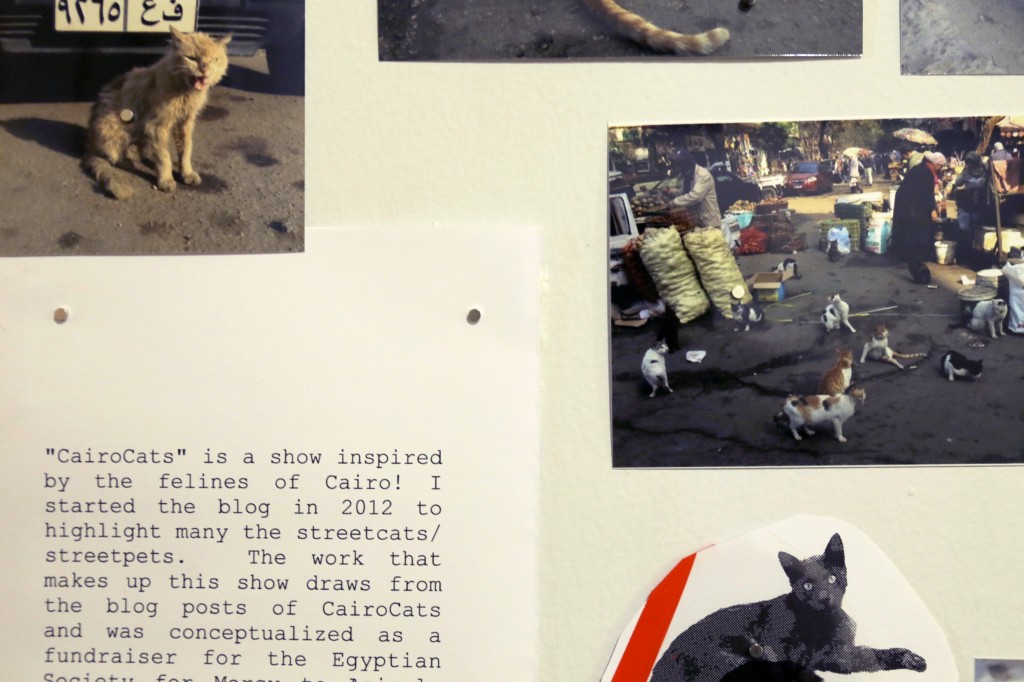 "I love all animals but I am especially drawn to cats," he says about the 'street pets' as he dubs them.
"People often bemoan the 'horrible situation' of animals in Egypt but when you pause, you witness much care and affection for them. These cats might not be 'pets' in the home but are 'street pets' that are looked after in a different way," he adds. "For instance, next time you're walking around Downtown, Heliopolis, or Nasr City notice all the used koshari bowls put out full of water."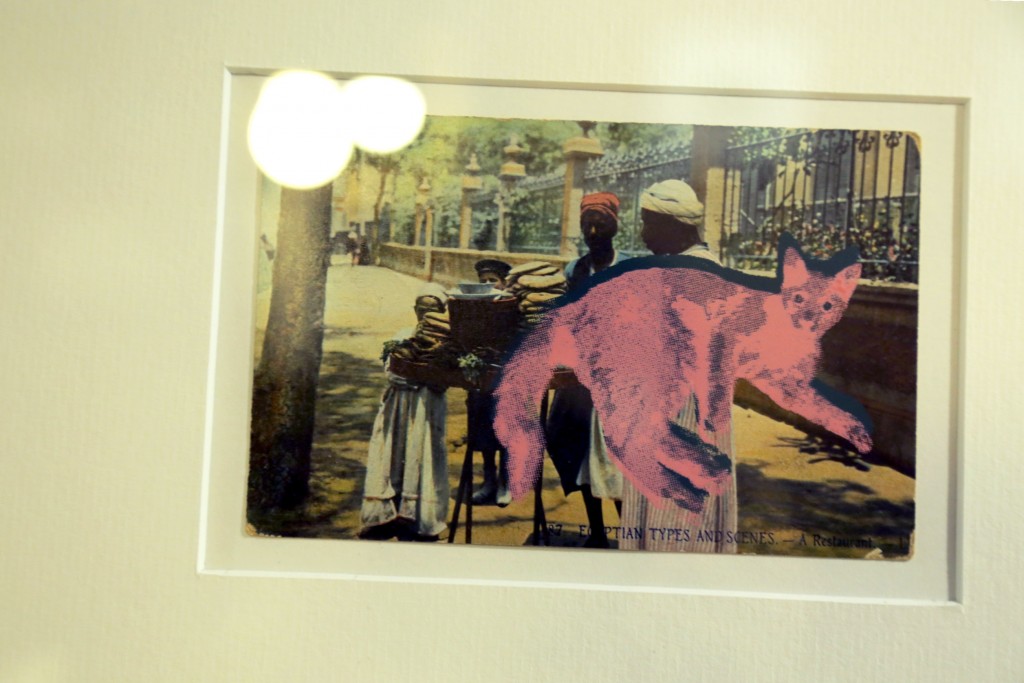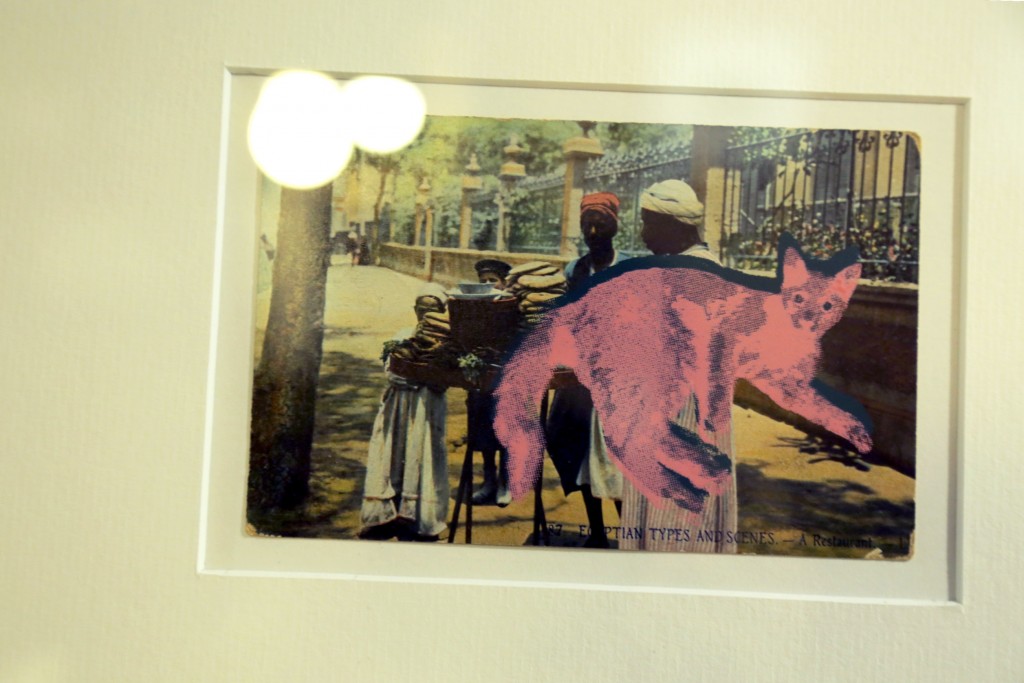 CairoCats
The pieces exhibited at the K-Space launch stem from CairoCats, a merely-for-fun blog on which the cat enthusiast posts photos when he is in Egypt. "In total, twenty-four original, one of a kind screenprinted or lasercut cat postcards are framed," Jared describes the collection.
"These are old postcards from Egypt, some even from early in the century. The pictures of cats from the blog are those that fill the frames on the postcards, so it's a directly rendered version of the photograph."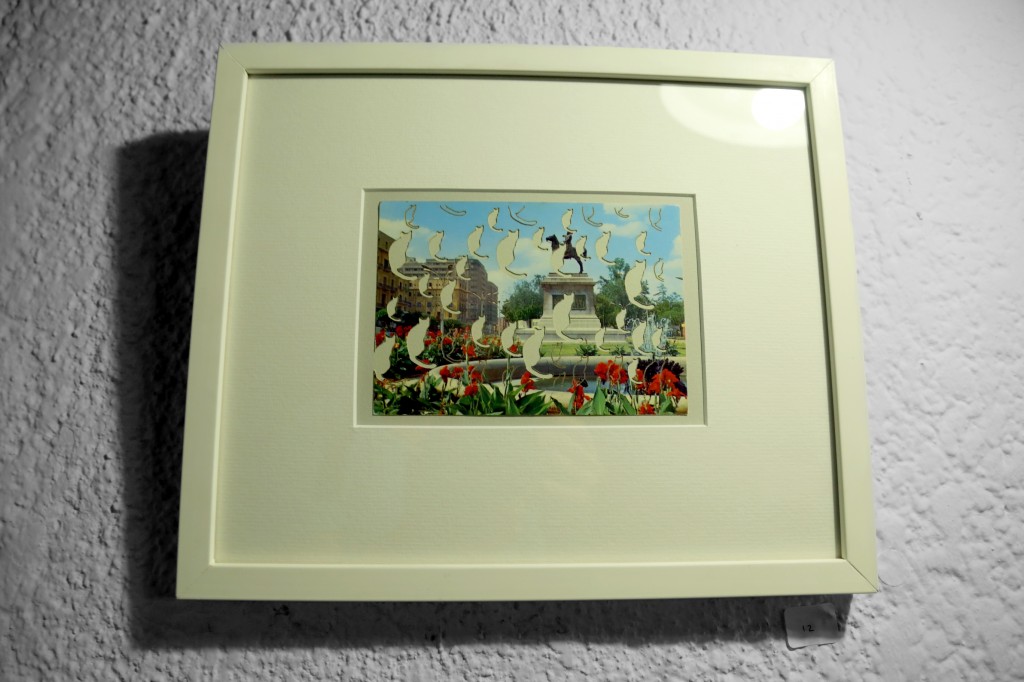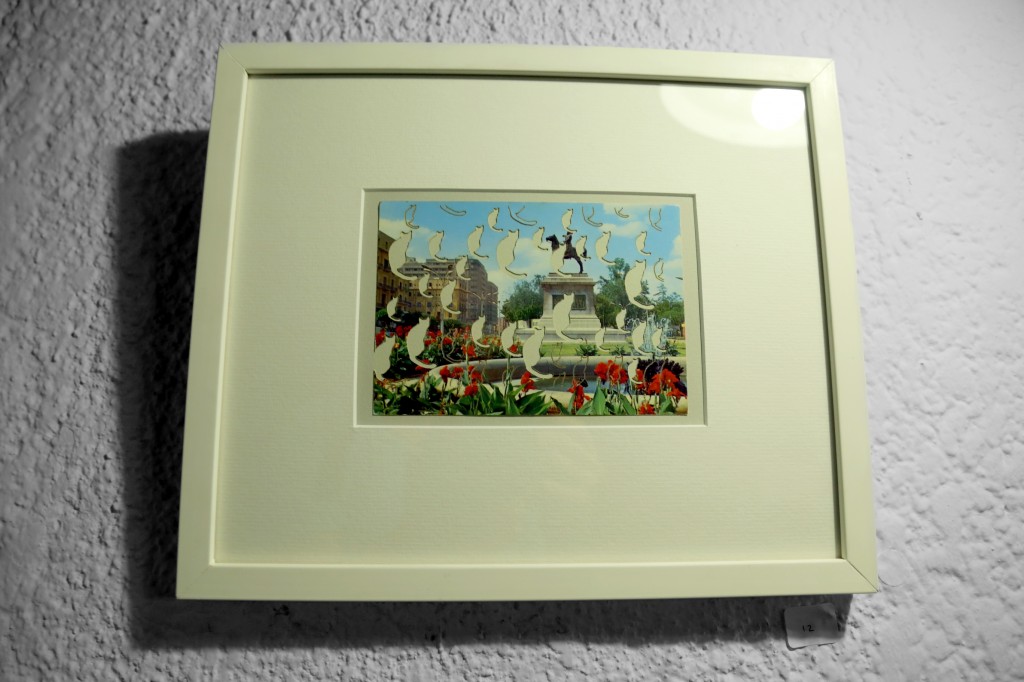 The result is coherent collection of images that are very appealing aesthetically, especially to those who tend to fall in love with vintage postcards at flea markets. They show landmarks and old sceneries from Port Said, Alexandria and Cairo, with the recurring silhouettes of Cairo's contemporary cats.
Merely a treat for the eye with a visionary flashback to the past, one example that stands out takes you back to Matarich Ostrich Farm, in 1900 Cairo.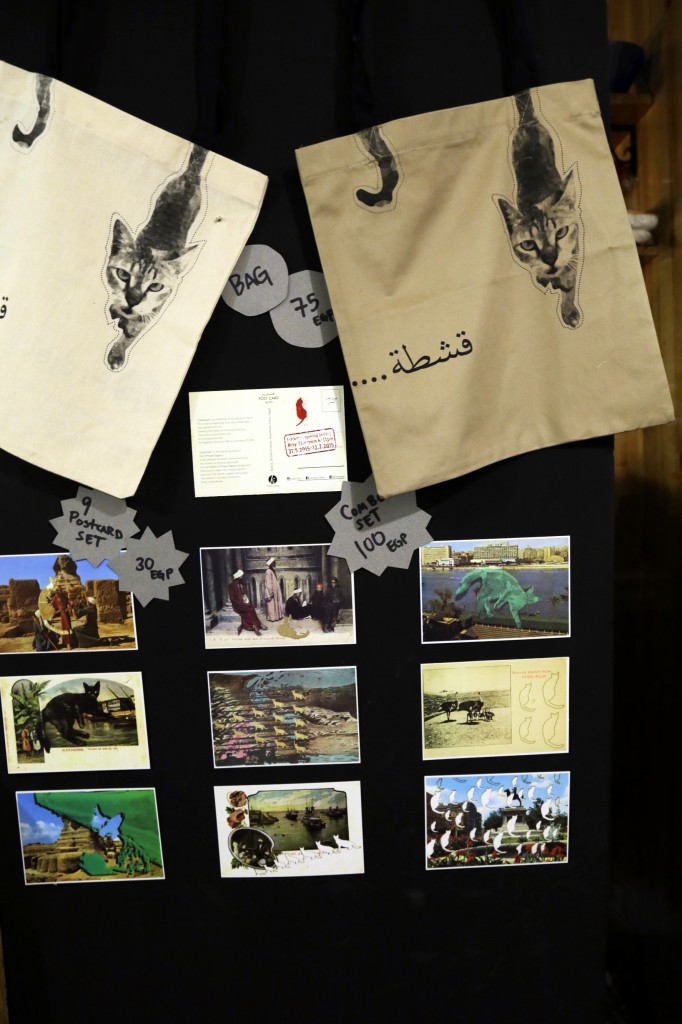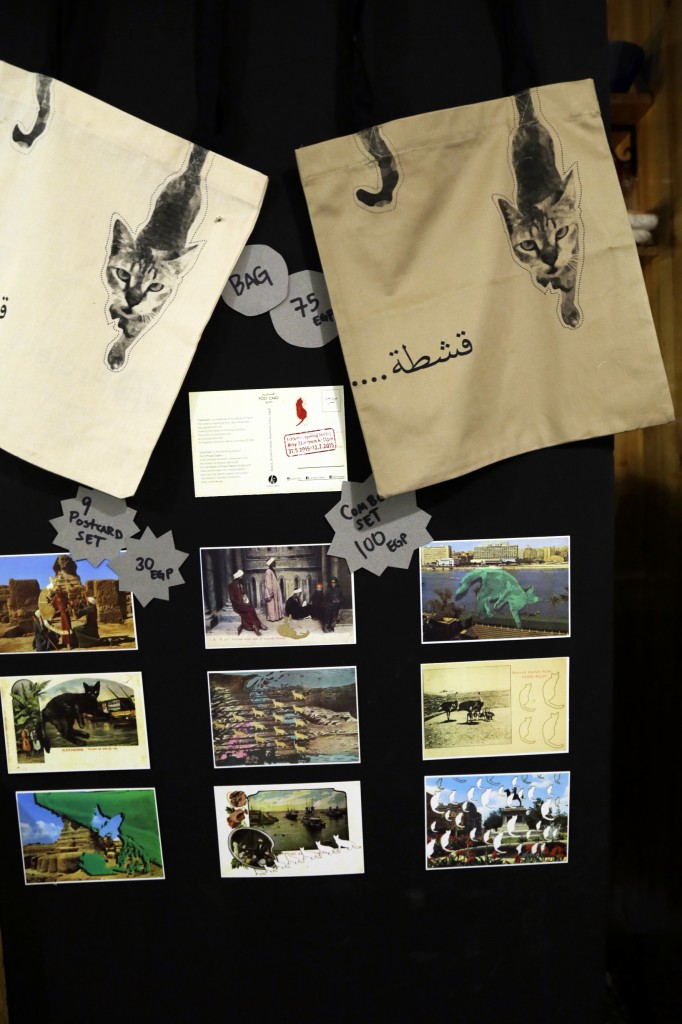 The goal behind the exhibition itself is to raise funds for the Egyptian Society for Mercy to Animals (ESMA), one of the largest and most established organizations in the country that operates a shelter and adoption center for cats and dogs. In addition to the framed pieces exhibited, feline-themed postcard sets and tote bags are for sale.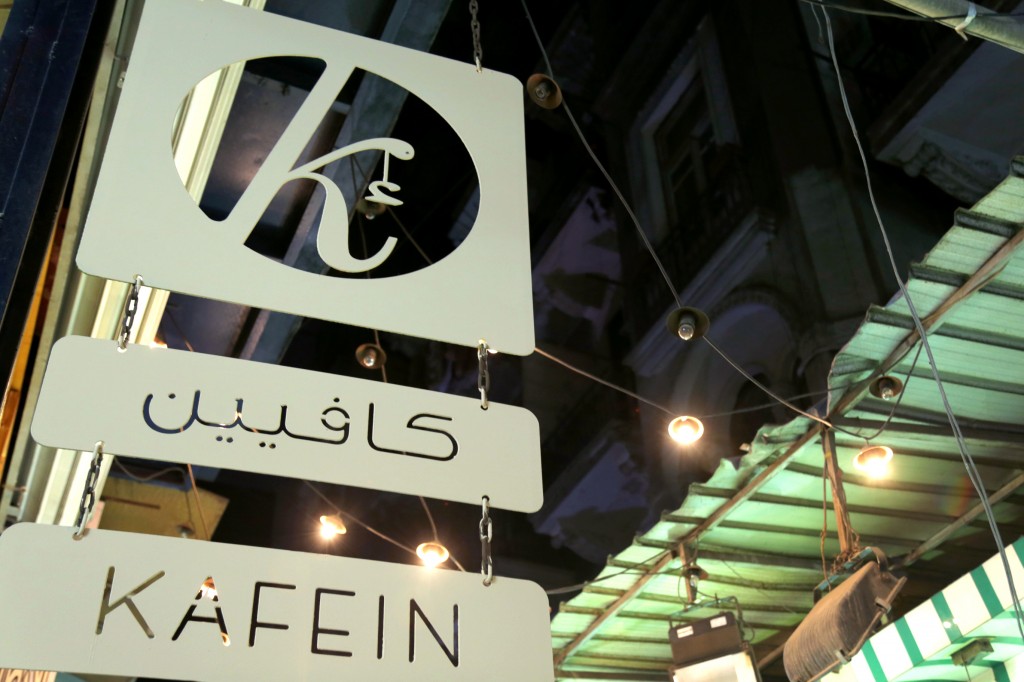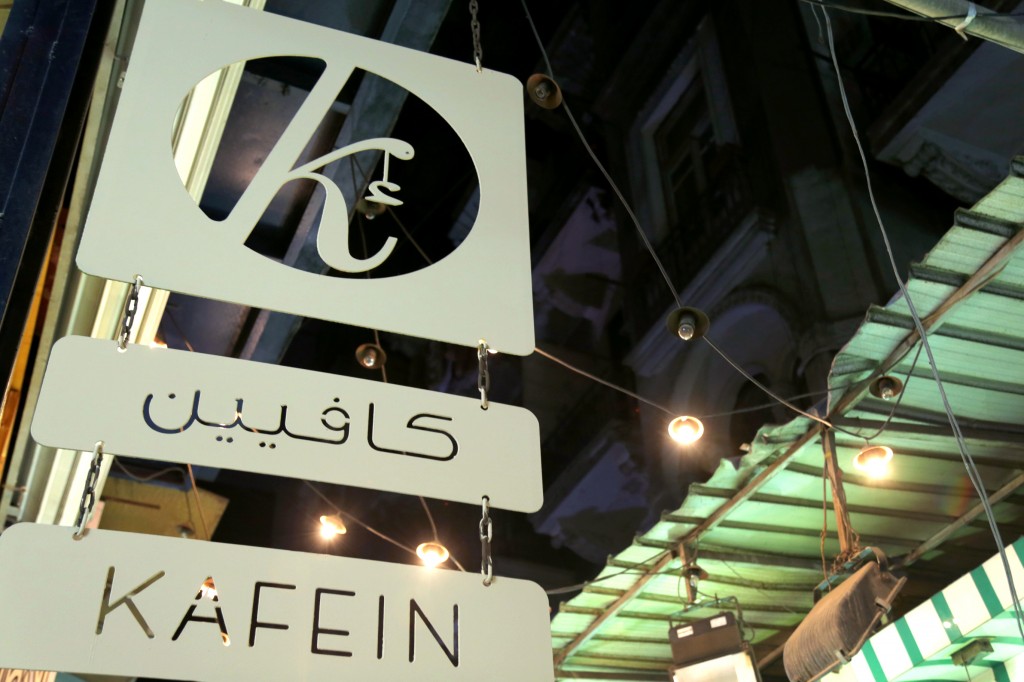 Kafein // K Project Space
Among Cairene coffee addicts, K Project Space is probably better known as Kafein. Although this Downtown-based café has facilitated several exhibitions before, it is officially launched as K Project Space only now.
Nadia Dropkin, the owner, describes K Project Space as a new initiative that shares its physical space with Kafein.
The idea sprouted from a past exhibition called 'Cairo Past Futures' by Mohamed Elshahed, an architect, researcher, and Cairobserver's blog chief editor.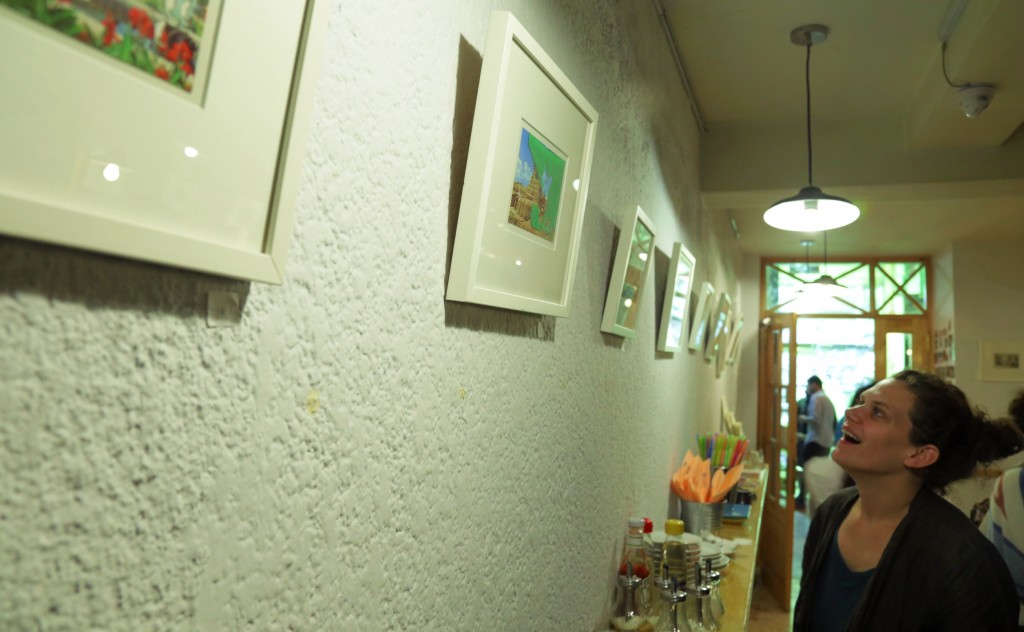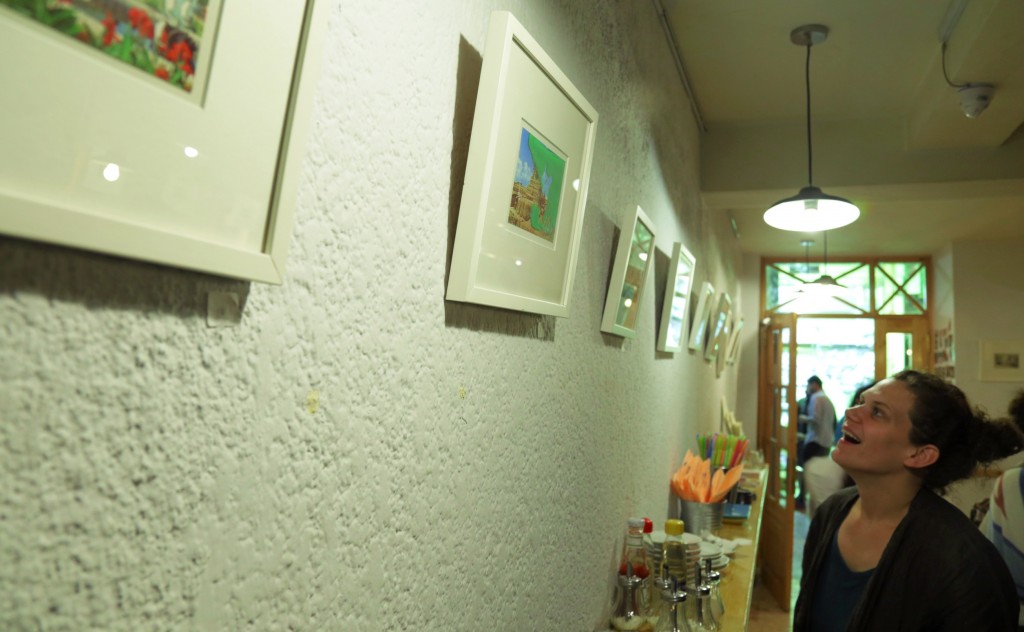 Whereas Jared McCormick added images of today to cards of the past, Mohamed Elshahed made the opposite move. His exhibition displayed twenty-four present-day photographs which were paired with headlines from Egyptian newspapers from the 1950s and 60s. These were sold as a fundraiser for the production and printing of two issues of Cairobserver, an independent magazine on architecture and urbanism in Egypt.
"What was different about this exhibition from previous shows at Kafein was who was producing the project, the ways in which the works could be discussed, and where the money from the sold pieces went," Nadia explains. "Both Mohamed Elshahed and the pieces of 'Cairo Past Futures' occupy an interesting in-between space as he does not identify as an artist. And this show did something different in the space of Kafein than previous ones. It was this nuance that we wanted to recreate and hence we decided to re-conceptualize the 'gallery' component of Kafein."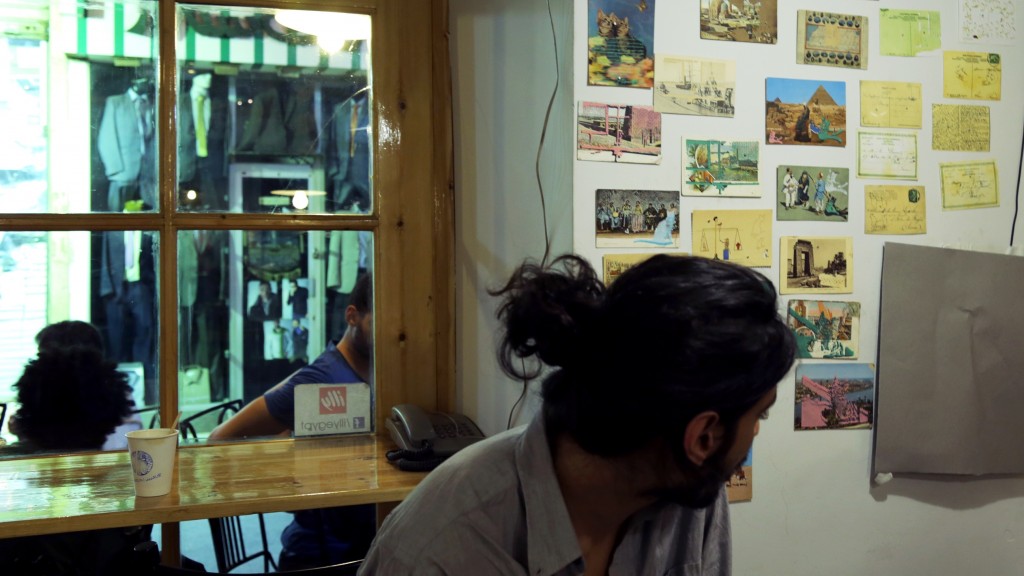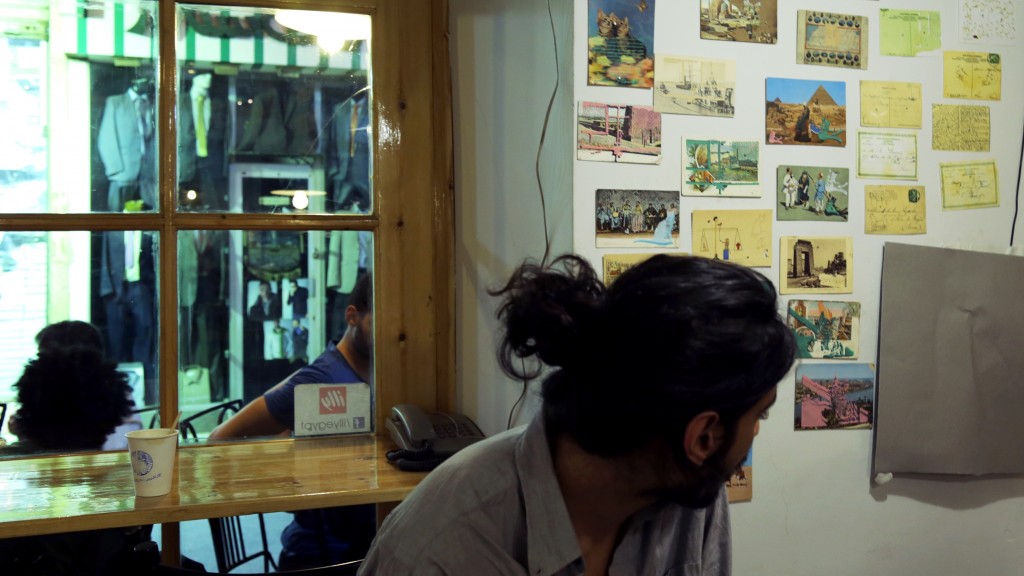 Hopes are that K-Space will develop a new way of engaging with local artists and other practitioners from various disciplines and backgrounds by focusing on their works' interaction with the everyday.
"K Project Space adapts itself accordingly to each new project and addresses the in-between, both in terms of physical space and disciplines," Nadia Dropkin explains her vision. "The intent behind it is to exhibit and host works made from interdisciplinary practices that involve art, as well as creating a bond between innovative projects that require support and a public that wishes to actively contribute to these undertakings."
One of K-Space's strongest assets might be that the art projects exhibited, while being brought into an everyday space such as a café, are being put in contact with the different networks of people who step into Kafein's door on a daily basis.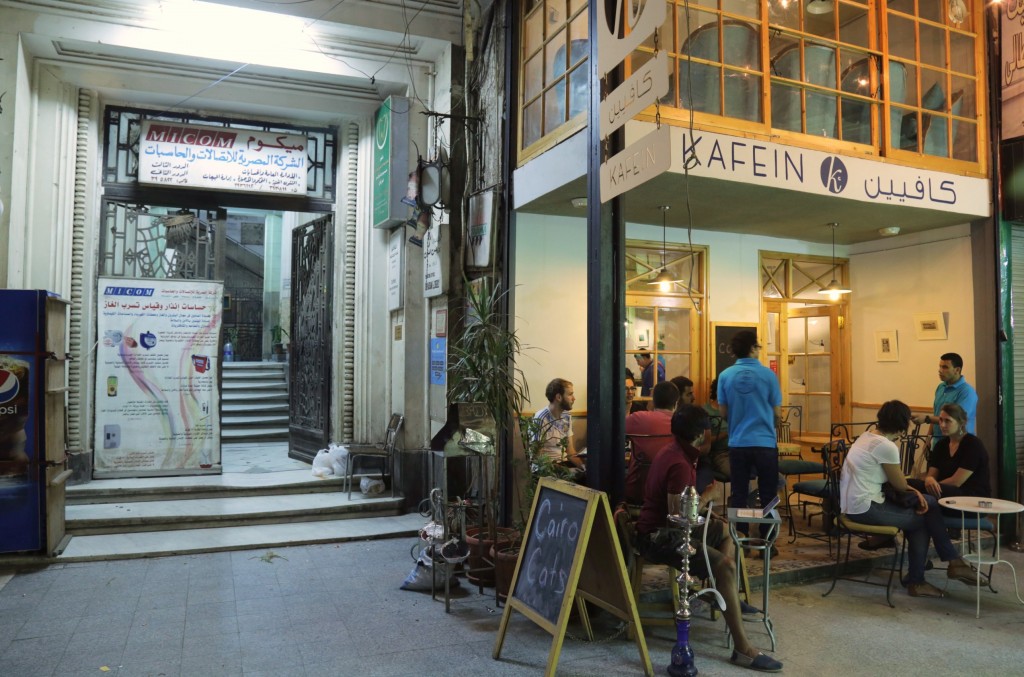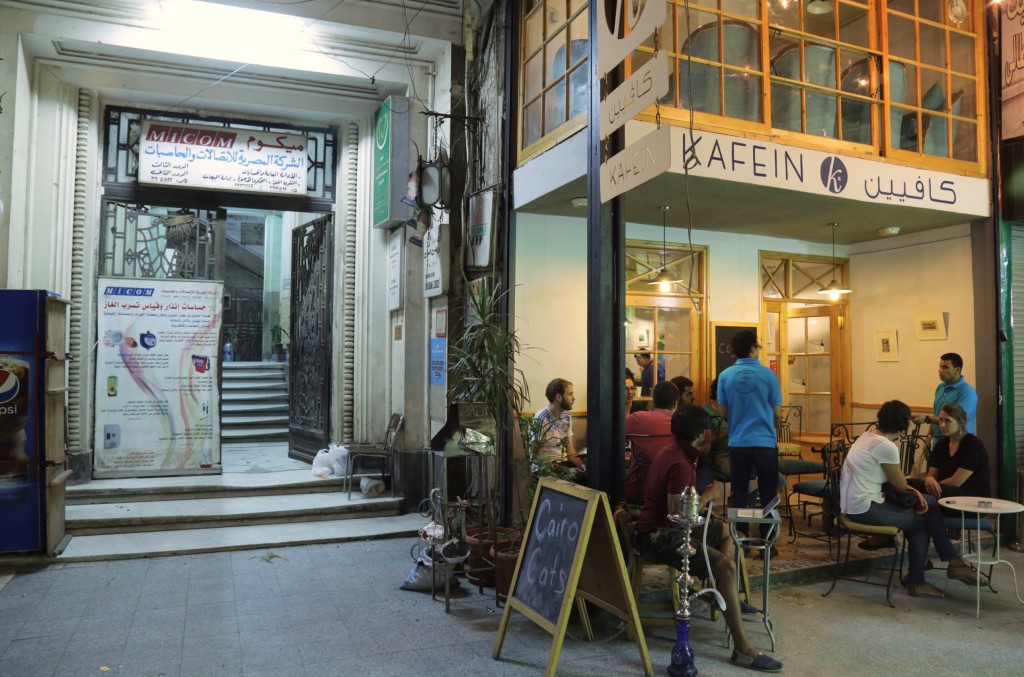 Nadia Dropkin realised CairoCats turned out to be the perfect starter to launch K-Space. "While Jared McCormick does not identify as an artist either, the original cat crafts which hang on the walls are really delicate and layered pieces," Dropkin said. "The screenprinted and lasercut postcards are beautiful and we're really excited that K Project Space creates the space for such a lovely project."
You can find more felines on the CairoCats blog. Contributing to the CairoCats Instagram collection is possible by emailing your cat pictures to [email protected]. If you want to support ESMA, you can buy the cards and tote bags at K Project Space.
Up next at K Project Space are the drawings of Mohamed Wahba and, later on, the collection of rare film stills of a photo archivist. Would you like to see your work exhibited? K Project Space is welcoming proposals on a rolling basis. Relevant information can be submitted to [email protected]
---
Subscribe to our newsletter
---