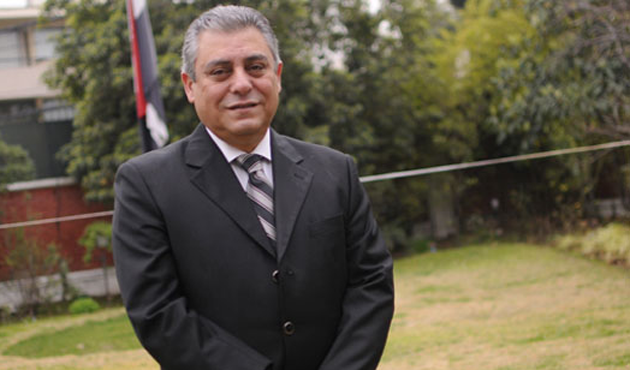 After three years without an envoy in Israel, Egypt has appointed a new ambassador on Sunday. The position has been vacant since 2012 when former president Mohamed Morsi recalled Atef Salem, Egypt's former ambassador in Israel.
Hazem Khairat, a former ambassador to Chile, has been appointed ambassador to Israel by President Abd El Fattah el-Sisi, reported state news agency MENA. Nevertheless, the exact date of assuming the new post has not been announced.
The posting was warmly welcomed by Israeli Prime Minister Benjamin Netanyahu who said this is "something that is deeply welcome in Israel, and I think it's very good for cementing the peace that exists between Egypt and Israel," during a joint news conference with French Foreign Minister Laurent Fabius.
During the rule of former Egyptian president Mohamed Morsi, who was elected into presidency in June 2012 following the ousting of his predecessor Hosni Mubarak, the relations between Egypt and Israel saw a noticeable decline.
Egypt had first recalled its Ambassador from Tel Aviv in 2011 following a cross-border attack by militants that left four Egyptian soldiers dead. Upon being elected President, Morsi assigned a new Ambassador to Tel Aviv as a gesture of Egypt's commitment to peace with Israel. However, the former President recalled Egypt's envoy to Israel in November 2012 as protest against Operation Pillar of Defense, an eight-day Israel Defense Forces operation in Gaza Strip. The violence, which resulted in 177 Palestinian and six Israeli deaths, ended after Egypt negotiated a truce.
Despite Morsi's pivotal role in the truce negotiations, the Egyptian embassy in Tel Aviv remained unoccupied by an ambassador, who was instead replaced by lower ranking diplomats.
Meanwhile, on the Isreali side, the Isreali Foreign Ministry has assigned Haim Koren ambassador in Egypt. The new Isreali ambassador presented his credential on Sunday to president el-Sisi at the presidential palace.
Although Israel had reduced the number of its diplomatic staff in Cairo during the unrest in 2013, it has recently started increasing its presence within the Egyptian capital in light of the relative calmness since Sisi's presidency.
---
Subscribe to our newsletter
---