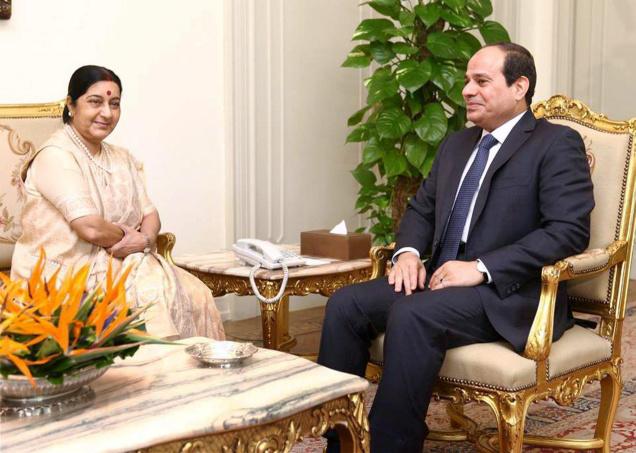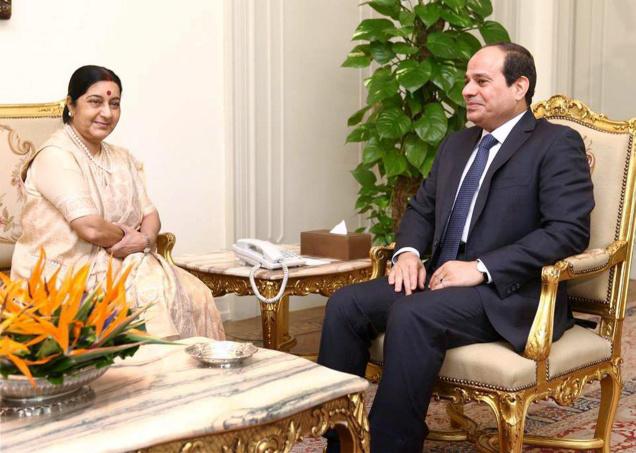 After almost two years of paused talks between India and Egypt, who share trade agreements dating back to 1978, Sushma Swaraj, External Affairs Minister of India, met with President Abdel Fattah al-Sisi during her visit to Cairo last week in hopes of laying out a regulatory regime that fosters transparency and predictability, and attracts more Indian investors to Egypt, reported The Indian Express.
"The Minister's visit to Cairo will provide an opportunity to review the entire gamut of our bilateral and multilateral relations and to exchange views with the Egyptian leadership covering whole range of issues of mutual interest," the Indian Express reported the External Affairs Ministry as saying.
According to the Indian Embassy in Egypt, India is considered to be Egypt's seventh largest trading partner and second largest market for Egyptian exports.
The volume of Indo-Egyptian bilateral trade has witnessed significant growth between the fiscal years 2002-2003 and 2011-2012, which started at $US 727.62 million and exponentially grew to $US 4.3 billion, records the Indian Embassy in Egypt's website.
In March of 2013, following ousted President Mohamed Morsi's visit to India, renewed trade relations were fueled by holding the first meeting for the India-Egypt Joint Trade Committee. By the end of the fiscal year 2012-2013, bilateral trade between the two countries had jumped to $US 5.45 billion, according to the Indian daily, The Economic Times.
"We can work out mutually beneficial solutions to enhance two-way trade significantly by having preferential arrangements as well as better coordination," The Economic Times reported Swaraj as saying.
"We are ready to strengthen cooperation in the fields of textiles, apparel machinery, automotive components, chemicals, consumer goods and any other area that Egypt would prefer," Swaraj added. "Further, India has great strength in new technologies such as IT, pharmaceuticals, health and space. Our companies would be ready to share their competencies with Egypt."
According to The Economic Times, the size of Indian investment in Egypt has approached $US 3 billion, spanning over 50 Indian ventures.
"In short, given a suitable business environment, the sky is the limit for our economic engagement. I must also mention that sharing our best technologies and building partnerships are central to our engagement with Egypt," stated Swaraj.
---
Subscribe to our newsletter
---