Author's note: The material and conversations for this piece took place prior to the You Stink protests; the impact of which is not referenced here.
For a country that has defined and redefined itself through politics, religion, immigrations, emigrations, and decades of war, you may wonder what it's like starting a company in Lebanon.
"Surprisingly peaceful, given all that you hear in the media," says David El Achkar, co-founder of Beirut-based Yellow, a tech startup aiming to make bitcoin payments more accessible across the Middle East.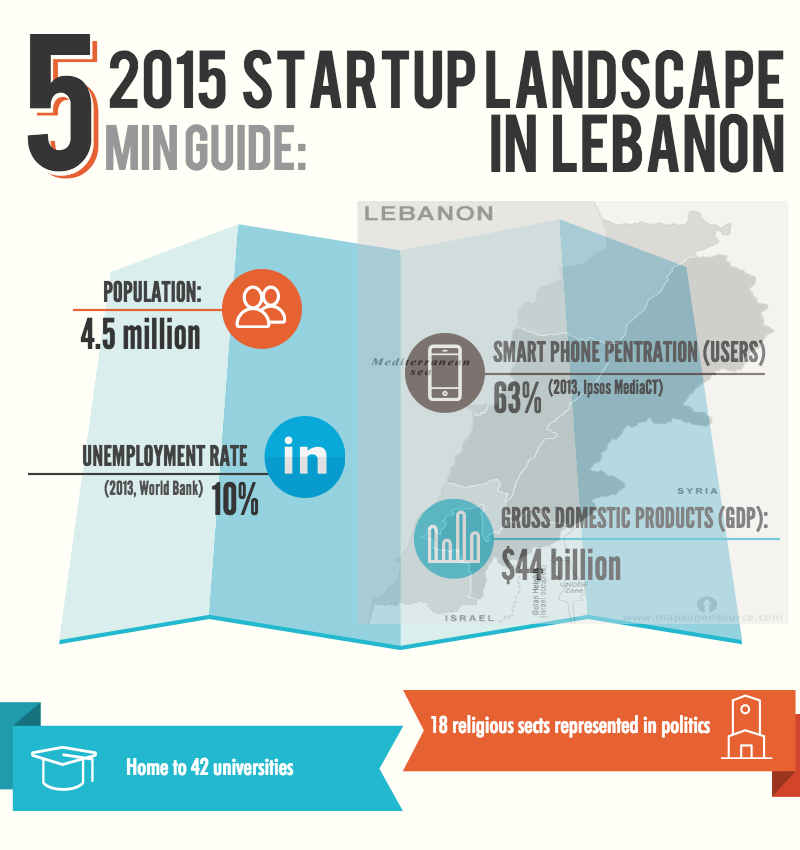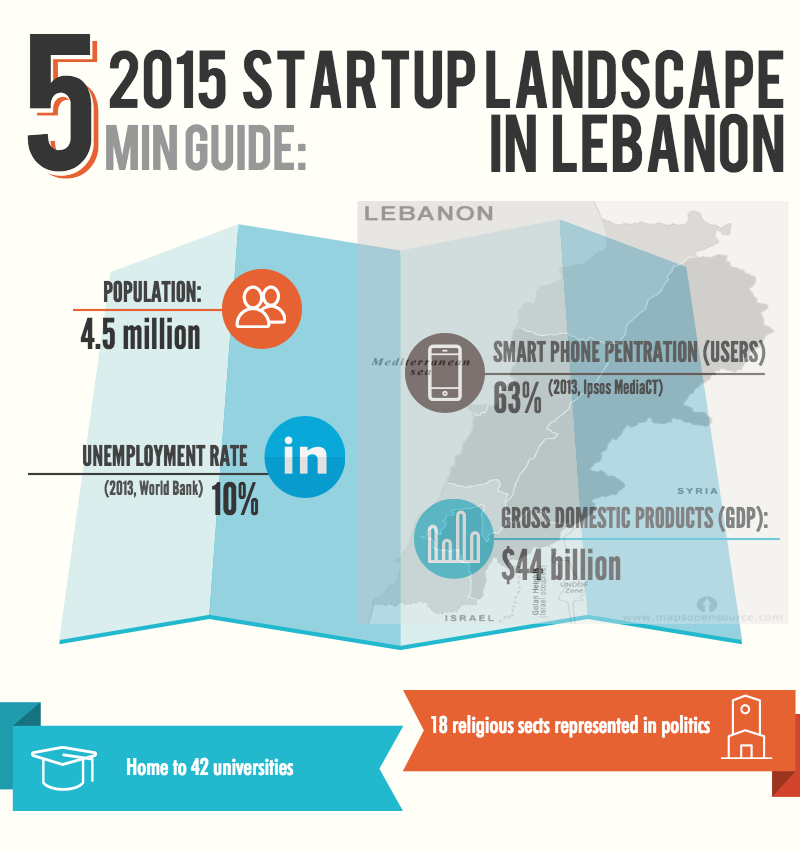 If you set aside the sociopolitical factors beyond your control, you're left with daily inconveniences of fragmented infrastructure like electricity cuts of up to 6 hours, regular water shortages in the summer and fall, and an average internet speed of 3.11 Mbps – to put things slightly in perspective, estimates abound that doubling Lebanon's internet bandwidth could improve GDP by 0.6%.
Yet – "all of that becomes background noise, and it becomes part of your daily life… especially as an entrepreneur, because everything you do is about overcoming challenges, right? These are just additional elements to work around," reasons Dave.
As more and more startups pop up on the scene today, this rational thinking echoes across Lebanon's startup ecosystem. You see bankers, consultants, engineers, alike, somewhat gloriously quitting their jobs to try their hands at entrepreneurship and the chance to create the next Facebook.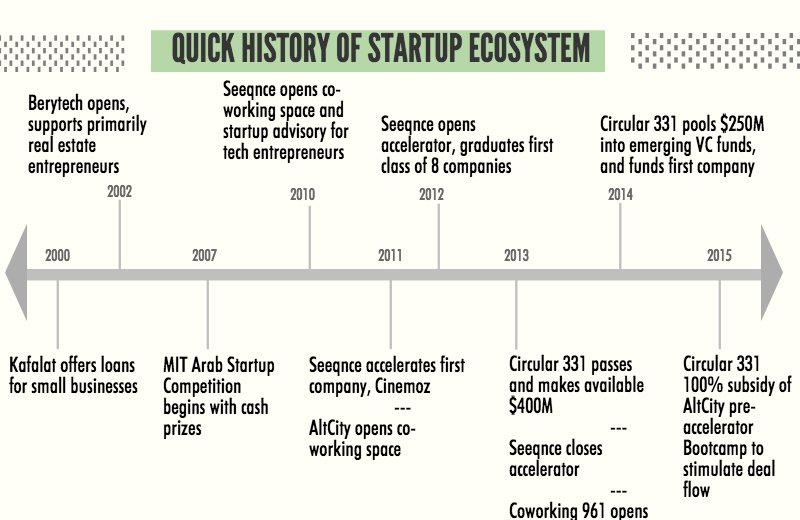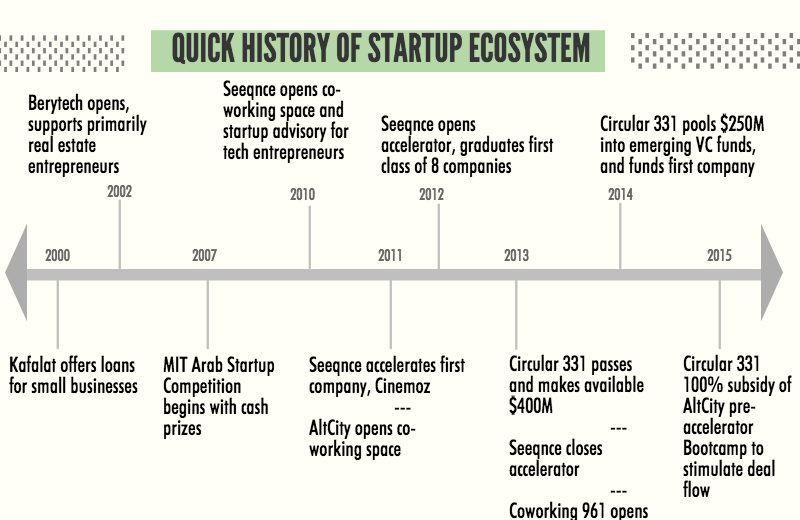 Ten years ago, however, very few Lebanese were starting high-risk, fail-fast, profits-after-5-years companies like their present-day entrepreneur counterparts. "We didn't have this culture of entrepreneurship," reflects Samer Karam, founder of Startup Megaphone and Seeqnce, Lebanon's first accelerator[1]. Whatever flickers of activity existed were not cohesive, and thus could not build momentum.
Samer recognised this lack of support for funding, advisory, training, etc, firsthand when he started One Box, his first tech company similar to the concept of Google Wave, in 2007. After closing the company a few years later, Samer decides to coax the entrepreneurial community out of isolation and rents out an apartment in Downtown Beirut.
He shares the running costs with a few of his friends and they effectively create the first intentional coworking space and startup advisory in the city: Seeqnce. As the startups came in and out, Samer and his team drew from inspirations of Techstars and Y-Combinator  to adapt training and funding programs for more structured Seeqnce support.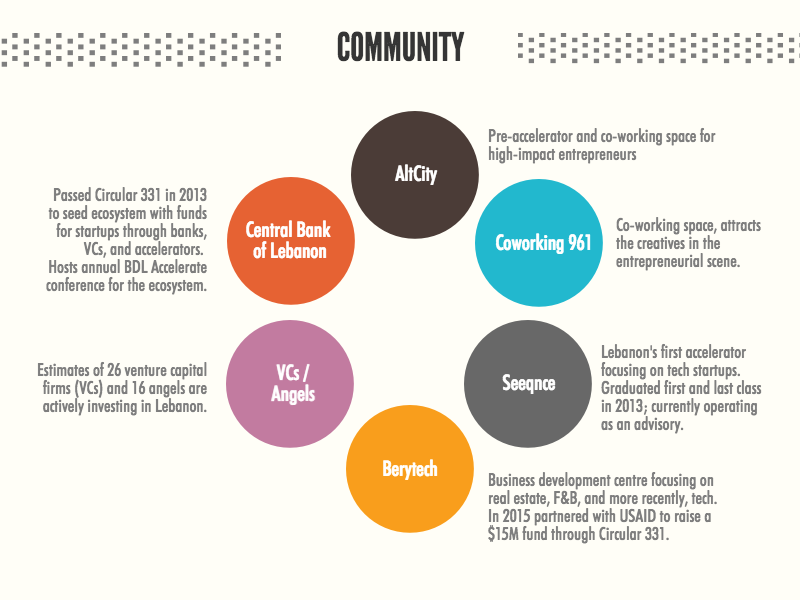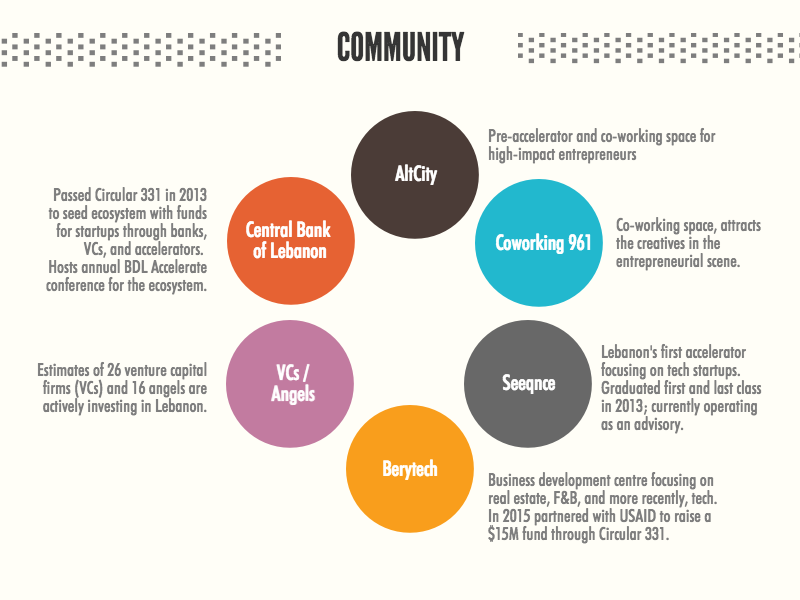 Seeqnce the Accelerator kicked off in 2012 with a class of 9 startups. For the inaugural graduation six months later, Seeqnce collaborated with the Minster of Telecommunications, Nicolas Sehnaoui, to host two Demo Days[2]before nearly 100 high net-worth individuals interested in investing in these graduating startups.
The caliber of the startups was so impressive that the events caught the attention of the Governor of the Central Bank of Lebanon, Riad Salameh, who seeded a progressive policy to continue supporting entrepreneurship in Lebanon. The policy, called the Circular 331, passed in August 2013 and mandated Lebanese banks to invest up to 3% of their deposits into Lebanon-incorporated, ICT-based startups, effectively carving a pool of over $400M worth of funds to be invested in the national startup ecosystem over the next 5 years.
Practically, these funds can be deployed from the banks indirectly into startups through VC funds[3], or, as is becoming increasingly popular as banks build their in-house capabilities for these kinds of investments, directly through banks into startups.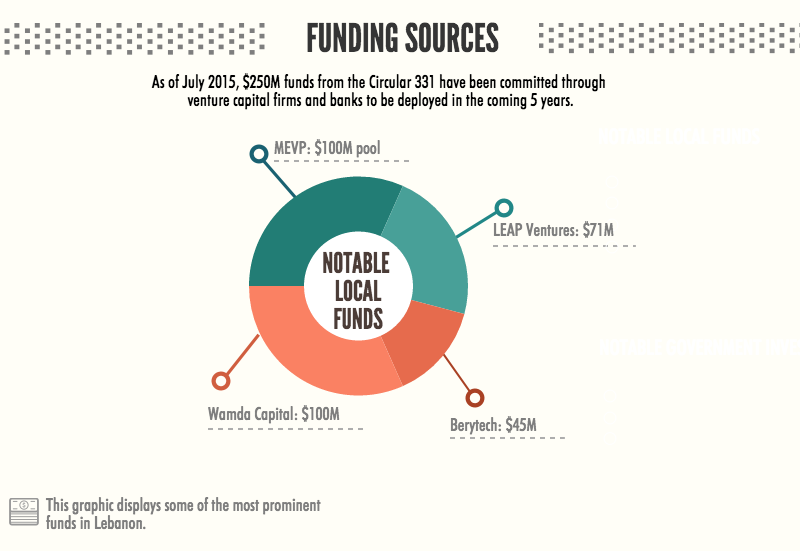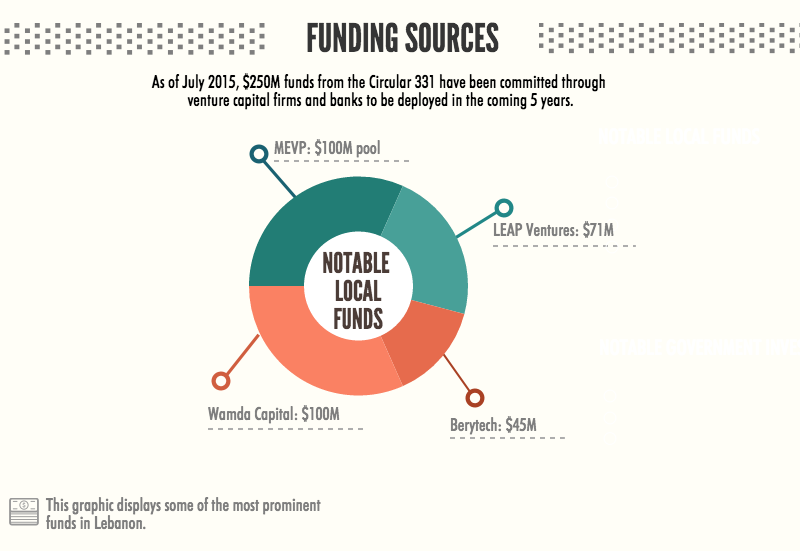 Around $250M has been pledged to VC funds so far, and estimates range between 5-10 startups have directly benefited from these funds already. Each VC targets a different stage of the startup cycle: seed, middle, and growth. The first company to receive funding through the Circular 331 was Presella, an events ticketing company that raised $200k from Bank Al Mawarid.
"We came out of our last meeting and they told us we don't want even a Board seat, we don't anything to do with interfering. We just want to give you the money, give us our equity, and do well. And if you need help, you know our number," remembers Walid Singer, co-founder of Presella.
Now, the startup scene is still quite nascent – and flush with cash where only a few years prior startup investment was sparse. To remedy this supply/demand concern, the Central Bank of Lebanon set forth a second initiative that offers 100% subsidies to accelerators and incubators in order to stimulate deal flow and the creation of startups worthy of funding.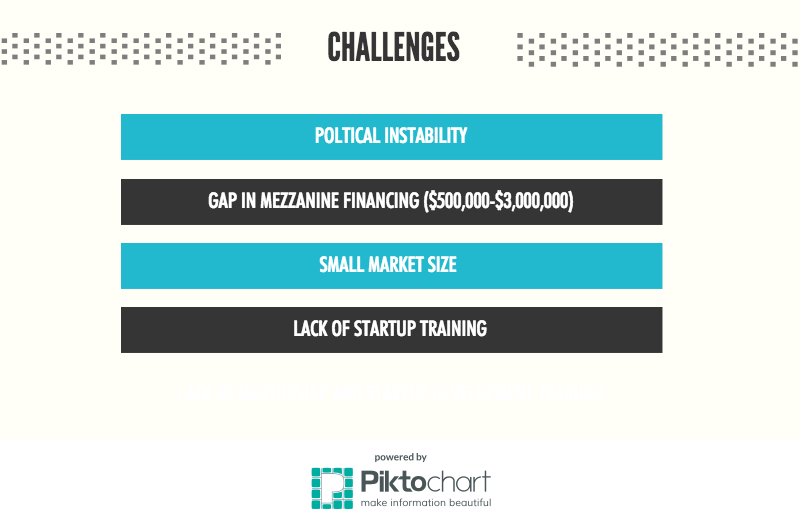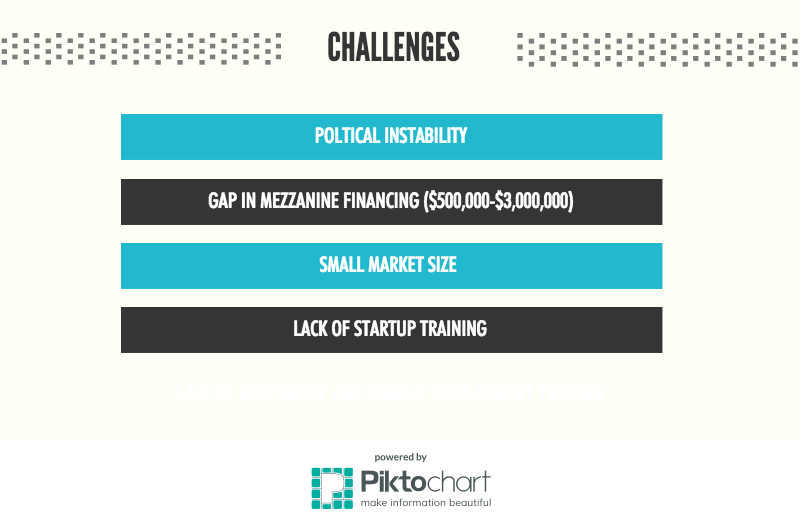 The first pre-accelerator to step forward was AltCity. (Seeqnce closed its accelerator after graduating its first class). The Central Bank hopes this dual approach will seed the ecosystem with growing companies that can boost the national economy. "We think in the coming two years the Circular can generate 1% economic growth and create thousands of jobs indirectly and directly," predicts Marianne Hoayek, the Executive Director of the Central Bank's Executive Office, and the lead of the Circular 331 initiative.
Since fully getting off the ground last year, the Circular 331 has directly benefitted and funded 4-5 companies already[4]. In order to meet their mandates, banks need to deploy between $30-$50M a year into startups: so we can expect to see more and more investments ramping up in the coming months.
The Circular conditions do not specify the use of funds, however. And so some entrepreneurs on the ground are skeptical that the funding will fill all the current funding gaps. "Two years ago we went to VCs to raise $200k," recalls Walid.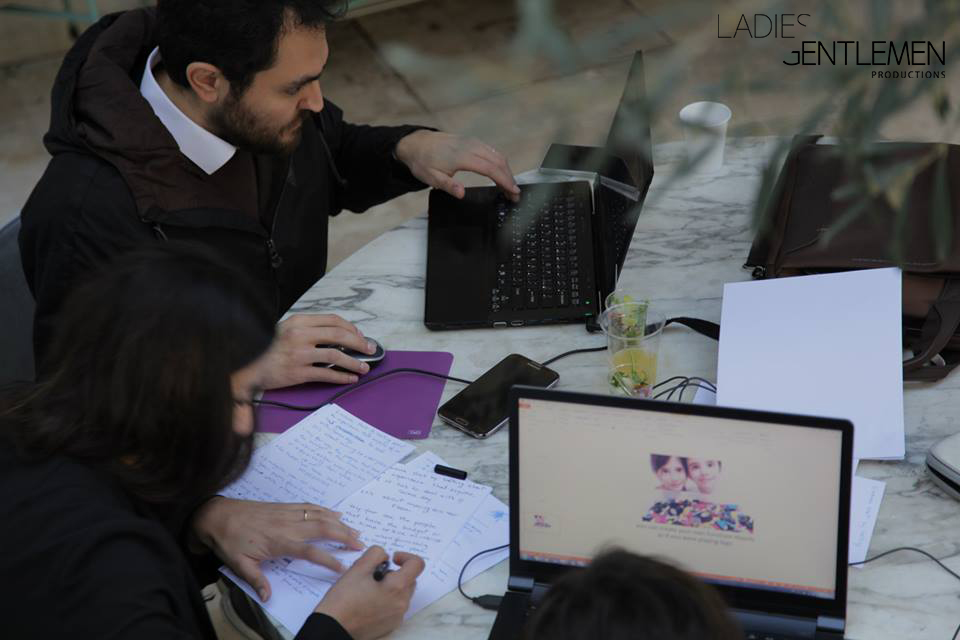 "They said, our minimum is $500k; you're not really ready… We went back again to that same VC today, to raise $1M at a minimum of $500k, and they're like, yea, but our minimum ticket is now $2M… They keep jumping ahead: they're creating a gap. And if they don't realise it real soon, and we're trying to help them realise it, there's going to be a problem." There is also the reality of the size of the country (4 million population) and, consequently, the size of the national market.
There seems to be a consensus that Lebanon is a great platform to pilot an idea, test it, and then transition to an international market for the growth. We see quite a few entrepreneurs building their first offices in Lebanon and then opening their second, growth-focused office in the United Arab Emirates or Saudi Arabia. In the next episodes of this series we'll explore the landscape in the UAE for entrepreneurs.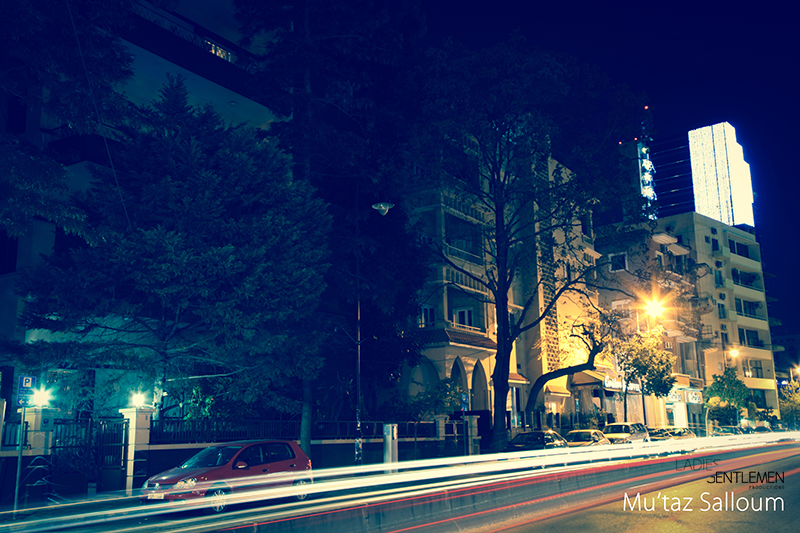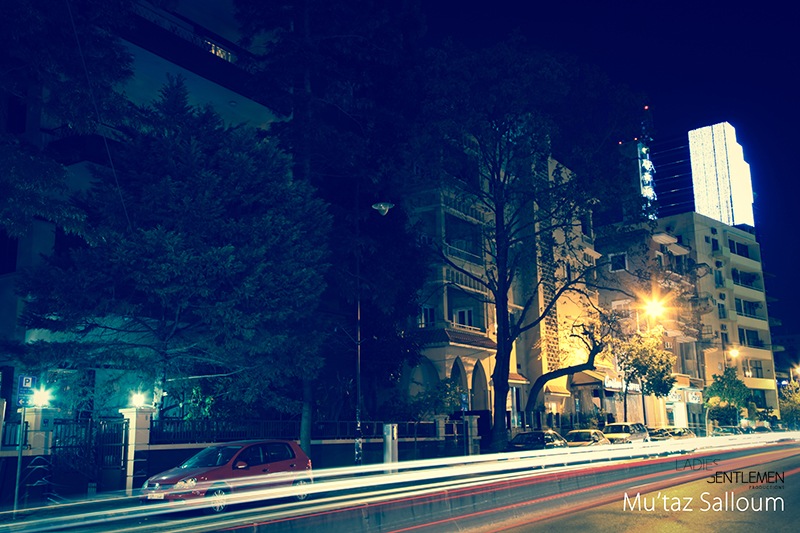 Credits
Written and directed by Hebah Fisher in partnership with Egyptian Streets.
Sound, design, and original music by Ramzi Bashour.

1 Accelerators are structured programs to 'accelerate' business growth through training, mentoring, and financing.
2 Demo Day is the graduation ceremony of an accelerator and culminates in a series of presentations by the startups to the audience in the hopes of raising funds.
3 VCs are venture capital firms, which specialise in funding new and growing ventures.
4 Total amounts could not be disclosed.
---
Subscribe to our newsletter
---