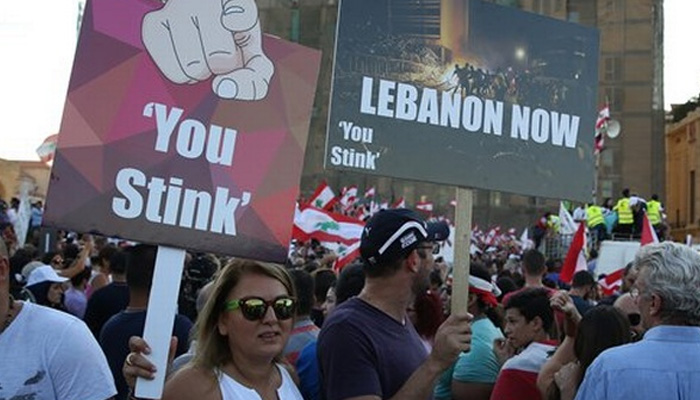 By Alexander Liddington-Cox, Lebanese Streets
Lebanese environmental movement YouStink has called for fresh protests in Beirut's Riad Al-Solh square on Thursday, after rejecting the government's waste disposal plan for failing to achieve the movement's goals.
YouStink quickly erupted after residents of Naameh forced Beirut to confront its unsustainable garbage practices by finally enforcing the closure of the local landfill. On August 29, crowd numbers peaked at a YouStink protest, thanks in part to a strike at waste disposal company Sukleen flooding Beirut's streets with garbage yet again.
Last week, the movement rejected the government's plans for short-term garbage relief with an eye towards long-term sustainability.
The "Chehayeb Plan," named after Agriculture Minister Akram Chehayeb and approved by the cabinet, puts Lebanon on a path towards a sustainable garbage disposal system, including sorting garbage at the source.
In exchange, the plan includes temporarily reopening the Naameh landfill to alleviate the city of 100,000 tons of garbage that have accumulated out of view, in makeshift sites in and around the city, since the landfill's closure. There are also plans to open two sanitary landfills in the northern district of Akkar and the Masnaa area of the Bekaa Valley.
Ayman Mroueh, a spokesperson for a diverse civil society group – including YouStink – that has emerged in the wake of the garbage crisis, rejected the plan on Friday due to objections from residents in the affected areas.
"As much as we want garbage removed from outside our homes, we don't want to dump it on other areas that can pose a threat to fellow citizens' health," said Mroueh.
Since the August demonstrations, none of YouStink's demands have been met. The garbage crisis has not been solved satisfactorily. Environment Minister Mohammad Machnouk has not resigned despite a sit-in protest at his office by YouStink and a separate hunger strike campaign. Interior Minister Nouhad Machnouk has not been held accountable for the excessive force used on protesters on August 22 and there remain no signs of fresh parliamentary elections.
The lack of progress so far is a concern for political analysts but activists and environmentalists remain optimistic the movement has irrevocably changed the nation's agenda for the better.
Randa Slim, director of Track II Dialogues initiative at the Middle East Institute says all parties are in a "stalemate." The government's plan will take 18 months to implement and YouStink needs to deliver something to its supporters now.
"They are not going to be able to bring masses to the street unless they can prove this form of campaign can deliver some results," said Slim. "And so far it hasn't."
Another analyst, who wished to remain anonymous, told Lebanese Streets she wasn't surprised by the lack of progress.
"Even though we've seen a lot of people in the streets, I still think this is a very weak protest," she said. The analyst noted the much larger demonstrations from the beginning of the Cedar Revolution in 2005 and the signing of the Doha Agreement in 2008 failed to deliver results on a number of fronts, particularly when it comes to parliamentary elections.
"Beyond the obvious they didn't get anything and they were going down to the streets on a weekly basis. Most of them realized, enough is enough."
But Lebanese Streets also spoke to Slim in the immediate aftermath of the August 29 protests and she noted the Cedar Revolution was fuelled by the money and machinery of the Future Movement, whereas YouStink had nothing but issues and gumption.
"Wherever you have a country that experiences an emergency you see for a moment – especially in divided societies like Lebanon – suspension of these divisions," said Slim.
"People come together to deal with the emergency, then once the emergency subsides then the old politics comes back to the surface. Maybe we're seeing something similar [but] I hope not."
Still hungry for change
One person who knows how entrenched old politics is in Lebanon is Waref Slieman, an architect and close friend of YouStink organizers who moved away from the group to instead go on a hunger strike to put pressure on the Environment Minister to resign.
Slieman lost six kilos during his campaign, which came to an abrupt end when he met Machnouk and realized his mission was doomed.
"You can tell when you meet him that he's very far from making such a decision," Slieman told Lebanese Streets. "After I met him, I knew he wouldn't resign."
But he remains optimistic that change is coming because of YouStink and the group's role will continue to evolve as the political dynamics shift.
"Until recently I didn't know if YouStink had a role other than showing the anger people had on the streets. It's the government's role to provide solutions and it's up to us to reject the solutions or not. I don't know if they should stop protesting; maybe we had a peak and now we're going down. But anything could happen," Slieman said.
Giant leap forward
Antoine Abou Moussa, an environmental consultant with Terra Liban, worked with the Lebanon Eco Movement on the technical aspects of the Chehayeb Plan. YouStink is a partner of the LEM, which serves as a stark reminder that it's now one of many organizations aching for change.
"The plan in the long run is perfect," he said. "It's copy-paste what the environmentalists have been talking about…The urgent part, for now the best environmental solution is putting the garbage in a sanitary landfill. We won't say which landfill; that's not our job."
Moussa says "change on the ground" has spread well beyond the corridors of power in Beirut. More progress has been made in regards to raising awareness for waste disposal at a local level, especially sorting at the source, in the last two months than the last ten years, he says.
"Definitely the crisis catalysed the development of a sustainable way of dealing with our waste," said Moussa. "At least 10 municipalities started something related to a sustainable way of disposing of waste with methods including sorting at the source."
In fact, change has spread further than that. After the August 29 protests, Slim noted sustainable garbage disposal policy has become entrenched in the minds of everyday Lebanese citizens.
"Every other Lebanese has become an expert now on garbage disposal and recycling."
---
Subscribe to our newsletter
---