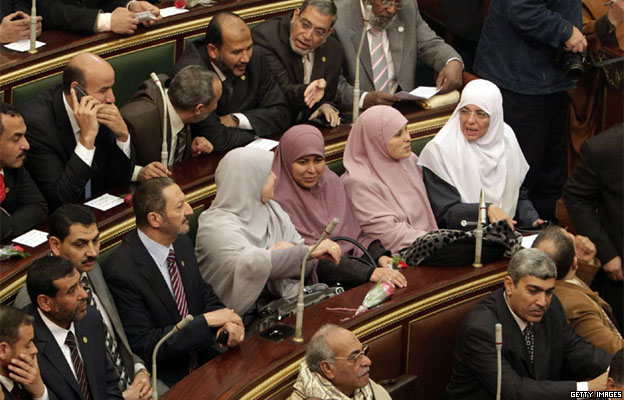 Egyptian women were given the right to run for parliament in 1956, making them the first to be granted suffrage rights in the Arab world.
Abdel Ghaffar Shukr, deputy head of the National Council for Human Rights, told Aswat Masriya that this is "women's most important accomplishment," although women have not made significant electoral victories because society has not accepted it.
Suffrage right was stipulated in the 1956 constitution and in 1957, eight women ran for seats in parliament.
On July 14, 1957 the first two Egyptian women won seats in parliament, making history both in Egypt and in the Arab world.
In the 1964 parliament, women grabbed eight seats, which amounted to 2.2 percent of the 360 seat house.
The introduction of quotas in 1979 marked another milestone for Egypt's women. The quota reserved 30 seats for women and women could also compete against men over other seats.
In 1979, 200 women contested and 33 won parliamentary seats. Late president Anwar al-Sadat appointed two more women, which brought the total to 35 women lawmakers, accounting for eight percent of seats.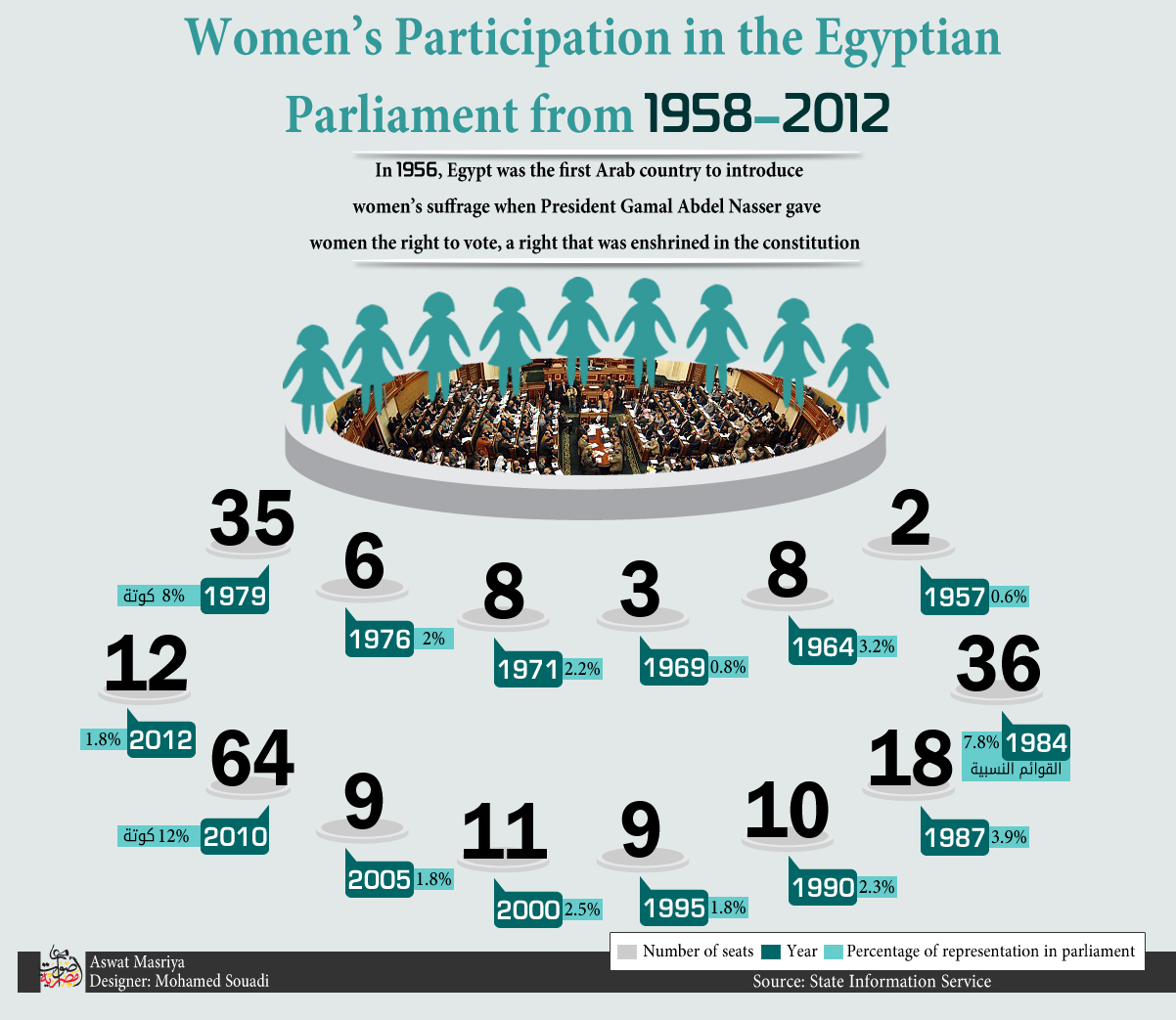 The quota was broadened in 1984 to include marginalised categories which reduced the percentage of women in parliament to 7.8 percent or 36 seats.
In the following elections, the quota was cancelled and the drop was more pronounced. Women only made up 3.9 percent of lawmakers in 1987, when 14 female contenders won seats and four were appointed.
But 1990 marked an even harsher blow to women, who only made up 0.22 percent of all lawmakers, after winning 10 of 454 seats.
The quota was reinstated in 2010, guaranteeing 64 seats, but women were unable to win any additional seats.
In 2012, the quota was lifted and female representation in parliament was less than 2 percent despite a record number of candidates that exceeded 900.
Egypt is now gearing for parliamentary elections and 308 women are running for seats. Campaign season has kicked off last week and women are working relentlessly to make their mark.
Voting for the House of Representatives will be held over two phases. The first phase of voting in Egypt and abroad will run from Oct 17 – 19.
---
Subscribe to our newsletter
---