Photo: EPA
Egyptian authorities have denied claims made by ISIS affiliate Welayat Sinai that the group is responsible for downing the Russian airplane that crashed in North Sinai on Saturday, killing all 224 passengers on board.
In a statement circulated online, Welayat Sinai claims that it shot down the plane and that "as you kill, you will be killed," referring to Russian airstrikes in Syria. The group did not specify how they brought the plane down but warned Russians and "those who ally with them" that they are not safe on Egyptian soil or in Egyptian airspace.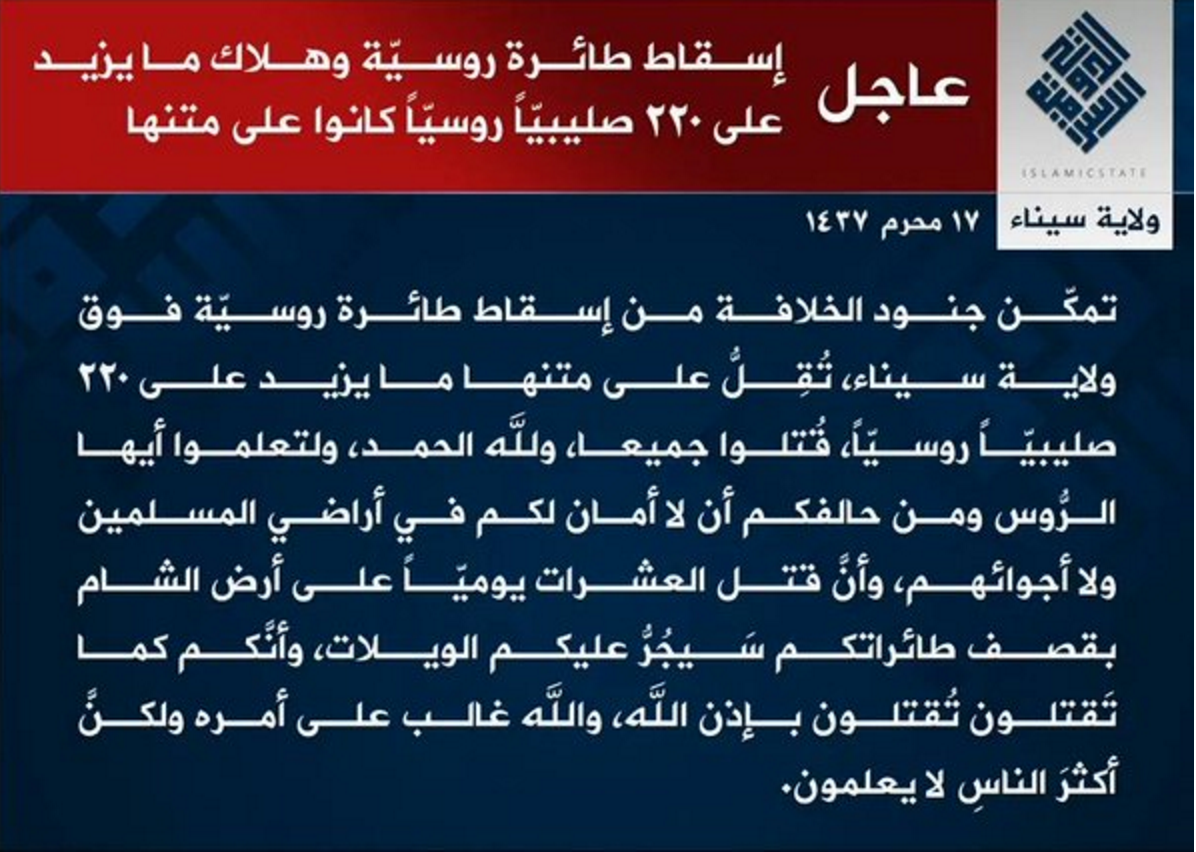 However, there is yet to be any evidence to support the terrorist group's claim, particularly as the plane's altitude prior to the crash was higher than a missile could have reached.
Russia's transportation minister also told Australian News Network that the claim "can't be considered accurate".
The exact reason for the crash has not been determined yet but Pilot Ayman Al-Mokadem, who is heading a committee to monitor the crash's aftermath, said that the plane crashed due to technical failures while attempting to land at Al-Arish airport in North Sinai and was not shot down, Al-Ahram Online reported.
According to Sky News, the plane's captain reported technical faults after takeoff and requested to change route.
However, Al-Ahram Arabic reported the head of Egypt's Air Navigation as saying the plane's pilot did not request an emergency landing before crashing.
Egypt's government announced that there were no survivors from the crash, which occurred 23 minutes after the plane took off on its way to St. Petersburg. The announcement was confirmed by the Russian Embassy in Cairo.
The Egyptian Cabinet also announced that the Prime Minister, Minister of Tourism, and Minister of Health have arrived at the crash site in the Al-Hasanah area to oversee ground operations. All bodies that are recovered will be transported to Cairo, said government officials.
Russian President Vladimir Putin expressed his condolences to the victims' families and ordered Prime Minister Dmitry Medvedev to form a state commission to investigate the crash. The Russian President has also declared one day of mourning.
This story is developing.