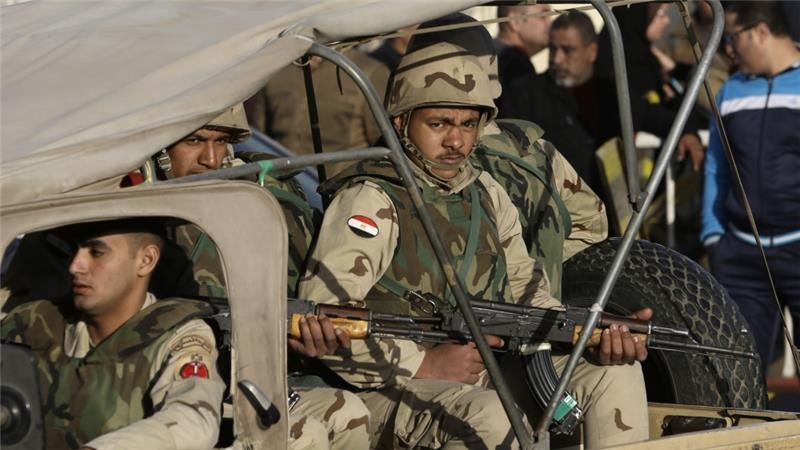 By Aswat Masriya, edited by Egyptian Streets
A suicide bombing outside a police club in North Sinai's al-Arish city left three policemen and the bomber dead on Wednesday morning, according to a statement from the Egyptian interior ministry, in an attack claimed by a Sinai-based militant group.
Prior to the ministry's statement, Emad al-Dahshan, a prosecution official in North Sinai told Aswat Masriya the bodies of three policemen were found, as well as the remains of a policeman, a civilian and the suicide bomber. He added that 10 people were injured in the blast.
A security source earlier told state news agency MENA that a suicide bomber in a car loaded with explosive devices tried to "break into" the police club.
Instead, he hit the concrete barrier outside the facility, where the bomb detonated. Police clubs across the country are social gathering clubs for members of the police force and their families.
The attack injured five policemen and five civilians, the security source added.
Sinai-based militant group Ansar Bayt al-Maqdis claimed responsibility for the attack, in a statement circulated on social media, which Aswat Masriya could not independently verify.
Ansar said the operation was in response to the arrest of Sinai's tribal women by the "apostate government". The group named the bomber, Abu Aisha al-Masry and vowed to turn "apostates' night into day," adding that what "awaits them is worse."
Aswat Masriya could not independently verify the authenticity of the statement. At time of publication Aswat Masriya was not aware of reports on the arrests of women belonging to Sinai's tribes.
Ansar changed its name to Sinai Province after pledging allegiance to Islamic State fighters a year ago. The group has increasingly claimed responsibility for attacks in Sinai over the past year and has claimed responsibility for more attacks than any other group in the country.
Militancy inside Egypt has seen a significant rise since the military ouster of Islamist President Mohamed Mursi in July 2013, following mass protests against his rule.
North Sinai is at the epicentre of the insurgency and most attacks take place there, targeting security forces.
President Abdel Fattah al-Sisi declared a state of emergency and a curfew in the border governorate in October 2014, in reaction to a militant attack which left over 30 security personnel killed.
---
Subscribe to our newsletter
---