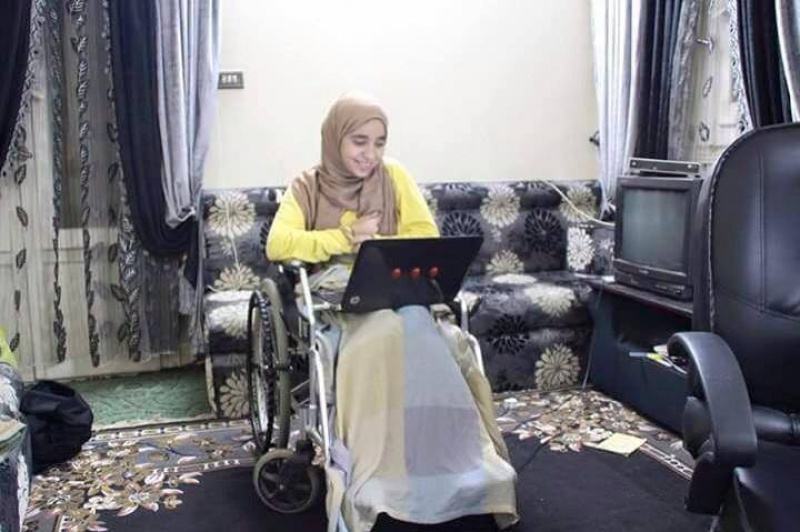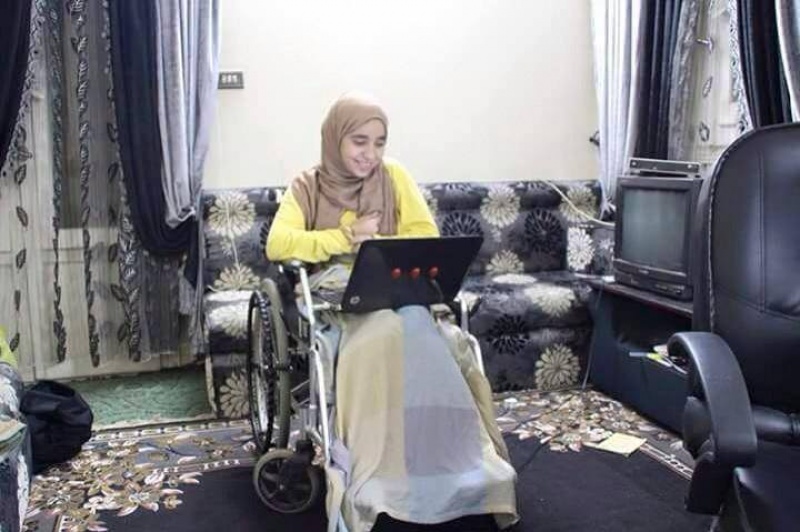 Following the decision by the Giza court last week to extend the detention of Esraa el-Taweel, Egypt's Homeland Security agency released to the media on Monday what it referred to as el-Taweel's "confessions" spanning the gamut from plans to assassinate a top official to spreading false information.
The student and amateur photographer was in tears when the judge announced that she will be held in custody another 45 days, beyond the 155 she has withstood pending the outcome of an investigation.
Taweel faces charges of "belonging to a terrorist organisation" and calling for disrupting laws, preventing state institutions from operating, assault on personal freedom and "harming national unity" by spreading false news.
She was arrested on June 1 and was denied proper care for a debilitating bullet wound she ironically acquired covering protests marking the third anniversary of the January 2011 uprising. During her recovery, she has had to use a wheelchair for months.
She has also pleaded for appropriate medical assistance, which has been categorically denied to her. Members of her family have reportedly said she may become paralyzed as a result of this negligence.
Taweel's alleged confessions seem to have taken the case against her to another level.
Technically, she is part of case number 485 of 2015 known in the media as the "electronic committees and media" case of the international Muslim Brotherhood organization.
Taweel allegedly confessed to working with others, including Suhaib Saad Mohamed, one of two young men who were arrested with her and who was later accused of belonging to "the Marriot Cell". The cell included Al Jazeera English journalists Baher Mohamed and Mohamed Fahmy who were recently released on a presidential pardon after an almost two-year ordeal in a much publicized court case.
According to the "confessions", Taweel "fabricated news and propagated rumors in order to turn public opinion against the current Egyptian administration" and sent those false images to Brotherhood-affiliated channels.
Taweel also "confessed" that she was a friend of Asmaa el-Beltagui, the 17-year-old daughter of Muslim Brotherhood leader and former MP now jailed Mohamed el-Beltagui, who was killed when security forces violently dispersed a pro-Mohamed Mursi sit-in at Rabaa al-Adaweya Square in August 2013, following Mursi's ouster by the military one year into his presidential term.
As an act of "revenge" for her friend's death, Homeland Security says Taweel became determined to assassinate an unnamed "high official".
To that end, she allegedly conspired with a group of other girls, one of them belonging to the Muslim Brotherhood, to assassinate the official. The "friend" was planning to facilitate Taweel's attendance to the wedding of the official's daughter under the guise of a photographer and carry out the plot through "a bomb planted in her camera" in order to rid Egypt of what Taweel says was a "symbol of the coup" against Mursi.
When Taweel decided against the suicide mission, according to her alleged confessions, she conspired with her sister and others to plant spying gear to record and video tape "state secrets that impact national security" in the unnamed official's office with the aim of leaking those recordings to the pro-Brotherhood media.
However, Taweel and her entire "cell" were arrested before successfully rigging the office of the unnamed official, according to Homeland Security's release.
In court last week, Taweel denied all charges leveled against her.
Taweel's lawyer Halim Heneish told Aswat Masriya on Monday that he is "astonished" that the investigation was released when the prosecution has not responded to "five requests" by Taweel's defense to photocopy the case files.
The lawyer added that the right to request to copy the case files is stipulated by law.
Egypt's justice system has been the subject of criticism by local and international human rights organisations, who have spoken out against the lack of due process and the extraction of confessions under duress.
Hundreds of Brotherhood members have been sentenced to death in what rights groups describe as "show trials" that are politically-motivated.
---
Subscribe to our newsletter
---