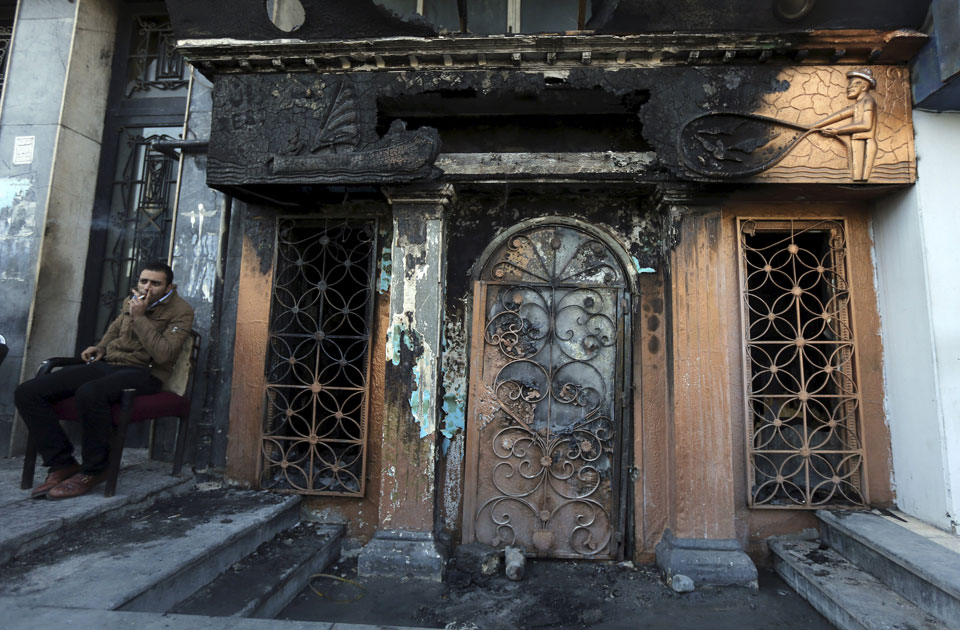 Three suspects accused of involvement in the deadly attack on a Giza nightclub overlooking the Nile were arrested in the later hours of Friday, Egypt's interior ministry said.
The ministry said the police force in Giza and Suez worked together to arrest the pair, who fled to the province of Suez to the east of Cairo, in a statement published on Facebook.
They were identified as an 18-year-old student and a 19-year-old mechanic, both of whom are residents of the Giza neighborhood of Imbaba. The third defendant was arrested in a separate raid after authorities received a tip that he had also been hiding in Imbaba.
According to the interior ministry, they both confessed to carrying out the attack on the nightclub in Giza's Agouza neighborhood in the early hours of Friday leaving 16 dead, using two Molotov cocktails and gunfire.
The fire and smoke created by the Molotov cocktails caused many victims to suffocate.
The first two defendants added that two others helped them carry out the attack and that their motive was "revenge" for being barred from entering the nightclub, the ministry said.
In an earlier statement, the ministry had said preliminary findings indicated that the attack followed a fight between the employees at the club and "others", according to the MOI statement.
But the manager of the business said there was "no dispute". "They do not know us and we do not know them," he said in a state news agency MENA video, filmed outside the burnt down facility.
"This is their criminal activity. They live off thuggery," he said. He said the attack was carried out by five people, led by a ringleader, adding that they are active in the neighbourhoods of Agouza, Dokki and Mohandiseen.
Security forces are searching for the two other perpetrators, the ministry said.
This content is from:
Hend Kortam,
Aswat Masriya and edited by Egyptian Streets