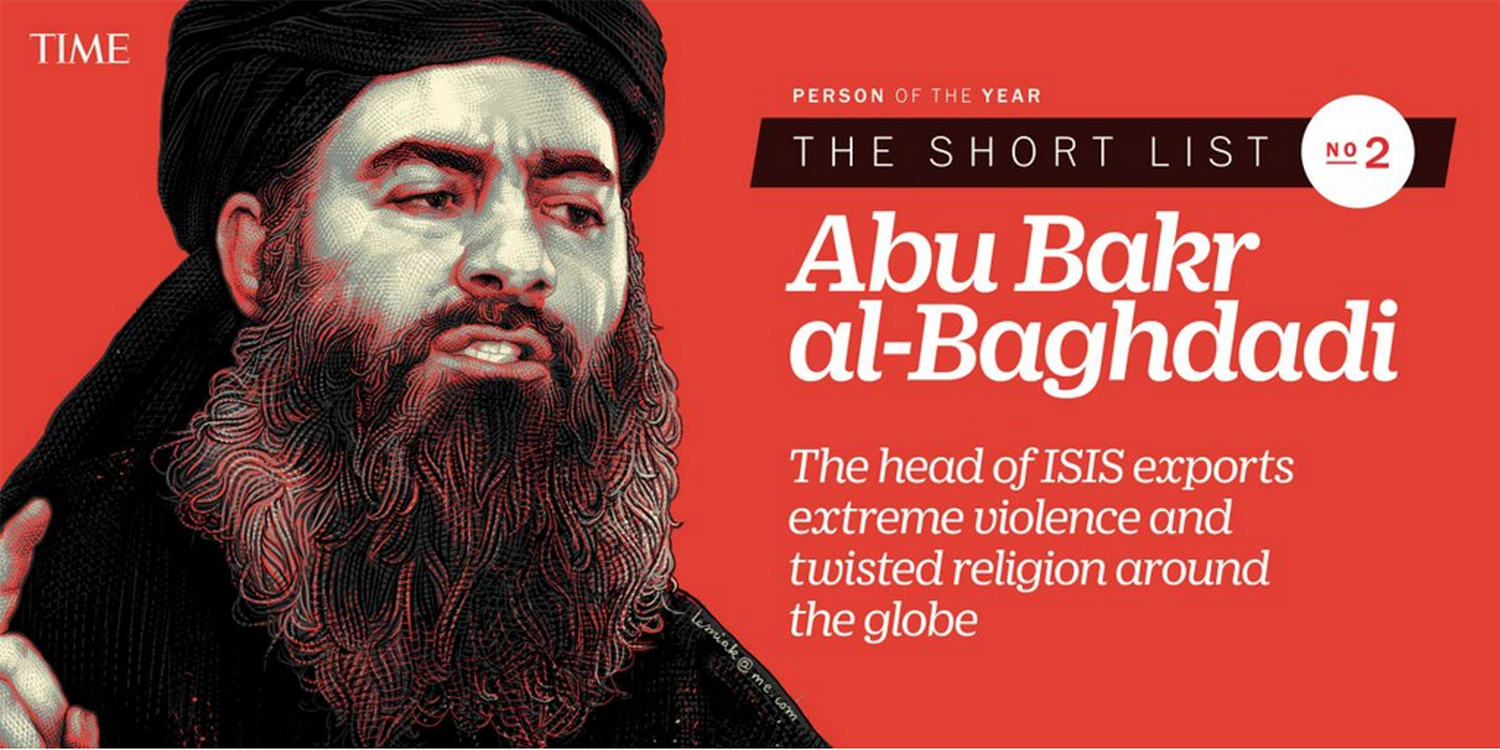 Time magazine has announced that Abu Bakr al-Baghdadi, the head of terrorist group ISIS who "exports extreme violence and twisted religion around the globe", was second in line for the magazine's annual 'Person of the Year' title.
On its website, Time published a historical review of Baghdadi's life and the rise of ISIS in the recent years, saying, "al-Baghdadi has made himself the new face of terrorism and target No. 1 in the long struggle to defend humane values."
Time's biography of al-Baghdadi – or "the brooding muezzin of death" – chronicles how he transformed ISIS from a breakaway group of al-Qaeda into a "transnational terrorist franchise killing civilians in more than a dozen countries around the world." The writer notes that his radical ideology has spurred an international response, including France's decision to impose a three-month state of emergency following a series of attacks in its capital that claimed 129 lives last month.
However, the magazine has named German Chancellor Angela Merkel as 2015's Person of the Year, beating out al-Baghdadi, businessman and US presidential hopeful Donald Trump, the "Black Lives Matter" movement and former Olympian champion Caitlyn Jenner, who revealed her struggle as a transgender and transitioned to a woman amid widespread media buzz earlier this year.
The magazine has granted the title to several controversial figures over the years. Its 1938 'Person of the Year' was German dictator Adolf Hitler, while in 1979 Iran's then-Supreme Leader Ayatollah Khomeini landed the title.
These names stand in contrast with other selections known for their pioneering roles in peace processes, such as Mahatma Gandhi, Winston Churchill and Anwar Sadat, who were named 'Person of the Year' in 1930, 1940 and 1977, respectively.
Time began the tradition of naming a figure, group, idea or object with a significant impact on the year's events "for better or for worse" in 1927.
---
Subscribe to our newsletter
---