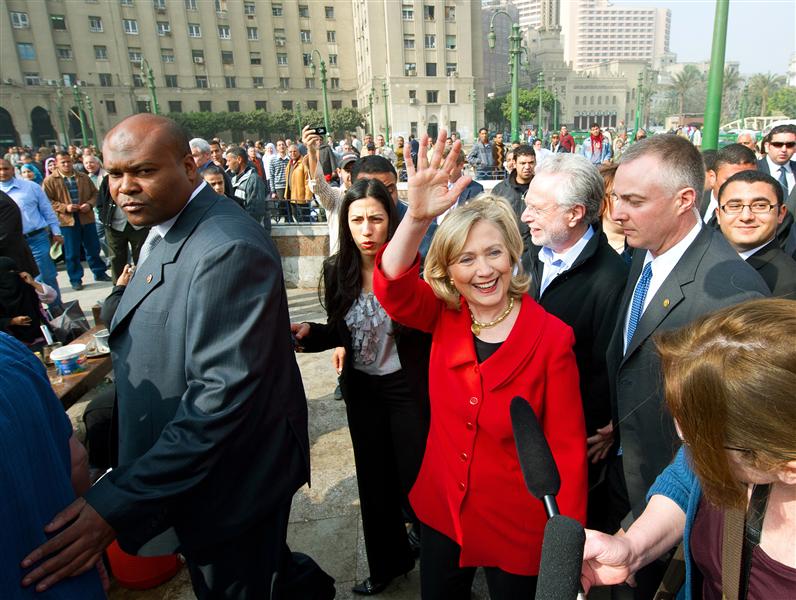 Democratic presidential candidate Hillary Clinton has called Egypt's government "basically an army dictatorship" during a live debate with her opponent Bernie Sanders.
"I cautioned about the overthrow of [former President Hosni] Mubarak, and now we're back with basically an army dictatorship," said Clinton during the debate.
"To promote democracy is a hard road to walk."
It remains unclear whether Clinton's statements about President Sisi's government will be the official position of her administration if she wins the Presidency race.
Egypt-US relations have been rocky since the ouster of former President Mohammed Morsi, but some recent progress had been made to restore stronger ties.
Clinton's views are starkly different to Republican presidential candidates who have vowed to support Egyptian President Abdel Fattah Al-Sisi. In August 2015, Republican presidential candidate Ted Cruz said Obama should be more like President Sisi in the fight against terrorism.
"Let me contrast President Obama, who at the prayer breakfast essentially acted as an apologist. He said well gosh the crusades, the inquisitions … We need a president that shows the courage that Egypt's President al-Sissi did—a Muslim—when he called out the radical Islamic terrorists who are threatening the world," said Cruz on Fox News.
Hillary Clinton was outspoken in her memoir 'Hard Choices' about Egypt. In the memoir, Clinton revealed that she had warned the Obama administration against supporting protests against Hosni Mubarak during the January 25 revolution in 2011.
"There is little reason to believe that restored military rule will be any more sustainable than it was under Mubarak," wrote Clinton in her memoir, according to the Washington Post.
"To do so it will have to be more inclusive, more responsible for the needs of the people, and eventually, more democratic."
During the one-year rule of Morsi and the Muslim Brotherhood, Clinton was accused by the opposition of supporting Islamists. However, she was also accused by Muslim Brotherhood supporters of supporting protests against Morsi.
---
Subscribe to our newsletter
---