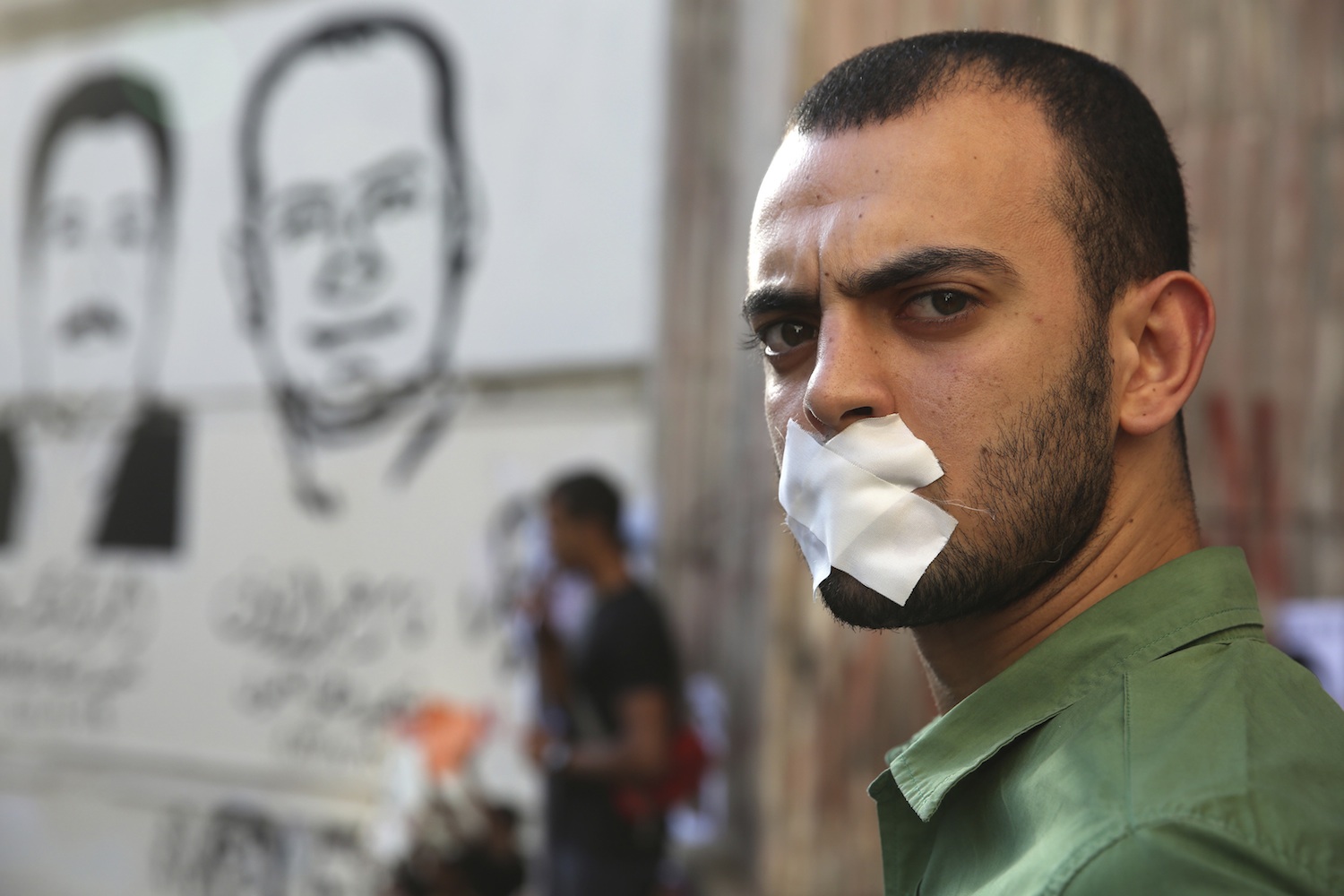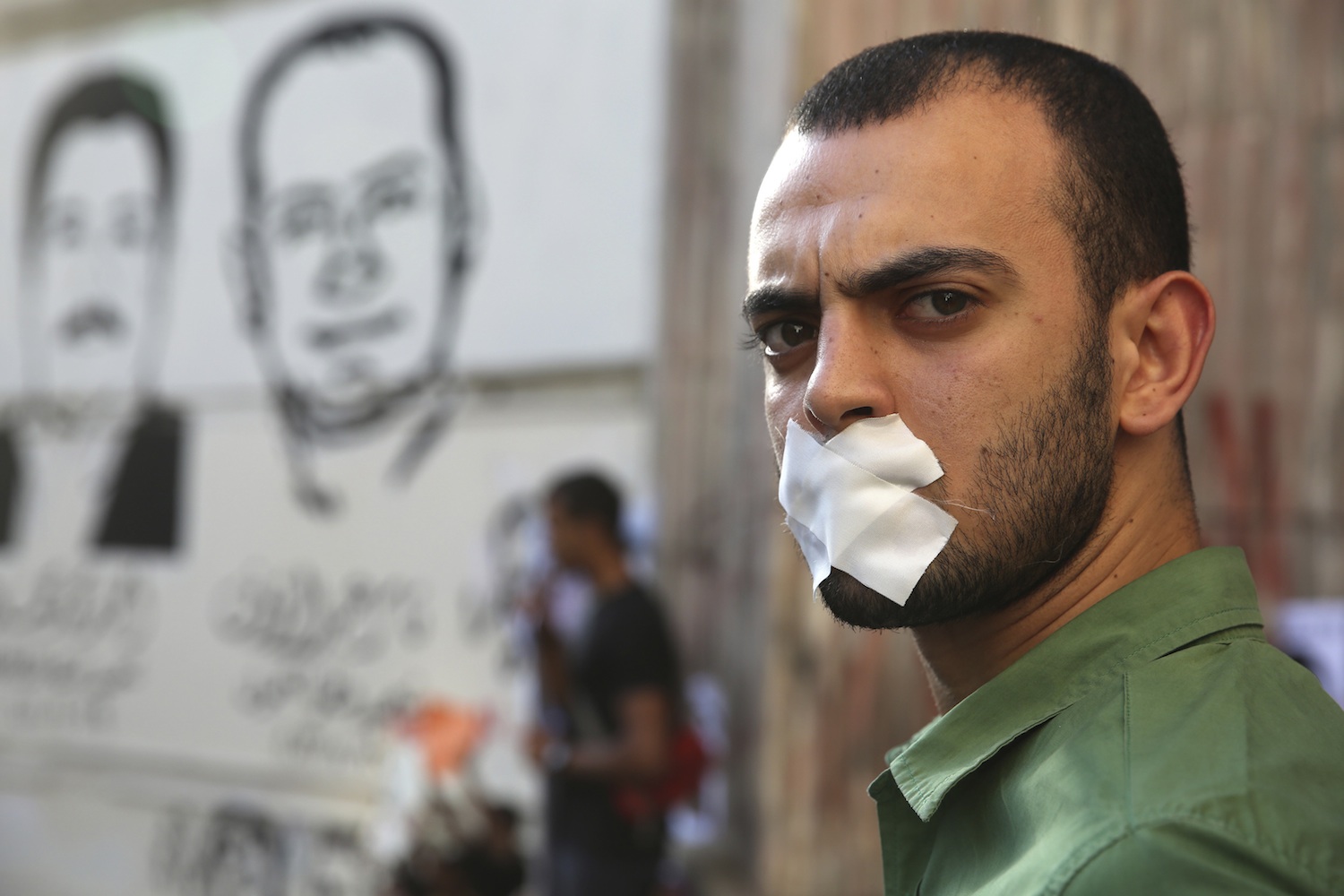 A video of a prank showing TV reporter Shady Abu Zaid and actor Ahmed Malek (both in their twenties) handing police conscripts inflated condom-balloons in Tahrir Square last week went viral on social media almost immediately after it was posted on Facebook. Less than 48 hours after the video was made available online, it had clocked in nearly 2 million views, with the number continuing to rise rapidly.
The controversial video drew mixed reactions from Egyptians, highlighting a widening generational split over the government's increased repression in recent months. Embittered by an intensifying security crackdown that has targeted dissenters of all stripes (including secular activists who led the revolution five years ago), many young activists said they enjoyed seeing the security forces lampooned in the video. Describing the prank as "hilarious," they hailed the video's creators as "bold" and "courageous."
"Shady was able to do what many in Egypt today are incapable of doing: He has broken free from the fear that has kept most of us silent since June 30," said Ibrahim Gamal Eldin, a young graduate of the American University in Cairo.
Meanwhile, many in Egypt's older generation — in particular regime loyalists who approve of the government's heavy-handed policies to crush dissent – were shocked and enraged by the prank. Among them are those who believe the January 25 revolution was "a Western conspiracy" and who accuse the young pro-democracy activists of being "traitors" for demanding greater freedoms and for speaking out against rights violations.
The majority of those cheering on the clampdown on government critics and opponents are Egyptians who grew up in the days of former President Gamal Abdul Nasser, a strongman who hailed from the military. They believe that "authoritarian rule works best for Egypt" and that "democracy and freedoms can only lead to chaos and instability." Not surprisingly, many of them have decried the condom prank as a "horror," saying it was unacceptable as it showed "disrespect for the country's noble police force."
Malek's own father, Malek Bayoumi, was among those who failed to see the humour in the video. In a phone interview on the private channel ONTV on Tuesday, he apologized for his son's "immature behavior," saying he was both ashamed and disgusted by the way his son had acted.
"No matter how deep the differences are with the executive authorities, no one has the right to attack or insult the military and police, for they protect our borders and sacrifice their lives to defend the nation," he wrote on his Facebook page, adding that he categorically rejects his son's behaviour.
In the video, the pranksters are seen kissing and hugging unsuspecting members of the security forces as they hand them the condom-balloons with "From Egypt's youth to the police on January 25" written on them in Arabic. The date commemorates the anniversary of the mass uprising that forced longtime President Hosni Mubarak to step down. Coincidentally, it also marks Egypt's National Police Day, an occasion to pay tribute to the country's police force for their resistance against the British Army in 1952.
In the weeks leading up to the anniversary of the 2011 revolution, Sisi loyalists, including prominent media figures and members of parliament like Lamis Gaber, Mostafa Bakri and Mortada Mansour, have persistently vilified the revolution, insisting that it was "a foreign conspiracy" and that "the day should only be celebrated as Police Day."
Amid fears of fresh protests breaking out after calls by some activists for a "third revolution," the government has in recent weeks increased its repression, arresting three Facebook administrators and a young leftist doctor who has been campaigning for the rights of detainees to medical treatment. They were all detained after investigations on charges of inciting protests.
Security forces have meanwhile raided scores of apartments in the downtown Cairo area, arresting suspects believed to be fomenting unrest. The Townhouse Gallery, a contemporary arts exhibit and a small adjoining theatre, both popular hangouts for young activists, were closed down last month. Moreover, informants in plain clothes have been scouring the downtown streets, looking out for possible signs of dissent in the Tahrir vicinity.
This past week, an American who was seen chatting with young people at a roadside café was taken into custody and interrogated by prosecutors, before being deported for inciting protests.
It is amid this state of paranoia on the part of the country's security apparatus that the video has surfaced. It was clearly meant as a jab at the security forces to protest what Abu Zaid and other young activists have denounced on social media as the "multiple abuses committed in the last three years." Those include more than 130 forced disappearances documented by rights groups, reports of alleged torture inside prisons and the deaths of a number of detainees in custody at various police stations across the country.
Just this week, another detainee died two days after his arrest in Sharqeya. His family said he was tortured to death by security forces, while police say he committed suicide.
While the cause of the detainee's death may never be made public, what is certain is that Abu Zaid and Malek will face prosecution for their crime of poking fun at security forces. Despite downplaying his act as "nothing more than a pun," Abu Zaid fears he may have overstepped boundaries and says he is prepared for the worst.
In a message to his friends and fans on Facebook, Abu Zaid wrote on Wednesday, " I know that my days as a free man are numbered; I may soon be arrested and my detention may last a long time." He also said, however, that he could not stop himself from expressing his views and reminded the authorities that the Egyptian Constitution guarantees freedom of speech and creativity.
Much like in the Mubarak days, social media has once more become the sole platform for freer debate in Egypt today. I say freer – and not free – because it is no secret that even the discussions on social media are closely monitored by security agents. The mass surveillance is causing many Internet activists to fall silent for fear of arrest. Others continue to use Twitter and Facebook as spaces to express their grievances and vent their frustrations.
On Thursday, the youth activists commemorated the anniversary of the "Friday of Rage" (the bloodiest day in the 2011 mass uprising) by sharing videos of the violent street battles that took place between protesters and security forces in Cairo, Alexandria and Suez on that day five years ago.
This week also marked the death anniversary of Shaimaa El Sabbagh, a leftist activist who was gunned down by a police officer as she and a small group of protesters (mostly members of her party – the Popular Socialist Alliance) marched towards Tahrir Square to lay a wreath as a tribute to the martyrs of the Revolution. The anniversary of Sabbagh's death served as a reminder of how little has changed since the death of Khaled Saeed, another young Alexandrian also believed to have been killed by security forces. It was his death that sparked the protests against Mubarak and his notorious security forces.
If indeed Abu Zaid and Malek are arrested for their prank, the outcry will be an online campaign on Twitter or Facebook calling for their release. In the meantime, members of the older generation will insist that they deserve a harsh sentence. It is a story that has been repeated too often in the last three years with no sign of the generational divide being bridged anytime soon.
---
Subscribe to our newsletter
---