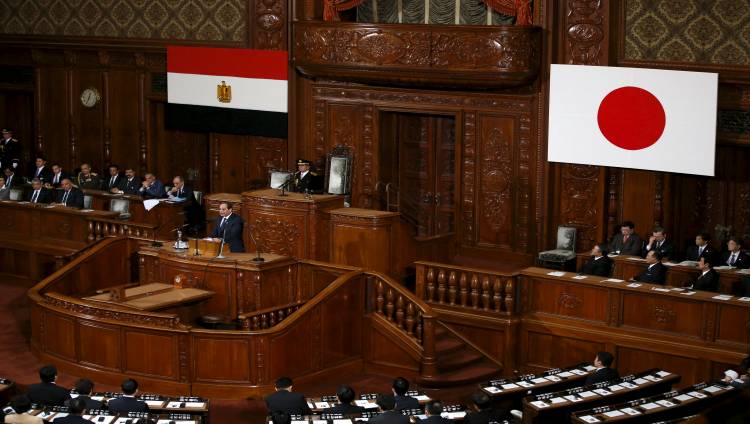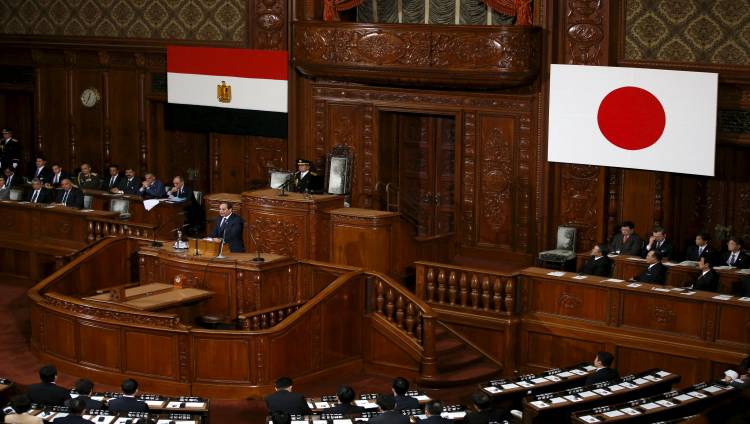 Egypt's President Abdel Fattah Al-Sisi urged Japanese investors and tourists to come to Egypt  in his speech to Japan's parliament on Monday, saying he is bringing a "message of cooperation and brotherhood" on behalf of the Egyptian people.
"Egypt has taken several steps and passed laws to facilitate investments and is one of the countries with the highest returns on investment worldwide," Al-Sisi said, adding, "Egypt welcomes Japanese investors looking to contribute to [Egypt's ongoing] projects for the two countries' mutual benefit."
In the first speech an Egyptian president has delivered to the Japanese parliament, Al-Sisi said that he hopes to see the momentum of Japanese tourism to Egypt to return to normal and asserted that "Egypt's state agencies will spare no effort to ensure the safety and security of its visitors from all corners of the world."
Al-Sisi also discussed the "internal difficulties" Egypt is currently facing, particularly in light of the state of the region as a whole. He said that the country managed to "avoid slipping into the fate of other countries in the region torn apart by strife and civil war, with terrorism multiplying their people's suffering" – a reference to the often-used statement that Egypt could have ended up like its war-torn neighbors, Syria and Iraq, had it not been for Al-Sisi's intervention in 2013.
The president pointed to the completion of the so-called "roadmap to democracy" he introduced at the beginning of his term, which culminated in the election of a 596-member parliament.
During his visit to Japan – the second stop on his Asia tour – Al-Sisi also met with Japanese Prime Minister Shinzo Abe to discuss bilateral issues and steps to boost cooperation between the two countries.
The president oversaw the signing of several loan agreements worth USD 500 million that will finance major national projects, in addition to another agreement that will see 2,500 Egyptian students visiting Japan to "benefit from the Japanese educational system" over the next five years.
Al-Sisi is due to visit South Korea next, where he is expected to meet with South Korea's president and the heads of several of the country's biggest companies to discuss ways to enhance bilateral relations.
---
Subscribe to our newsletter
---