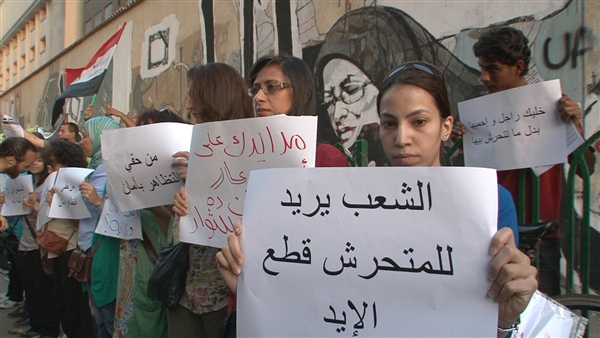 Ain Shams University inaugurated on Monday its first unit to combat sexual harassment, under the auspices of the university's vice president Wahab Ezzat, a delegation from the Swedish embassy in Cairo and two representatives from the United Nations Population Fund (UNFPA), Magdy Khaled and Germaine Haddad.
The new unit aims to encourage students and employees to take part in activities that raise awareness about sexual harassment and to instruct them how to act and what measures to take when encountering acts of harassment.
The unit will receive both "formal and informal" complaints anonymously relating to the matter.
Speaking to Egyptian Streets, Jon Hedenström, First Secretary Regional Development Cooperation/Human Rights and Democracy (Sida) at the Swedish embassy in Cairo says that a counseling room will be created where people can report incidents of sexual harassment and informally talk about their experiences.
"As sexual harassment remains a controversial topic in Egypt the creation of informal channels for reporting sexual harassment is important," Hedenström, who participated in the inauguration of the new unit, said.
If the problem at hand fails to be solved informally the university will formally deal with the complaint and will "take all necessary measures" to appropriately handle the issue, according to privately-owned Youm7.
Hedenström stressed that Ain Shams University was particularly keen to involve men in the initiative.
"It is apparent that the university leadership has a strong commitment in these matters and it was clear that the university intended to involve men specifically."
Based on the information Sweden has received regarding the unit, "courses and workshops will be held to increase awareness about the negative effects of these behaviours as well as to identify and do something about them," he said.
Hedenström further stated that the project to combat sexual harassment will not only be important for Ain Shams University but can also affect other parts of Egyptian society.
"As many students come from different parts of the country this can have effects beyond Ain Shams University," Hedenström said. "A number of Egyptian universities are interested in launching similar initiatives."
Underscoring that the establishment of the new anti-sexual harassment unit is first and foremost an Egyptian initiative, Hedenström went on to say that "there is a strong Egyptian counterpart that is committed and willing to take concrete measures to create change."
Egyptian Streets has reached out to two UNFPA representatives who were present at the inauguration of the anti-sexual harassment unit but has yet to receive a response.
A similar unit to combat sexual harassment has been formed at Cairo University. The initiative was prompted by the 2011 uprising that many consider to have broken the public taboo surrounding the subject, and the subsequent anti-harassment law issued by the Egyptian government in 2014, according to a statement by the university.
The formulation of an explicit policy against sexual harassment "rendered Cairo University the first national university" to formally work towards eliminating harassment on campuses, the statement read.
However, sexual harassment still constitutes a big problem in Egypt. According to a 2013 survey by the United Nations, as many as 99.3 percent of Egyptian women have experienced some form of sexual harassment.
---
Subscribe to our newsletter
---