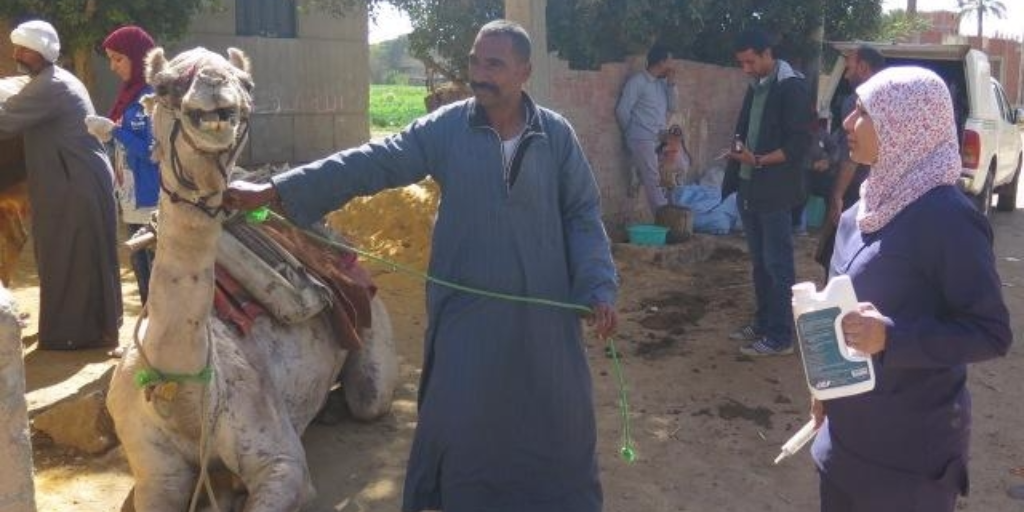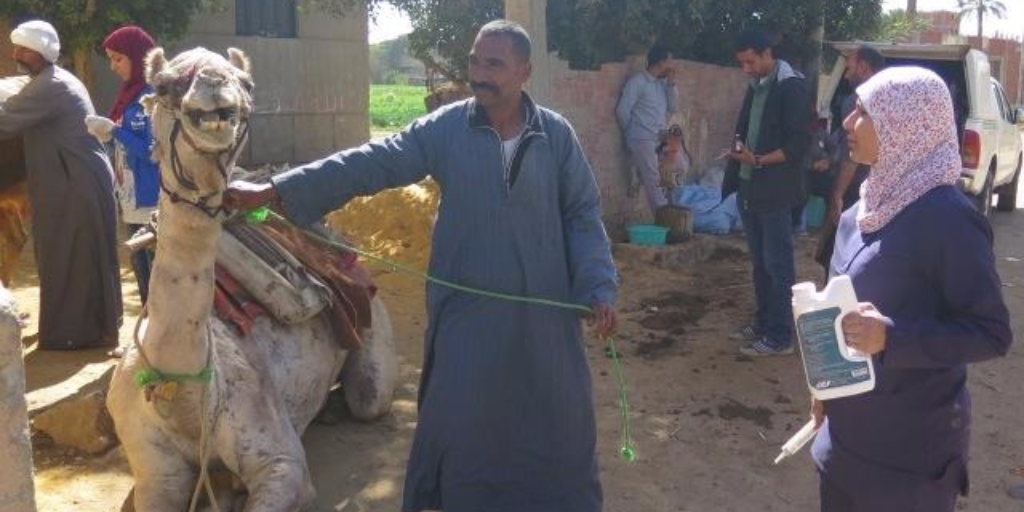 By Rana Kamaly, BECAUSE
When we think about working animals in Egypt, most of us don't think much further than carriage horses or the occasional vegetable seller's cart. "However, there are between three and five million working horses, donkeys and mules in Egypt," says Maryanne Stroud Gabbani, owner and founder of the not-for-profit Rural Wellness Initiative at Al-Sorat farm in Giza. Here, Stroud Gabbani and her team of volunteers promote good animal care practice amongst the rural community.
Working animals are central to the rural economy, providing the main means of transport for most of Egypt's small farmers. They haul recycling waste, building supplies and a huge amount of agricultural materials from field to market. 

"So if they were to suddenly disappear, Egypt would have nearly nothing to eat, would be covered in garbage, and would have no new construction," Stroud Gabbani told BECAUSE. "Most urban Egyptians, however, are completely unaware of the work in these sectors."
The primary focus of the Rural Wellness Initiative is on treating animals and educating rural families on basic medical care. This includes parasite control, hoof trimming, hygiene practices and wound treatment, as well as spreading good feeding practices that are affordable.
Stroud Gabbani moved with her Egyptian husband to Egypt in 1988. After her husband passed away, she bought three feddans (1.26 hectares) of land in 2004 and began working with Al-Sorat Farm, where she rented land to keep her horses. Soon, other friends begged her to take their horses in too. In fact, an entire menagerie gravitated there.
As Stroud Gabbani rode along the local countryside tracks, she began to notice the disparity between the condition of her own animals and those belonging to the farmers. "Along the way, I began studying the issues that the farmers in my area were facing, and began helping out."
Key issues were the expense of veterinary care and a lack of accessible knowledge. "I paid attention to the health issues that the animals had, and did many independent studies on how one could do the basic preventive medications, such as worming cheaply," she relates.
She found that while branded equine worming medicine is expensive, the basic active ingredients can be bought very cheaply from veterinary pharmacies. She also studied equine nutrition online to devise a good diet that relies primarily on locally produced feed, rather than imports.
There are common misconceptions about nutrition amongst farmers as well as horse owners working at the Pyramids. "The farmers don't realize that 90% of any green forage is water," she says. "Thus, ten kilograms of green berseem [a common feed] is the same as one kilogram of dried berseem." What looks like a huge amount of food doesn't, in fact, amount to much, leaving chronic hunger problems.
Meanwhile, the 2011 revolution had decimated tourist numbers. The men working at the farm "… were beginning to go nuts with the inactivity, and I knew that for all of our sanity I had to find something to focus their energies."
She encouraged them to enroll in training sessions in the mobile clinic of Dr. Mohsen Mohamed of the Egyptian Society for the Protection and Welfare of Working Animals. Here they learned to to trim donkey feet and treat basic health issues. "While they were initially reluctant, they came back full of ideas and energy."
After meeting a young vet, Dr Mohammed Abd el-Hay, Stroud Gabbani and her team also decided to mount a mobile clinic of their own to serve local farmers.
"At first we tried to just have the farmers come to the Al-Sorat farm for treatment, but we realized that most of them didn't have the time to leave their work," she relates. They loaded a wagon with basic medications and now have four stations that they visit weekly. They also work closely with the Brooke Hospital, as sometimes they encounter an animal in need of inpatient care.
In spite of people's perceptions, Stroud Gabbani says "I've never considered myself an animal activist, and to be honest I still don't. My concern is not just with the animals but also with the people whose lives depend on them."
There is a social aspect to the clinics that enthralls her neighbours. "They love to come and watch other people's animals being treated," she says. "In fact the work has enhanced the sense of community in our area."
So much so that many of Stroud Gabbani's crew work voluntarily, refusing to accept payment from the community for their work. One grateful man came to the farm with a cart full of melons to thank the team for helping his donkey, but they immediately asked him to give them to the hungry.
However, Stroud Gabbani doesn't expect the animal care situation to change overnight. "That would be rather strange," she says. "However, we are noticing that the animals are in better shape overall than they had been about three years ago, and the farmers are seeing it as well. So if now the farmer makes sure to have his donkeys see us once a month for a hoof trim and a worming, this is a positive change."
Even though every day is already full, still the farm facilities are expanding. "We just remodeled a space in our farm to hold classes for vets and farriers to improve their skills," she says, which has already been in use by the Egyptian Society for the Protection and Welfare of Animals. Another dream is to build a space for surgery, where veterinarian services can be both practiced and taught.
It's a lot of work, but Stroud Gabbani is undaunted. "I don't really look at obstacles. My main obstacle is that I am getting older and have less energy every year, but I do have some great young people working here and helping out.
"I have more ideas and plans than I will ever be able to accomplish."
---
Subscribe to our newsletter
---