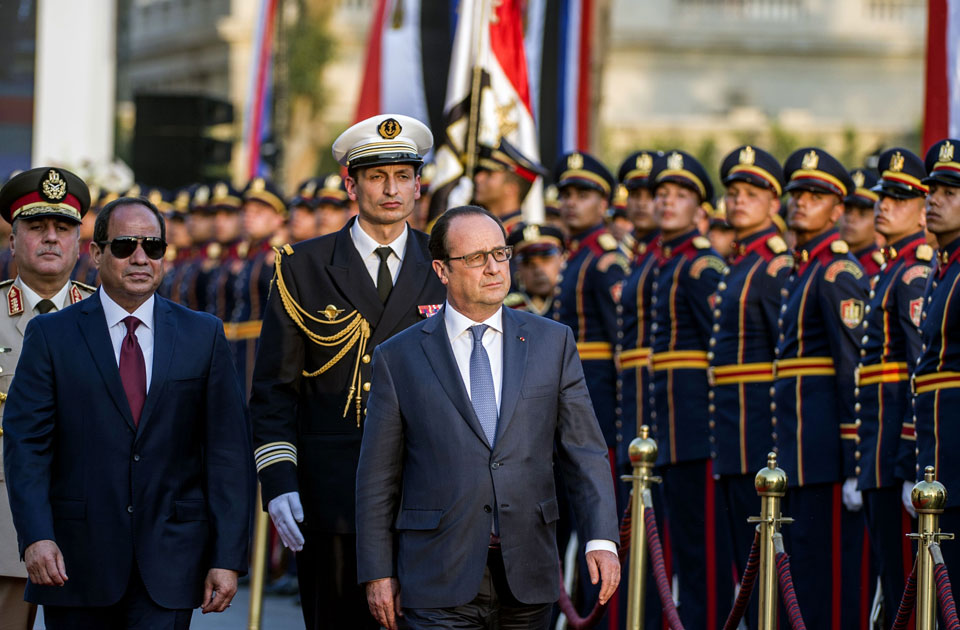 If the Egyptian state falls, "you have no idea what could happen to the region, and the entire European world," Egypt's president said Sunday during a press conference with his French counterpart in Cairo.
French President Francois Hollande's visit comes at Egyptian President Abdel Fattah al-Sisi's invitation and is part of a Middle East tour that includes visits to Jordan and Lebanon.
Egypt and France will sign about 30 agreements, the French ambassador to Egypt said last week.
During the press conference, Sisi said that that "there is an attempt to isolate Egypt from its Arab and European surroundings."
Egypt seeks "a broader concept of freedoms and human rights in Egypt," Sisi added.
Addressing tourism, Sisi said Egypt is willing to receive security delegations from France and other European countries to ensure that their citizens will be safe in Egypt.
Tourism in Egypt was hit hard in the aftermath of a series of incident during the past months, the most prominent of which was the downing of a Russian airliner last October which killed all 224 people on board.
Russia says the plane was downed by an act of terrorism but Egypt maintains that an Egypt-led investigation has yet to find evidence supporting this claim.
During the press conference, Sisi stressed that relations with both France and Italy are "very good and special" and he offered condolences to Giulio Regeni's mother.
Egypt's relations with Italy have been strained recently in the aftermath of the abduction and murder of an Italian student, last January.
The young Italian researcher went missing in Cairo on January 25, 2015, which marked the fifth anniversary of the popular uprising that toppled former president Hosni Mubarak. Ten days later, Regeni's body was found, bearing signs of torture, in a roadside ditch on the outskirts of Cairo.
Italy threatened to take "immediate and proportionate" measures if the truth about Regeni's death did not transpire.
Though it is not yet clear who was behind Regeni's murder, Egypt's interior ministry was blamed by Italian media for being involved in his torture and death.
Sisi said during Sunday's press conference that "what is happening in Egypt is an attempt to shatter all state's institutions, one by one" including the police, the judiciary and the parliament.
On his part, Hollande stressed the strength of Egyptian-French relations and said that France aims strengthen its economic ties with Egypt.
Last October, Egypt signed a deal with France worth EUR 950 million to buy two Mistral helicopter carriers, which are expected to be delivered between July and September.
In Jan. 2016, Egypt received three Rafale fighter jets from France as part of a EUR 5.2 billion deal sealed in Feb. 2015 whereby Egypt bought 24 jets from the French aircraft manufacturer.
This content is from Aswat Masriya
---
Subscribe to our newsletter
---