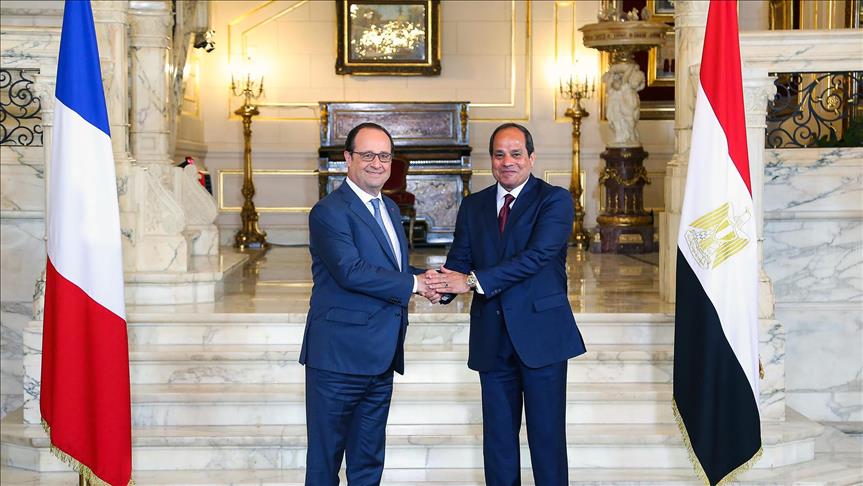 Egypt and France signed a range of agreements worth USD 2.26 billion during French President Francois Hollande's two-day visit to Cairo, which began on Sunday, Reuters reports.
The agreements are in the fields of energy, defense and security, among others.
General Electric penned a Protocol of Cooperation worth USD 250 million with the Egyptian Electricity Transmission Company, in the presence of Egyptian President Abdel Fattah Al-Sisi and his French counterpart Francois Hollande. The deal means that GE will provide Egypt with its advanced grid solutions technologies at four substations aimed to strengthen Egypt's national electricity grid. These substations will connect 7 gigawatts of power to the national grid, which will connect over 6.5 million Egyptian homes.
Also, French company Engie announced that it signed two energy agreements with Egypt. The first is a cooperation agreement for the development of renewable energy with the Egyptian National Renewable Energy Association and the Egyptian Electricity Transport Company. The second agreement was signed between Engie and the Egyptian National Gas Holding Company, which will see Egypt import liquified natural gas (LNG).
An agreement between the Egyptian government and French defense and security company Safran was also signed during President Hollande's visit, financial newspaper Al-Borsa reports. The deal will see Safran provide Egypt with a new biometric and document scanning system at 22 land, air and sea ports. The system includes eye, face, and fingerprint identification technology, designed to improve security standards.
Egypt and France also agreed that a military telecommunications satellite will be built by the French company Airbus Space Systems and Thales Alenia Space for Egypt's defense ministry. "After discussions between French and Egyptian presidents and between the Ministers of Defense, the contract on a communication satellite with Egypt is signed," said the Elysée Palace.
Egypt's National Authority for Tunnels and the French joint venture for construction Vinci and Bouygues signed an agreement worth EUR 1.2 billion to build 17km on the third line of Cairo's metro, which is currently under construction.
At the opening of the Egyptian-French business forum on Monday, President Sisi said that France is Egypt's ninth largest trading partner with a trading volume of EUR 2.58 billion.
---
Subscribe to our newsletter
---