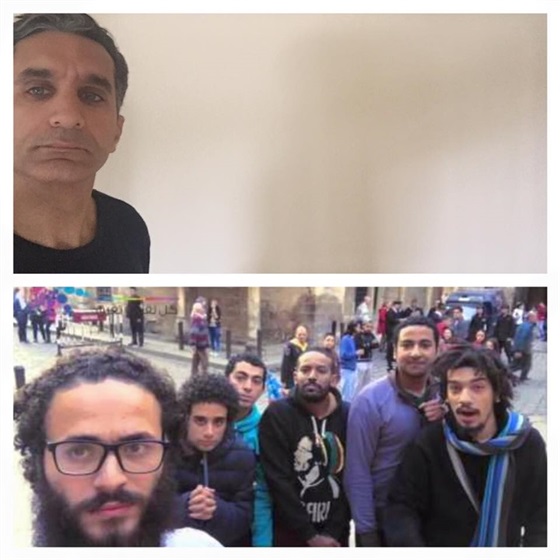 Days after six members of an online satirical group, Atfal al-Shawarea (Arabic for "street children"), were arrested over allegations of inciting protests and publishing material deemed insulting, a social media campaign kicked off in solidarity with 'the street children'.
Egyptian social media users and celebrities have been sharing photographs of themselves with a mobile phone in front of their eyes. All captions read "the phone camera scares/shakes you" (كاميرا التليفون بتهزك), in reference to the arrests. The satirical group's videos all appear to be shot on a mobile phone that is held like a selfie.
The caption is aimed at challenging President Abdel Fattah Al-Sisi, asking whether such videos really threaten his power or 'scare' him.
The hashtag 'Freedom for the Street Children' #الحرية_لأطفال_الشوارع quickly trended on Twitter and Facebook, being used more than 30,000 times.
The campaign was also promoted by influential figures, such as political satirist Bassem Youssef and actors Amr Waked and Khaled Abol Naga. Bassem Youssef, whose satirical show was once the most watched television show in Egypt, has been particularly vocal about the arrest of the six young members of the group. Youssef was summoned for questioning during the rule of former president Mohammed Morsi for his political satire that often mocked Morsi and the Muslim Brotherhood.
In solidarity with the Egyptian satirical band "Street Children" #الحرية_لأطفال_الشوارع pic.twitter.com/b8rzWqIUIv

— orit perlov (@oritperlov) May 12, 2016
It remains unclear who brought a complaint against the group.
كاميرة التليفون بتهزك؟#الحرية_لأطفال_الشوارع pic.twitter.com/ntVx1B1jjm

— Amr Waked (@amrwaked) May 11, 2016
Under Egyptian law, the crime of "insulting the president" carries a penalty of EGP 30,000 (around USD 3,379).
Atfal al-Shawarea has, since the beginning of 2016, regularly posted short video clips commenting on social, political and cultural issues and has managed to attract almost 250.000 followers on Facebook.
كاميرا التليفون بتهزك #الحرية_لاطفال_الشوارع pic.twitter.com/NwQh7enGfV

— Dr Bassem Youssef (@DrBassemYoussef) May 11, 2016
In its latest two videos, which have a combined viewership of 1.5 million, the group mocks President Abdel Fattah Al-Sisi and criticizes the Saudi-Egyptian maritime border agreement as well as the recent government crackdown on the Journalist Syndicate.
The Facebook page belonging to the group was deactivated shortly after the arrests.